It's been a busy few days in the City of Light, with Paris hosting Olympic and Paralympic Test Events across Individual, Mixed Team Relay and Paratriathlon disciplines.
From a Para perspective, Saturday's World Triathlon Para Cup Paris provided the 'Test'.
As a Para Cup event – rather than the top tier World Triathlon Para Series – that also meant that entry numbers are more strictly limited (there were 80 starters in Paris). That meant that there was no start for the likes of reigning Paralympic Games champions, Lauren Steadman (GBR) and Allysa Seely (USA). The recent WTPS Swansea, for example, had 100 starters.
One thing both races had in common was a change or format; while Swansea ultimately went ahead as an Aquathlon, as we reported, it was a run-bike-run Duathlon for the paratriathletes in the French capital.
Dave Ellis dominates
One of the star names in Paratriathlon, Dave Ellis and his Guide Luke Pollard, were dominant in the Men's PTVI category. Into T1 with a leading trio, they pulled clear on the bike from Sam Harding (AUS) and Lazar Filipovic (SRB), before making their move on the bike and then setting the fasted second run time too, to win by a significant margin.
They weren't actually the first pairing across the line… but unfortunately for Kyle Coon (USA) and Guide, they hit the blue carpet a lap early on the run.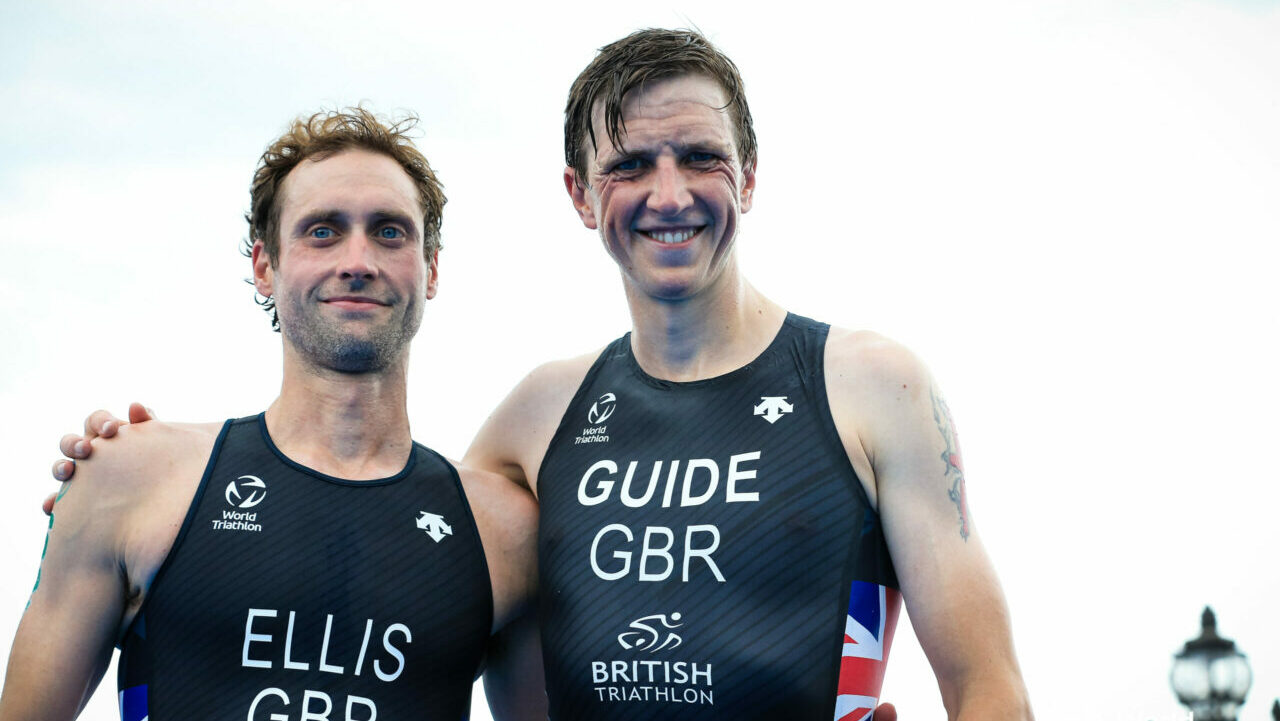 It wasn't just Kyle Coon going wrong, but double Paralympic Champion, Martin Schulz (GER), also had issues in the Men's PTS5 race. For Martin, it was too many laps that was the issue – in his case, an extra bike lap. That left the USA's Chris Hammer to run clear and take victory, ahead of Ronan Cordeiro (BRA) and Stefan Daniel (CAN).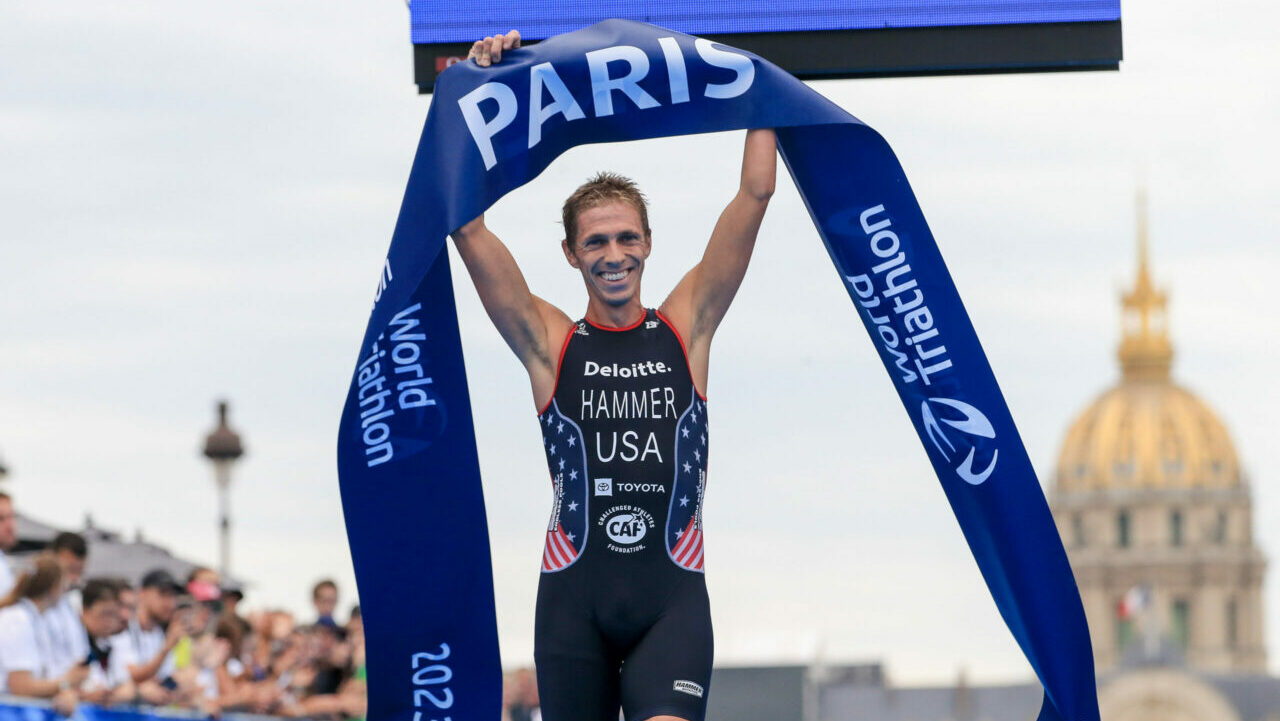 Favourites deliver
While Schulz had lap-counting woes, several other favourites for gold here next summer, duly delivered, despite the change of format. Alexis Hanquinquant (FRA) in M-PTS4, Jetze Plat (NED) in M-PTWC, Lauren Parker (AUS) in W-PTWC and Grace Norman (USA) in W-PTS5 were some of the star names who duly took the tape on the Ponte Alexandre III in style.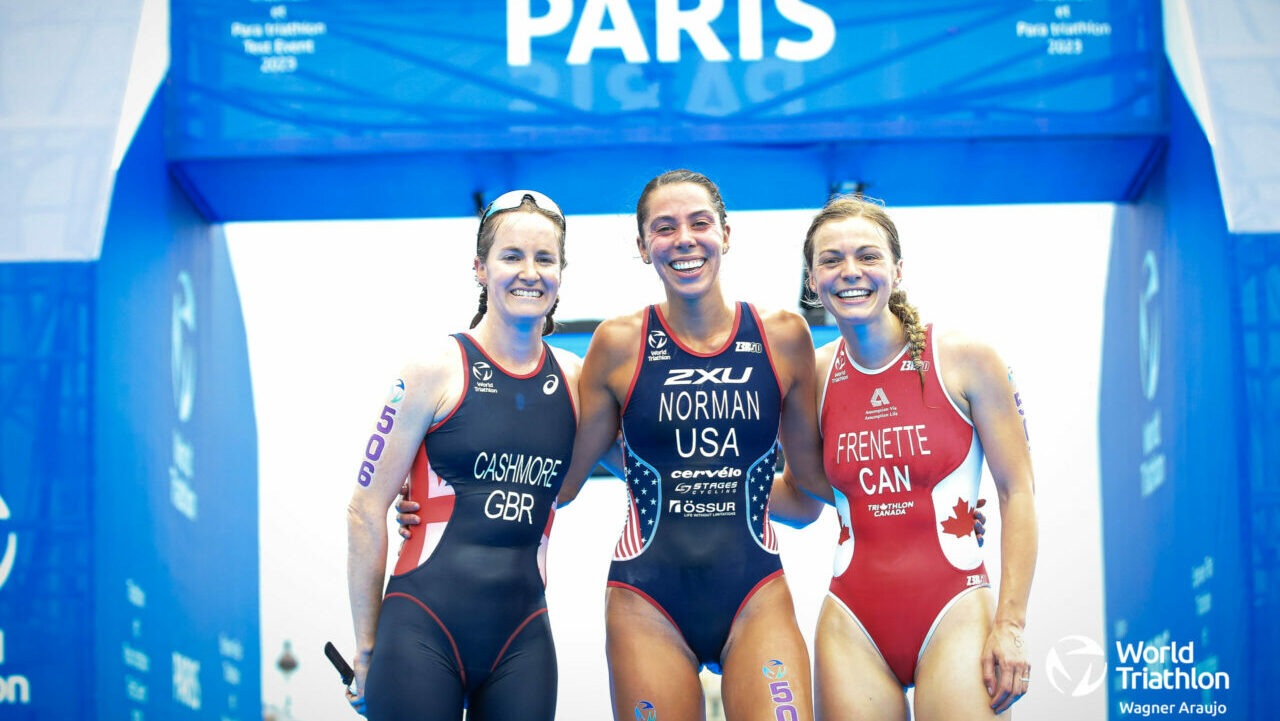 Claire Cashmore secured Great Britain's second medal of the event in the PTS5 division, but on this day, Grace Norman was in dominant form.
World Triathlon Para Cup Paris Results
Saturday 19 August 2023 – 2.5km run / 18.5km bike / 5km run
(Format changed to Duathlon)
PTVI
Men
1. Dave Ellis (GBR), 53:39 (Guide: Luke Pollard)
2. Sam Harding (AUS), 55:13
3. Owen Cravens (GBR), 55:17
4. Oscar Kelly (GBR), 55:53 (Guide: Charlie Harding)
Women
1. Anja Renner (GER), 1:03:16
2. Annouck Curzillat (FRA), 1:04:06
3. Francesca Tarentello (ITA), 1:04:33
PTWC
Men
1. Jetze Plat (NED), 52:18
2. Geert Schipper (NED), 53:12
3. Florian Brungraber (AUT), 53:53
Women
1. Lauren Parker (AUS), 0:59:14
2. Kendall Gretsch (USA), 1:00:44
3. Jessica Ferreira (BRA), 1:03:31
PTS5
Men
1. Chris Hammer (USA), 53:49
2. Ronan Cordeiro (BRA), 54:18
3. Stefan Daniel (CAN), 54:47
Women
1. Grace Norman (USA), 0:59:26
2. Claire Cashmore (GBR), 1:02:50
3. Kamylle Frenette (CAN), 1:03:21
PTS4
Men
1. Alexis Hanquinquant (FRA), 55:38
2. Pierra Antoine-Baele (FRA), 55:45
3. Hideki Uda (JPN), 58:13
Women
1. Kelly Elmlinger (USA), 1:06:13
2. Marta Frances Gomez (ESP), 1:12:47
3. Elke Van Engelen (NED), 1:12:50
PTS3
Men
1. Daniel Molina (ESP), 1:05:32
2. Cedric Denuziere (FRA), 1:05:49
3. Nico Van Der Burgt (NED), 1:07:14
Women
1. Elise Marc (FRA), 1:07:45
2. Sanne Koopman (NED), 1:23:35
PTS2
Men
1. Maurits Morsink (NED), 1:00:24
2. Geoffrey Wersey (FRA), 1:03:17
3. Mohamed Lahna (USA), 1:03:18
Women
1. Anu Francis (FRA), 1:11:33
2. Hailey Danz (USA), 1:12:13
3. Veronica Plebani (ITA), 1:15:52