After a heart stopping moment on the run, Alex Yee won gold in Sardinia, Italy, with Jonny Brownlee claiming a brilliant silver in a British one-two to add to the earlier win by Georgia Taylor-Brown.
Yee stated his intent to focus on the world title and delivered with and trademark run to claim maximum Series points. It was an emotional win after a horrific crash here in 2017.
Brownlee proclaimed not to be 'past it yet' as he won his first Series medal since July 2019 in Edmonton.
Swim – Dévay leads out choppy swim
The waves picked up for the men's race. Alex Yee appeared not to be handling the conditions well when he was 33 seconds off the pace at the half way point, but he settled into the second lap and the deficit to the leaders was 32 seconds when he exited the sea after 1500m.
Márk Dévay was the top swimmer in 18:24, closely followed by Matthew Hauser. Dorian Coninx was third followed by French team mate Pierre Le Corre. Brownlee was 18th out, 14 seconds back from Dévay.
Bike – Brownlee takes his chance
Dévay and Hauser escaped out of transition but their lead lasted just one lap before the chasing crowd were with them.
Léo Bergere attacked off the front, hoping someone would join him. It took another two laps before Jonas Schomburg tried and failed to do so. By the halfway point, a group of 28 were together with another huge pack, containing Yee just 14 seconds behind them.
Jumpei Furuya was next to go solo and Brownlee took his opportunity to attack off a dead-turn and join him. After just two laps of working together, they'd established a 30-second lead and the two groups behind had combined as they came into T2.
Run – Scare for Yee
Brownlee surged out of transition and ran a solo 2.5km lap before Yee started to eat into the lead of his countryman and caught him towards the end of the second lap.
Yee pulled up on the third lap, holding his leg before quickly getting going again with Brownlee doing his best to follow. They kept their advantage over the others to claim gold and silver for Great Britain.
Yee said: "I had cramp pretty much the whole time after the first lap. We had to work so hard on the bike to get to the front and it's hot today, maybe I need to go back and learn something from today."
Explaining why he stopped, he said: "I thought I would invest in the little gap that I had to take some time. I was in pain the whole time."
Referencing the crash five years ago, Yee added: "I was thinking about this place and how much it means to me. I'm over the moon and to do it here, it's just a fairy tail, thanks to the people to Cagliari."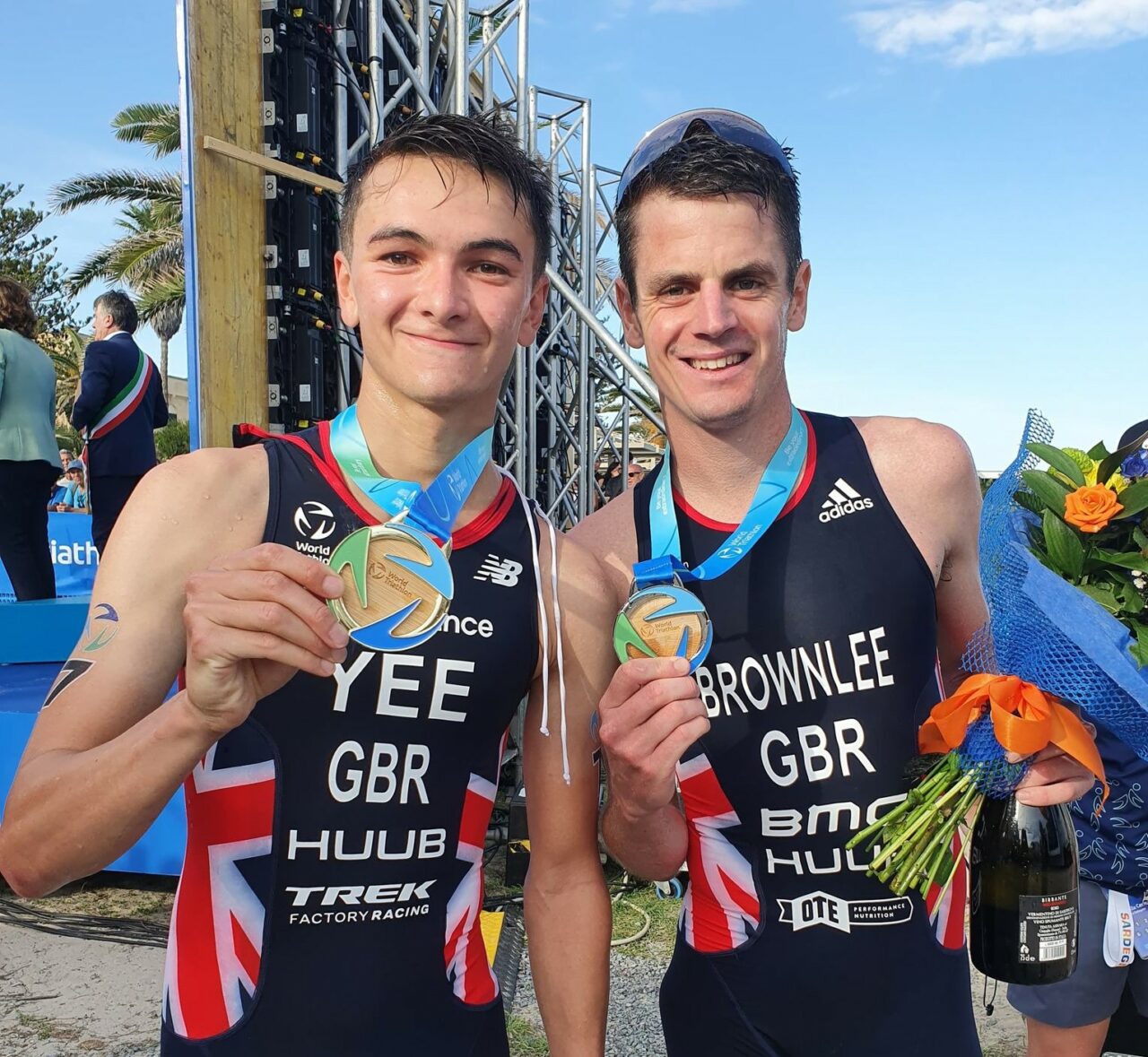 Brownlee happy to be back
After the crash in Leeds, this was a trademark Brownlee performance. He said: "I backed myself for dictating the race instead of being a passenger. I saw and opportunity and I took it.
"I felt confident on the bike the whole way though. I'm back to being able to ride my bike after the crash in Leeds. It's taken me months to get a bit of confidence back and I was enjoying it, I was actually really enjoying the bike."
He added: "I can't remember the last time I was on a World Series podium. It's nice to be back."
Manoel Messias won his first ever Series medal after a well timed sprint for the line with Lasse Lührs.
Yee now moves up to fourth in the 2022 Series rankings, but only has three scoring results compared with the others around him having four. He moves on to Bermuda on 5 November to further boost his points ahead of the Grand Final in Abu Dhabi.
WTCS Cagliari 2022 Results
Saturday October 8 2022 – ELITE MEN
1.5km / 38k / 10k
1. Alex Yee (GBR), 1:40:19
2. Jonathan Brownlee (GBR), 1:40:26
3. Manoel Messias (BRA), 1:40:29
4. Lasse Lührs (GER), 1:40:31
5. David Castro Fajardo (ESP), 1:40:36
6. Léo Bergere (FRA), 1:40:40
7. Gianluca Pozzatti (ITA), 1:40:45
8. Michele Sarzilla (ITA), 1:40:45
9. Csongor Lehmann (HUN), 1:40:50
10. Kevin McDowell (USA), 1:40:54
WTCS Rankings Standings after Cagliari
1. Hayden Wilde (NZL) – 3850
2. Léo Bergere (FRA) – 3493
3. Jelle Geens (BEL) – 3102
4. Alex Yee (GBR) – 3000
5. Pierre Le Corre (FRA) – 2726