Flora Duffy and Georgia Taylor-Brown paid tribute to each other after their epic battle over the course of the WTCS season came down to a duel in Abu Dhabi which was won by Olympic and Commonwealth Champion Duffy.
It was a record fourth world title for the Bermudian and she said afterwards: "I'm really, really proud of this one. It was a difficult start to the year for me coming off of the Olympics, COVID and everything else – it took a lot of work to get my mind back into it."
Duel in the sun
Both women have pushed each other to new heights over the last 12 months or so and Duffy said: "I'm thrilled – I smiled a few times out there when it was just Georgia and I, thinking of course it's us two battling it out!
"It's awesome, I feel like she brings me to another level. It was an absolute battle out there, Georgia and I don't really give each other an inch.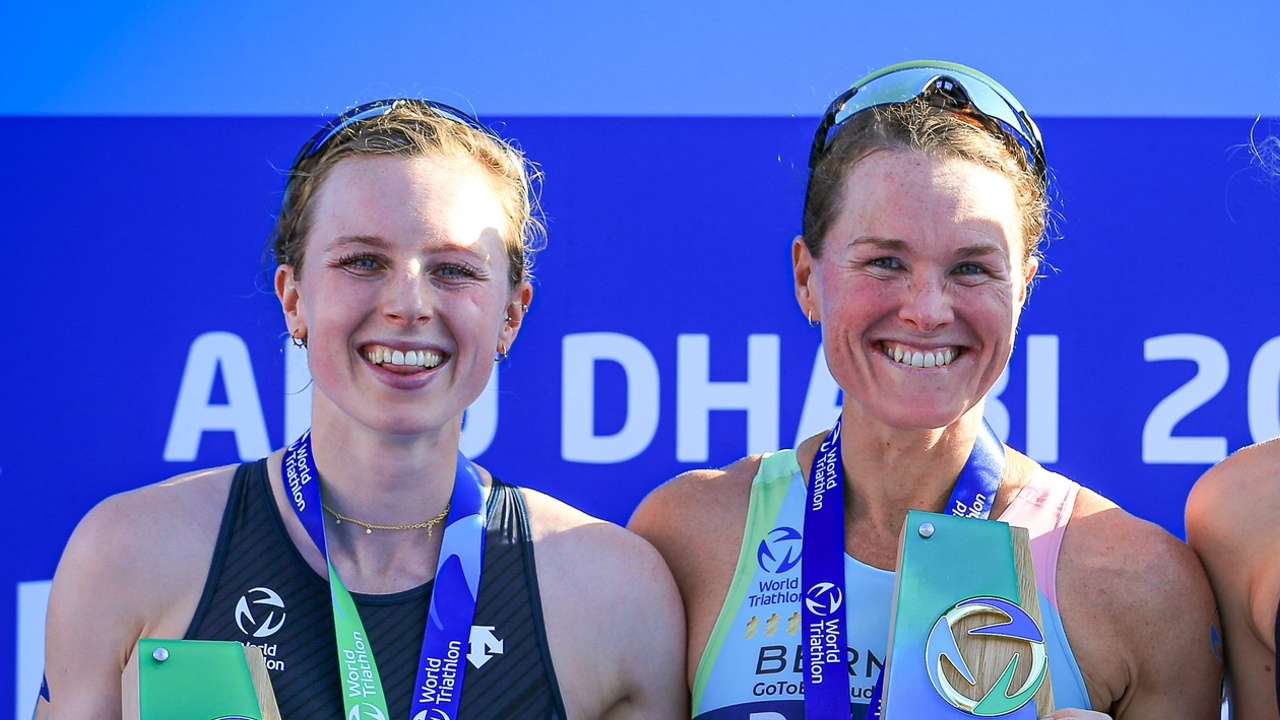 "I felt pretty good and just tried to take good care of myself as obviously it's very hot so I had to really work on my hydration and nutrition.
"And then when I got a little bit of a gap on that third lap of the run it was a little sooner than I anticipated but I knew I just had to keep focussed and keep pushing."
Duffy is now 35 but age is clearly just a number and she added: "I'm still really enjoying it and with the short three-year cycle to Paris in 2024 I thought why not stick in there and celebrate a final Olympics with my friends and family there.
"I'm pretty much consistently the oldest in these races but I'm still enjoying it so why not keep going?"
'It's me and you now kid'
For Taylor-Brown it was another superb display but as with the Olympics and Commonwealth Games she had to settle for the silver medal.
She said: "I gave it absolutely everything I had today. I'm really proud of myself for doing everything I could.
"We kind of laughed at one point as I said 'it's me and you now kid' – we were just battling it out to the end and I wouldn't have it any other way and I don't think she would.
"I enjoy racing Flora and we have a good camaraderie, I'm still learning all the time.
"Out of transition, I didn't want to be at the front but I was so I waited for Flora to catch me. I gave it absolutely everything but my legs gave in with two laps to go. I had nothing more in me and just wanted to sit down to be honest. I'm obviously disappointed to not get the title but I gave it everything today and I'll make sure I come back another year."
And there was a career-best performance from Lena Meißner in third, with the German admitting: "I can't believe it, it's just a dream come true. I think it will take a few days to sink in.
"I had a really good heat prep and I felt confident today. I just tried to stay calm and it worked perfectly for me.