Olympic and Commonwealth champion Flora Duffy claimed a record fourth World Championship crown as she got the better of a stunning showdown with arch rival Georgia Taylor-Brown in Abu Dhabi.
An epic season – which had seen both women take three WTCS wins apiece before today – all boiled down to a duel in the sun in the UAE.
They were locked together throughout the swim and bike and out on their own from the start of the run in what was a winner-takes-all battle but what proved the decisive move came when Bermuda's Duffy moved clear early on the third of four laps.
GTB had no answer and just as she had at the Tokyo Olympics and the Commonwealth Games in Birmingham the Brit had to be content with a gallant second place.
Swim – Knibb makes early splash
In near 30-degree water it was recently-crowned 70.3 World Champion Taylor Knibb (USA) who led out of the water after the first of two 750m laps.
But the 'big two' of Duffy and GTB were ideally positioned just behind and when they exited a second time it was Duffy who had moved to the head of affairs going into T1.
Summer Rappaport (USA) and Vittoria Lopes (BRA) were just a fraction behind in second and third, while Taylor-Brown, Knibb and Beth Potter (GBR) came next, with just 14 seconds between the top 13 women.
Bike – Late crash adds to drama
Duffy was out of T1 first but she couldn't shake off her rivals early on and after the first of nine laps it was a front group of nine, Knibb having bridged across to it having lost touch at transition.
Taylor-Brown and Potter continued to be prominent for Britain but they were outnumbered by a German trio of Laura Lindemann, Lisa Tertsch and Lena Meißner. Completing the nine were Lopes and Maya Kingma and they'd extended the gap to 20 seconds over the rest by the end of lap two, with the chase led by American duo Taylor Spivey and Kirsten Kasper.
But with Duffy constantly on the attack the lead group was whittled down, Lindemann and Tertsch the first to be dropped, followed by Potter.
That left six in control but it was at that point it appeared that both Duffy and Kingma had been hit with a 15-second penalty for "swim behaviour" and the title race was going to take a significant twist.
However the official online timing site then changed the penalty against Duffy to Kasper but drama was still in store as Knibb came down on the corner at the end of lap seven, taking Kingma out in the process.
That left Duffy, Taylor-Brown, Lopes and Meißner out in front and that was how it stayed going into T2.
Run – Duffy too strong when it matters
So after an epic season – which actually started in 2021 – it all came down to a 10km run to decide whether Duffy or GTB would be crowned World Champion.
And it was Georgia who made the first move, quickest out of transition to open up a gap of around 30 metres, though both looked comfortable as they eased clear of Lopes and Meißner.
But Duffy's incredible list of titles and achievements meant she was never going to go down without a huge fight and sure enough she was back on level terms at the end of the first of four laps.
With all due respect to the rest this was the classic battle we'd all wanted and it was nip and tuck on lap two before the moment came when Duffy asserted, putting daylight between them and stretching the lead to 24 seconds with a lap remaining.
When the line came Duffy stopped the clock in 1:53:24 to extend what is pretty much a clean sweep of all the titles that matter, with Taylor-Brown 1:04 back in second and Meißner rounding out the podium thanks to a career-best display.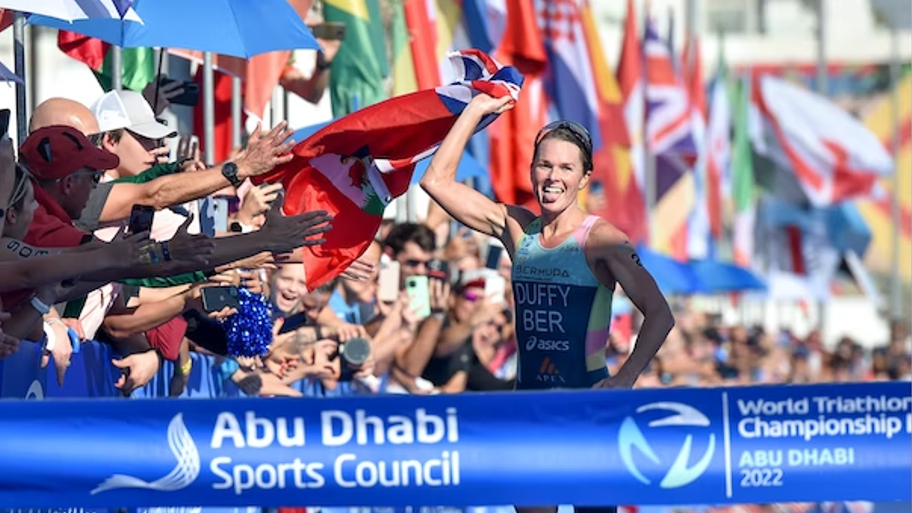 WTCS Championship Finals Abu Dhabi 2022 results
Yas Bay, Abu Dhabi
Friday 25 November 2022 – 1.5km / 40km / 10km
Elite Women
1. Flora Duffy (BER) – 1:53:24
2. Georgia Taylor-Brown (GBR) – 1:54:28
3. Lena Meißner (GER) – 1:55:59
4. Taylor Knibb (USA) – 1:56:40
5. Leonie Periault (FRA) – 1:56:51
6. Vittoria Lopes (BRA) – 1:56:59
7. Taylor Spivey (USA) – 1:57:44
8. Emma Lombardi (FRA) – 1:57:50
9. Miriam Casillas Garcia (ESP) – 1:57:56
10. Cassandre Beaugrand (FRA) – 1:58:13
Final Maurice Lacroix World Triathlon Championship Rankings 2022
1. Flora Duffy (BER) – 5106
2. Georgia Taylor-Brown (GBR) – 5081
3. Taylor Knibb (USA) – 4179
4. Taylor Spivey (USA) – 3889
5. Cassandre Beaugrand (FRA) – 3801
6. Sophie Coldwell (GBR) – 3494
7. Beth Potter (GBR) – 3480
8. Laura Lindemann (GER) – 3296
9. Maya Kingma (NED) – 3145
10. Miriam Casillas Garcia (ESP) – 3020