Hayden Wilde swooped to victory at WTCS Hamburg on Saturday – and then turned his attention to the Commonwealth Games later this month.
The Kiwi was extending his 2022 WTCS sequence to 2nd / 1st / 2nd / 1st and those two runner-up spots were both behind Britain's Alex Yee, who didn't line up in Germany.
But Yee will be back at Birmingham 2022 as the pair resume their rivalry, which also saw them finish second and third as Kristian Blummenfelt powered to Olympic glory in Tokyo last year.
Bring it on!
And Wilde is relishing the showdown in the Midlands, telling Trevor Harris soon after crossing the Hamburg finish line: "It's going to be awesome. I'm gutted he [Yee] isn't here today, but Birmingham is pretty much his home turf so it's going to be lovely.
"That's going to be the first time for both of us at a Commonwealth Games so it's exciting and then hopefully we can continue battling in the World Series until Abu Dhabi for the World Champs."
The race in Germany saw Wilde erase a significant deficit on the run and he said: "It was pretty hard to get through everyone today. It was actually full on the bike so I just had to stay calm and in position, knowing that we had a good group to catch up with the front and it played out pretty well.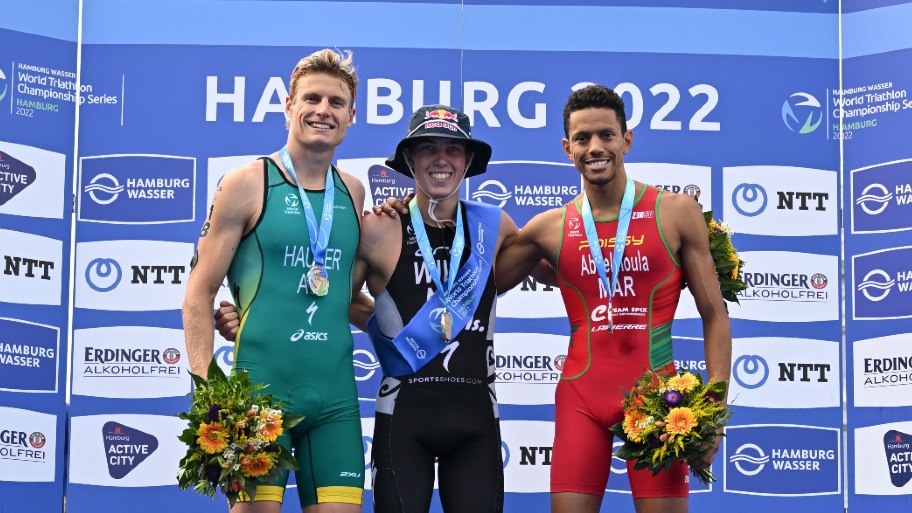 "I had a rusty T2 – a lot of people coming in at the same time – but it actually worked in my favour just a little bit as going out there was a bit of a headwind, so I got to tuck in to a few athletes until we got the tailwind.
"At halfway I kicked and attacked and tried to hold on and got the win."
Aussie spirit
The man who pushed Wilde the most on the second lap was Aussie Matt Hauser, notching a first podium at WTCS level.
Not surprisingly he was delighted with his display, the perfect confidence-booster before he too heads to Birmingham.
"I'm stoked. It's been, in my mind, a long time coming. I had a great result earlier on in the year in Yokohama [when fourth].
"I felt something special out there today. And we [Australia] will continue to bring our spirit and drive and competitiveness into the Commonwealth Games."
The final podium spot went to Morocco's Jawad Abdelmoula who produced an incredible run to grab third late on, overhauling France's Leo Bergere.
"I'm so happy – it's my first podium and I take a lot of pleasure from it. Leo Bergere is a strong athlete so I was really pleased to catch him in the final."