So Vincent Luis is human, after all?! Sixth today for the two-time and defending World Triathlon Champion today at WTCS Yokohama, where for the first time since September 2019 he had the rare sight of athletes running away from him. That last defeat was at the 2019 Grand Final in Lausanne. And by chance, the winner that day too was also Norway's Kristian Blummenfelt. He repeated that, in typical barn-storming style, in Japan.
Trying to read too much into one race is difficult, but you can't help but enjoy Blummenfelt's racing style, which remains the same whatever the result he achieves. Much like Lionel Sanders, his running mechanics hardly represent textbook fluidity, but you would struggle to find anyone who seemingly has the ability to inflict pain on themselves as much as Big Blu. A last mile head-to-head with Lionel Sanders over the middle distance – and surely we'll see that happen sooner, rather than later – really will be quite a sight.
One thing we can take from today (which shouldn't be a surprise, but is worth a gentle reminder),, is that the performance levels right now of these athletes is exceptional. Alex Yee had a great race, finishing fourth (and was in the leading group of four alongside Jelle Geens, Jonas Schomburg and Blummenfelt), within the first kilometre of the run. Even then, having a sub 28-minute 10,000m PB is not enough to guarantee success. Morgan Pearson, who passed him for the final spot on the podium in the final stages, has a recent 1:02 half marathon on his C.V., while Blummenfelt could walk the final few metres and still clock the fastest time of the day.
Olympic year may have been delayed, but it will always bring out the best. Bring on Leeds in three weeks time. I'm looking forward to calling that one.
---
Blummenfelt hangs tough in Yokohama for season-opener gold
It was always going to be a fascinating start to a huge year as the men lined up for their first World Triathlon Championship Series of 2021, and it was to be Kristian Blummenfelt (NOR) who rose to the occasion, a hugely impressive run earning the gold at Saturday's WTCS Yokohama.
It was the Norwegian and Jelle Geens (BEL) together for much of the 10km run before Blummenfelt pulled away, while behind them Morgan Pearson (USA) picked his way through the field for an emotional first WTCS bronze and a guaranteed spot on July's Tokyo Olympic start line.
"It felt good to be racing again, there were some nerves on the start line up against those guys, but it was a great result here in Yokohama," said a delighted Blummenfelt. "Starting an Olympic year with a good performance is great, but this is the soft test for what will be tougher conditions coming up in the summer. I didn't know where I was off the bike or if the other guys were struggling, but I felt like I had control throughout the run and it was really nice to take my second series win."
How it played out
It was defending world champion Vincent Luis (FRA) wearing the golden cap with the number one and gliding through the water in the early stages of the 1.5km swim to take to the front. Geens had found himself drifting off course and right at the back after losing his line to the first buoy.
As the swimmers emerged from the first lap it was Luis from Marten van Riel (BEL), Jonas Schomburg (GER), Jonathan Brownlee (GBR), Henri Schoeman (RSA) and Aaron Royle (AUS), with Irving Perez (MEX) and Blummenfelt within 15 seconds, Vasco Vilaca (POR) 21 seconds back.
Van Riel stuck to Luis and the long run into transition showed Brownlee, Dorian Coninx (FRA), Jumpei Furuya (JPN) and Royle all within 10 seconds of the pair and while there were no issues in transition as Luis was once again first onto the bike and into familiar territory out front, Geens was already 54 seconds back, Jacob Birtwhistle a minute behind.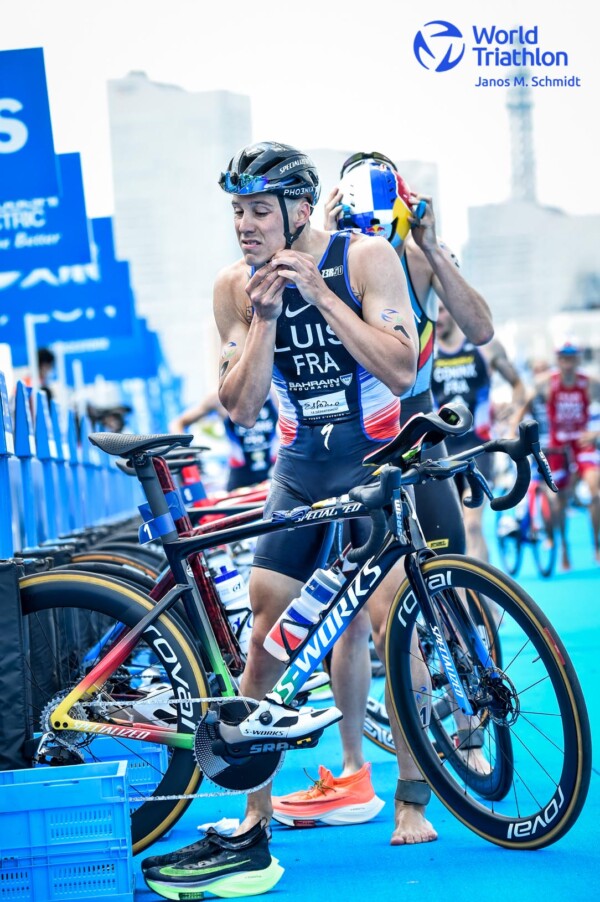 After lap one there was only 6 seconds separating the top 20, but even further down the field there were no major gaps opening up. As he has done in the past, Schomburg tried to change that and make the break away, but the twenty behind him led by Blummenfelt never let him out of their sights.
Birtwhistle, Furuya, Richard Varga (SVK) and Russell White (IRL) were all sadly forced out of the race early, while Alex Yee (GBR), Geens, Iden and Kenji Nener (JPN) were by now just 20 seconds off the leader with four laps left.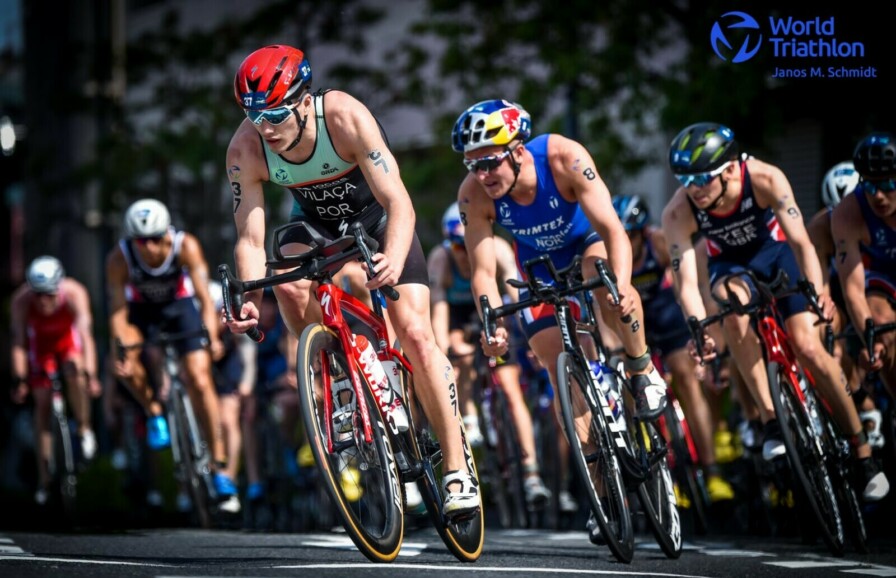 The vast chase group was soon moving as one and swallowed up Schomburg within a lap of his move, 41 athletes scything through the course separated by just 8 seconds from front to back.
Like Morgan, Ben Kanute, Matt McElroy and Kevin McDowell all knew they needed to podium to take an Olympic place for USA, while Casper Stornes (NOR) and Blummenfelt were locked in conversation, Dorian Coninx taking a turn at the front and looking to prove he deserves a Tokyo place alongside Luis.
Shachar Sagiv (ISR) was driving things on from the front as the last lap saw the pack shuffle and try to work their way into a good position heading into the final transition. Concentration was to the fore throughout the big huddle of bikes, Luis full of confidence happy to sit in the heart of the pack and not feeling any pressure to push through.
Vilaca and Iden had poked through to lead the masses into the second transition. Schomburg, Leo Bergere (FRA) and Geens were the first three out, Blummenfelt and Luis right on them and Alex Yee well placed.
It was Geens looking most comfortable and happy to find himself out front so early in the run, the same could be said for Yee who was on his shoulder, the pair arguably the fastest runners in the field. Along with Schomburg and Blummenfelt, that four out front had 12 seconds of daylight after lap one, but it was the ominous figures of Luis and Coninx leading the chasers.
Schomburg faded first and found himself between the front three as Pearson stepped into the striking zone with that Olympic berth in his sights, McDowell on his shoulder. With 5km left, Iden, Luis and Bergere were 15 seconds off the three pace setters, Fernando Alarza (ESP) and Brownlee 30 seconds back and losing ground.
Yee was next to drop off with 3km to go, while Blummenfelt took his turn out front and put his foot down to try and break Geens. Pearson then passed Yee at the bell 10 seconds back, Schoeman 17 seconds off the front, Iden, McDowell and Luis 25 seconds.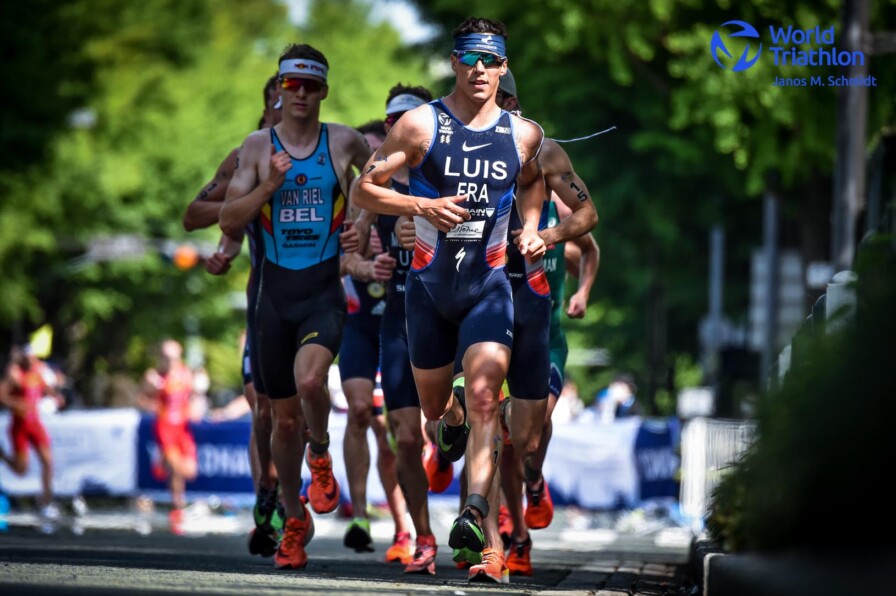 With 1km to go, Blummenfelt finally found some space between himself and Geens, Pearson likewise in third, and the Norwegian was absolutely flying over the closing stages. He stretched his lead wider and wider before taking the tape with a roar from Geens, a brilliant third for Pearson guaranteeing his Olympic slot and Yee holding out for fourth.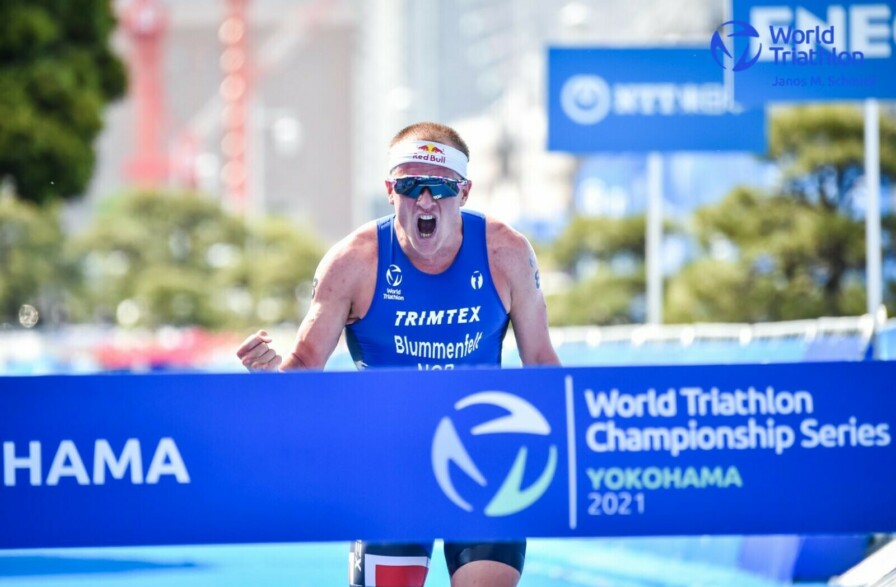 A resurgent Henri Schoeman finished in fifth, Luis sixth 40 seconds off Blummenfelt, followed by Van Riel, Bergere, Iden and Schomburg rounding out the top ten. An eleventh place finish for Kevin McDowell will give the US team selectors something else to consider, while 16th for Japan's Makoto Odakura gives him an automatic start at his home Olympic Games in July.
"This is a step better for me," said Geens. "It's been more than six month since the last race so it has been a long but good training period. I'm super happy with second but also a bit disappointed as I felt I did all the work and Kristian was struggling early in the run, but now I know that wasn't the case and just what Kristian can do. I had to mentally recover from a bad start of the swim and I have to thank Gustav Iden for helping us close the gap on the bike quite quickly. That first 200m almost screwed up my race but i'm sure wont happen again."
"It was a breakaway pack at the start and I was in the middle and feeling nice, trying to stay relaxed, but with three laps to go the packs came together and I was pushed further back than I'd like to be," admitted Pearson. "I knew I needed a top eight and chasing Alex Yee I knew I couldn't be conservative chasing an Olympic place. I had to take a month out in March when my older brother passed away but he gave me the boost I needed and hopefully come the Olympics he'll be there with me too."
Saturday 15th May 2021
1.5km / 40km / 10km – ELITE MEN
1st – Kristian Blummenfelt (NOR) – 1:42:55
2nd – Jelle Geens (BEL) – 1:43:05
3rd – Morgan Pearson (USA) – 1:43:12
4th – Alex Yee (GBR) – 1:43:17
5th – Henri Schoeman (RSA) – 1:43:26
6th – Vincent Luis (FRA) – 1:43:35
7th – Martin Van Riel (BEL) – 1:43:37
8th – Leo Bergere (FRA) – 1:43:37
9th – Gustav Iden (NOR) – 1:43:39
10th – Jonas Schomburg (GER) – 1:43:40
22nd – Thomas Bishop (GBR) – 1:45:27
23rd – Jonathan Brownlee (GBR) – 1:45:29