Tim Don and Ian Dempsey of Halo ID join us again for their weekend review – with WTCS Hamburg the focus of their attention.
And no doubt about one of the big talking points – the return to form of Olympic champion Flora Duffy as she claimed the win despite her first ever penalty and an unusually sloppy bike / run transition.
"I think she had a cup of tea and three scones in T2 as she was virtually last out!" said Tim. "But that was a convincing win, especially with the time penalty – proper class – and it's nice to see her back.
"But I will say this, when you've got the likes of Georgia Taylor-Brown on the startline at the Commonwealth Games, those mistakes will get punished."
'Back to bite him'
Pro View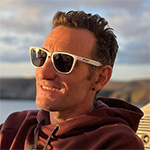 Tim Don
Tim is a triathlon and IRONMAN legend. And alongside Ian Dempsey he's created
Halo ID
, a global community for like-minded people with a love for triathlon and endurance sport – all about your next level, whatever that may be.
Tim has raced Hamburg around 15 times so few know it better and while he was impressed by men's winner Hayden Wilde, it doesn't sound like he'll be making the Kiwi favourite in Birmingham later this month when great rival Alex Yee returns for the Commonwealths, saying five races in quick succession is "going to come back and bite him".
There are lots more insights on the rapid run times (Wilde clocked 14:07 for the 5km on a course with dead turns and 90 degree turns) as well as musings on whether tactical penalties might become a thing when there's potentially more to gain than lose.
You can watch their TRI247 version by clicking on the video embed below, or head over to the Halo ID website to watch a longer version. Enjoy!