World Champion Flora Duffy is a different class in Edmonton, Canada
It's a good job that Triathlon is not Boxing… because otherwise the referee would have stepped in at T2 and called off the 'fight' to stop the rest of the field from taking such a beating. Bermuda's reigning ITU World Champion, Flora Duffy, is simply in another league right now and, going back to that Boxing analogy, they couldn't lay a glove on her. If it wasn't a knockout, well, she certainly never lost a round!
And that, simply, is the race report. Thrashed, hammered, crushed, dominated – all of these, and more, apply.
Within six seconds of the lead out of the non-wetsuit, 750 metre swim, Duffy sped through transition and was first on to the bike. With a six lap, surprisingly challenging course on the bike, you knew what was coming next. So did the rest of the field. Alas, they could do nothing about it. That is when you know you have the opposition on the ropes…
Kudos to reigning ITU World Junior Champion, Taylor Knibb, who was the only athlete who could stick with the Bermudian Triathlon queen. 18 seconds lead at the end of lap one, over 40 by lap two, and so it continued as that duo simply rode away. While she didn't need to, Duffy seemed intent on showing complete domination – and then dropped Knibb on the final lap too, to reach T2 alone.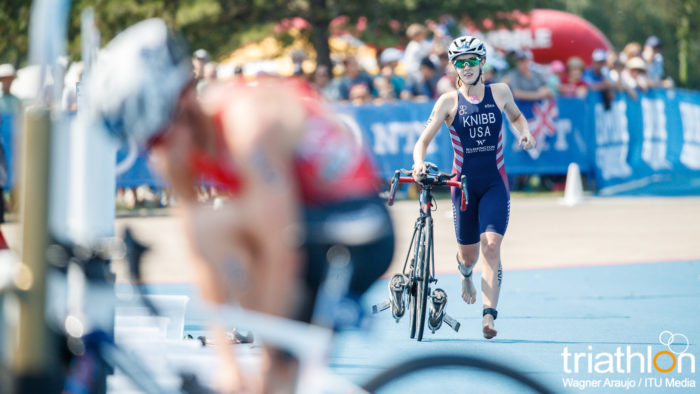 .@floraduffy and @taylorknibb doing a masterclass on how to keep the distance with the chase group. More than 1min difference #WTSEdmonton

— TriathlonLIVE (@triathlonlive) July 29, 2017
After that effort did Duffy show fatigue on the run? 50 seconds ahead of Knibb with 1.6km to run and 1:48 over everyone else. No weaknesses there either. Game, set and match.
UNTOUCHED! @floraduffy #WTSEdmonton pic.twitter.com/2fkzaMyNJm

— TriathlonLIVE (@triathlonlive) July 29, 2017
Full respect to the young Knibb for holding strong on the run for Silver. For everyone else, well, time to go back to the drawing board because right now, Duffy is heading to a (well deserved) second consecutive ITU World Championship title on the back of four consecutive ITU World Triathlon Series wins.
Yokohama, Leeds, Hamburg, Edmonton. That list is likely to be added to before 2017 is over.
ITU World Triathlon Hamburg – Saturday 29th July 2017
750m / 20km / 5km
ELITE WOMEN
1st – Flora Duffy (BER) – 1:00:23
2nd – Taylor Knibb (USA) +1:00
3rd – Katie Zaferes (USA) +1:29
4th – Summer Cook (USA) +1:41
5th – Jolanda Annen (SUI) +1:47
6th – Rachel Kalmer (NED) +1:52
7th – Joanna Brown (CAN) +1:58
8th – Yuka Sato (JPN) +2:04
9th – Kirsten Kasper (USA) +2:20
10th – Chelsea Burns (USA) +2:32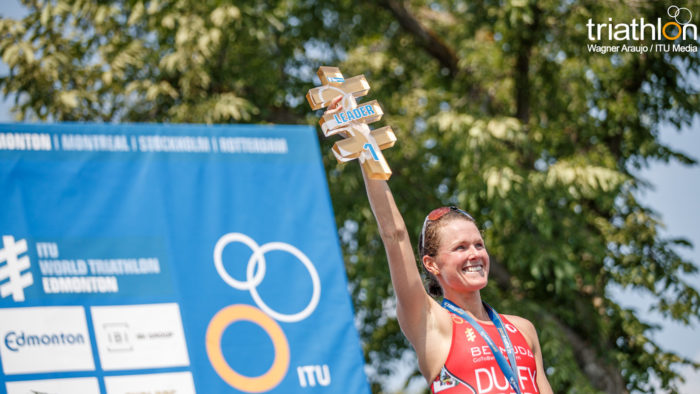 WORLD CHAMPIONSHIP STANDING AFTER EDMONTON
1st – Flora Duffy (BER) – 3200
2nd – Katie Zaferes (USA) – 3192
3rd – Kirsten Kasper (USA) – 2677
4th – Ashleigh Gentle (AUS) – 2486
5th – Andrea Hewitt (NZL) – 2486