Fourth 2019 win from five races by Katie Zaferes in Canada
'Normal service' resumed for the 2019 Women's ITU World Triathlon Series today, Saturday, with Katie Zaferes returning to the top of the podium in Montreal. Winner in Leeds, Georgia Taylor-Brown, was second this time around with Jessica Learmonth continuing her impressive year with a fourth podium finish from five races.
That's 5 races, 15 podium slots and 11 of those have been shared by the top three finishers today, the same trio of athletes that filled the podium in Millennium Square, Leeds three weeks ago.
After finishing 5th, 4th, 3rd and 2nd in the series over the last four seasons, Katie Zaferes is seemingly on course to claim what would be a well-deserved World Championship title in 2019.
---
Taylor-Brown and Learmonth secure medals in Montreal
Georgia Taylor-Brown continued to show her potential by winning silver at the ITU World Triathlon Series in Montreal and was joined on the podium by team-mate Jess Learmonth.
In the sprint distance race, it was Learmonth that led out the swim with her usual strong performance and was part of a lead pack of four athletes after T1. The Brit was joined by Series leader American Katie Zaferes while Taylor-Brown led the chase pack.
Vitoria Lopes leads the field out of the water, followed by @Jess_Learmonth Maya Kingma and @KZaferes6 #WTSMontreal pic.twitter.com/AqRVtfw3dO

— TriathlonLIVE (@triathlonlive) June 29, 2019
Taylor-Brown closed the gap during the bike leg and the leaders grew to a group of seven athletes and coming out of T2 she was in third place with Learmonth just behind.
.@georgiatb @taylorknibb and Alice Betto have now joined the leading pack, riding 37 secs in front #WTSMontreal pic.twitter.com/U0auQeqUgL

— TriathlonLIVE (@triathlonlive) June 29, 2019
Zaferes and Taylor-Brown took the run out and led as a leading pack of two for the closing stages of the race.
The Brit sat on Zaferes' shoulder until the final 500m when the American moved ahead to claim the victory with Taylor-Brown securing the silver medal and her second medal of the 2019 World Series.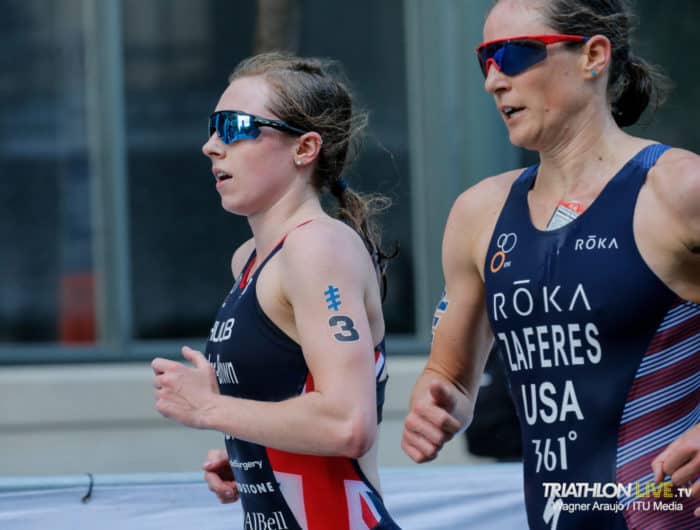 "I guess we just kept yo-yoing to the front," Taylor-Brown said. "Every time she got to the front she kept pushing it on and I just couldn't go with her. I just didn't have the legs today and Katie was incredible.
"It was quite warm, it was pretty tough. Each race is getting better and better for me. I take every race as it comes and I'm just happy to be here."
Learmonth was in a battle for third place against Alice Betto (ITA) and the Brit came out on top to win her fourth medal of the 2019 World Series.
"It was pretty hot and fast," Learmonth said. "I wasn't really looking forward to a sprint race. We've done quite a few standard races and I thought I'd have to up my game and it hurt a lot. It was good fun though and it's a nice new course and something different. To be honest, I'm over the moon with that today."
1st – Katie Zaferes (USA) – 58:15
2nd – Georgia Taylor-Brown (GBR) – 58:26
3rd – Jessica Learmonth (GBR) – 58:49
13th – Jodie Stimpson (GBR) – 1:00:14