French duo Arthur Serriers and Alizee Paties won the men's and women's elite races at XTERRA Oak Mountain, the second stop on the XTERRA World Cup calendar.
It was the 22nd career XTERRA World Tour victory for Serrieres, his first this season, and the sixth big win for Paties, who is still 100% in this year's World Cup following her win at the XTERRA Asia-Pacific Championship last month in Taiwan.
Lagerstrom makes his mark
The men's race also saw a terrific performance from on-road specialist Eric Lagerstrom (USA) who pushed Serrieres all the way.
Lagerstrom blitzed the swim in 19:43, nearly 30 seconds ahead of the 'Shark' Michele Bonacina (ITA) and the speedy Sam Osborne (NZL), with Serrieres 1:20 back at this point.
Once on the bike, Lagertsrom was not only keeping the gap but pulling away in the first half of the ride. At the bottom of Jekyll n' Hyde, about 25km into the 32km bike course, he still had a minute on the chase pack which featured Osborne and Serrieres.
It wasn't until about 3km before T2 that Osborne and Serrieres caught up to Lagerstrom, and the trio went wheel-to-wheel speeding through the forested single track before reaching transition together.
One-kilometre into the run they were still in a bunch and the foot race was on but 3km in, Serrieres made his move. Lagerstrom went with him, but Osborne fell back.
"Arthur just kind of ever so slowly opened up a gap, and I was close, but it was one of the situations where I could go after him and risk blowing up and end up finishing sixth, or just hang in there," said Lagerstrom, who made a big statement with his runner-up performance.
Serrieres once again did what he does best by posting the fastest run of the day (36:45) to take the tape in 2:25:30, with Lagerstrom 38 seconds back.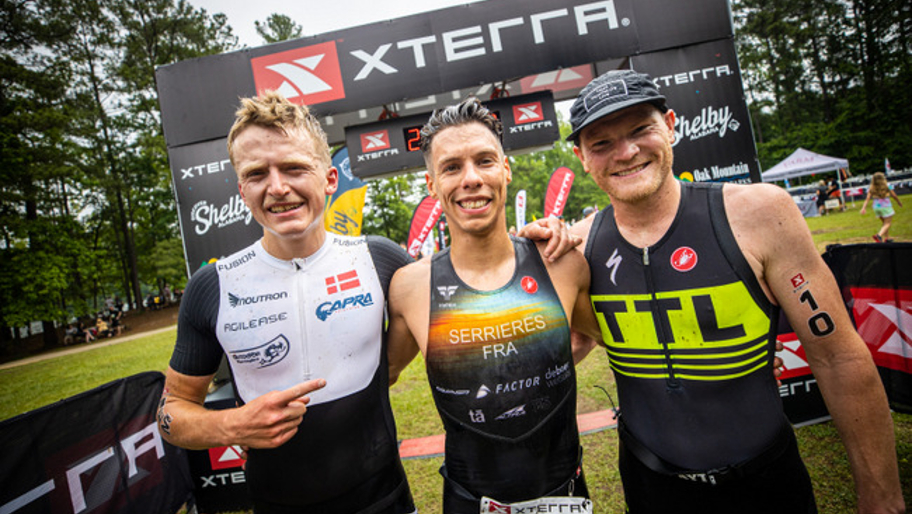 "Eric was really strong, I didn't expect him to be at this level," said Serrieres. "I ran really fast today and he stayed with me for a long time, it was a great battle. I just managed to do what I had to do to win the race."
Mechanical scuppers head-to-head battle
In the women's elite race, Samantha Kingsford (NZL) led out of the water in 23:07 with Suzie Snyder (USA) six seconds back and then Solenne Billouin (FRA), Paties, Jessie Koltz (USA), Marta Menditto (ITA), and Lizzie Orchard (NZL) all together about 40 seconds off the front.
"I had a good swim, and got into the first part of the trails first which is nice because you can ride at your pace and take your own lines, but once we hit the first road section the Euro train (Alizee and Solenne) came through Suzie and myself," said Kingsford. "These girls are riding well at the moment, and are definitely setting the bar for ride strength!"
The race soon turned into another Alizee-Solenne bike battle up front, just like in Taiwan, until the reigning XTERRA World Champion (Billouin) suffered a mechanical breakdown in the rock garden section about 20K into the bike – which took her out of contention.
"Solenne got a flat, then I managed alone from there and had three minutes at T2, so I was able to do the run in my own space," said Paties. "It was difficult with the heat, and the run is flat so you have to push all the time, but it was a great day. And the bike here is so fun and amazing."