Hungarian Olympian, Zsanett Brgamayer, will line up for a shot at not one but two world titles at the World Triathlon Multiport Championships in Ibiza as she looks to put a hard time at the Arena Games Finals behind her.
In London, Bragmayer arrived as one of the favourites for the Esports World Championship title, but finished tenth in a performance that she has claimed was adversely affected by a technical issue with her treadmill.
After that result in London saw the series win slip from her grasps, Bragmayer has now turned her attention to Ibiza, where she will once again line up with the intention of taking home a world championship title.
Doubling up?
In Ibiza, Brgamayer will race both the World Duathlon Championships and the World Aquathlon Championships, which take place on back-to-back days, on Sunday, April 30th and Monday, May 1st.
When asked about her decision to race both events, Bragmayer, who finished eighth at the European Duathlon Championships last month, shared that the long gap between WTCS Abu Dhabi and WTCS Yokohama played a part in her decision.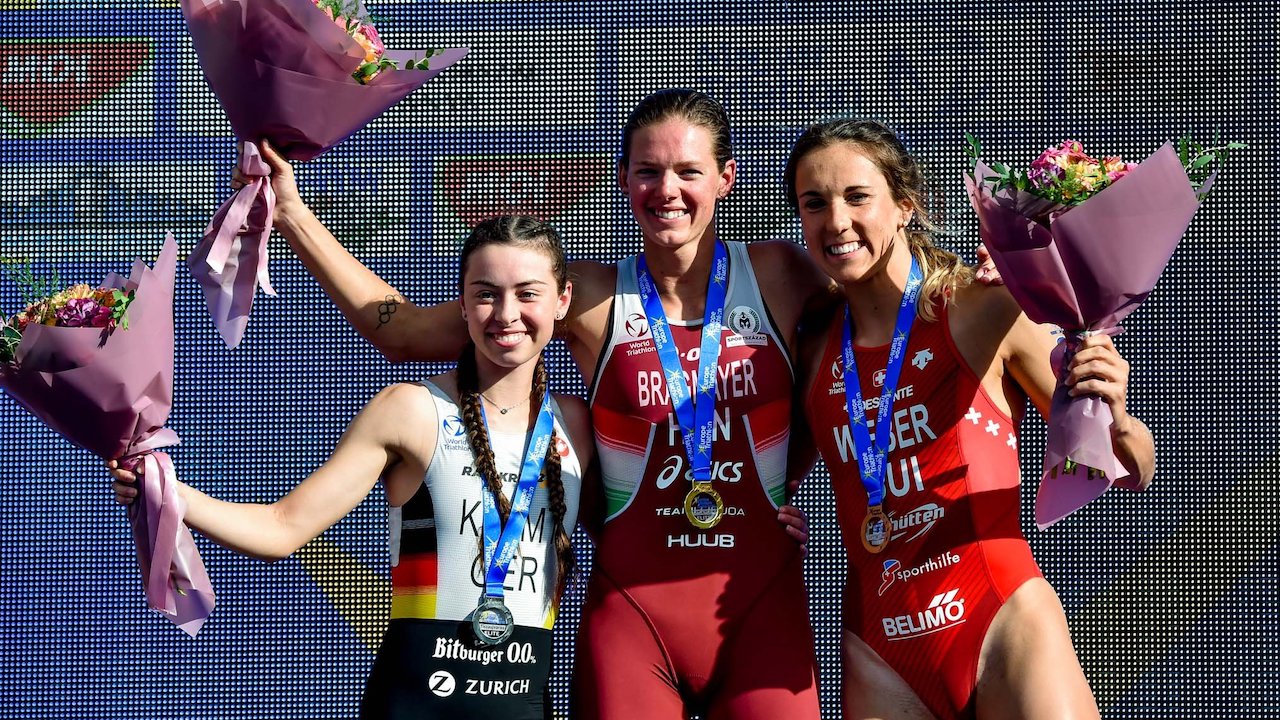 "My next big race will be in Yokohama, Japan, but it is still so far away and I love racing a lot, so I wanted to find some opportunities to check my shape before the big event. I am not going there with an exact goal, but I just want to make sure I get in a good training race."
With some strong contenders in both races, including Britain's Emma Pallant-Browne in the Duathlon, Bragmayer will have her work cut out if she's going to win in Ibiza, but the 29-year-old plans to play to her strengths on race day.
"Because I'm a good swimmer, I can make a better result in the aquathlon, but in the duathlon I will try to attack on the bike, because head-to-head I know I am not the best runner in the group."
Despite her initial hesitance to set a goal for Ibiza, Bragmayer shared when pressed on the subject that the main objective for the championships is "to be a World Champion".
Paris on the horizon
After a stint of racing across a variety of formats, from the Arena Games to multisport, Bragmayer will turn her attention to Olympic qualification after Ibiza. A move to France last winter was part of a concerted effort to better her twelfth place Tokyo Olympic finish in Paris next summer.
"I moved to France this winter, and started training there with a group. I have a really satisfying winter block behind me now so I want to make the most of as many races as I can.
"I am now hunting Olympic points and aiming to reach the top-15 in the World Triathlon Championship Series rankings, as I prepare for the Test Event in full focus to simulate the block before the Paris Olympic Games in 2024."
With a fresh pair of opportunities to win that elusive world title, success in Ibiza could well be catalyst Bragmayer needs to get over the disappointment of London, and push on towards her Olympic and WTCS ambitions.