This is a preview piece, to find out how South African Henri Schoeman and Australian Sophie Linn took the Esports World titles, as Nicolo Strada (ITA) and Beth Potter (GBR) won on the day, click the links.
The Arena Games Triathlon powered by Zwift heads to London this weekend for the final instalment of the three-race eSports Triathlon World Championships, following thrilling events in Montreal and Sursee.
In Canada, Chase McQueen and Gina Sereno of the USA took the wins, whilst in Switzerland, Henri Schoeman of South Africa and Zsannett Bragmayer of Hungary were victorious. All four return to compete at the Grand Final in London.
This weekend, a whole host of talent across the men and women's fields will battle it out, with the additional points on offer at the Grand Final meaning it is still very much all to play for in London.
In this preview, find the details on how to watch the live coverage of the event, with information on start times, the race formats and a comprehensive guide to the men and women's field with details on who can challenge for the world title.
Below are also the results of the heats and repackages, with details on who made the final in both the men and women's race.
Start times and how to watch live
For this weekend's event in London, racing will be carried out over two days. On Friday 7 April 2023, there have been the heats, with the athletes who qualified (see below) racing in the finals on Saturday 8 April 2023.
You can watch all of the action live right here as well as Super League Triathlon's website and YouTube channel, on TriathlonLIVE.tv and via Eurosport, Discovery+, L'Equipe, Viaplay, OutsideTV and others, dependent upon the specific broadcast rights in your region The Super League Triathlon website has a breakdown of which broadcasters will operate in your region, with that information available here.
The coverage of the finals will begin at 17:30 local time. That's 18:30 CET, 13:30 on the East Coast and 10:30 on the West Coast. The full schedule for the event is as follows:
Friday 7 April 2023:
Women's Heat #1: 14:00 (UK) – 1. Beth Potter 24:37, 2. Zsanett Bragmayer 24:47 qualified
Women's Heat #2: 14:50 (UK) – 1. Cassandre Beaugrand 24:29, 2. Gina Sereno 24:47 qualified
Women's Heat #3: 15:40 (UK) – 1. Sophie Linn 25:09, 2. Olivia Mathias 25:13 qualified
Men's Heat #1: 16:40 (UK) – 1. Nicolo Strada 22:44, 2. Chase McQueen 22:48 qualified
Men's Heat #2: 17:30 (UK) – 1. Kyle Smith 22:24, 2. Henri Schoeman 22:24 qualified (Gustav Iden third)
Men's Heat #3: 18:20 (UK) – 1. Maxime Hueber-Moosbrug 22:46, 2. Simon Westermann 22:47
Saturday 8 April 2023 (Repechage and Finals):
Women's Repechage #1: 10:00 (UK)
Women's Repechage #2: 10:50 (UK)
Men's Repechage #1: 11:50 (UK)
Men's Repechage #2: 12:40 (UK)
Women's Final: 17:30 (UK)
Men's Final: 18:30 (UK)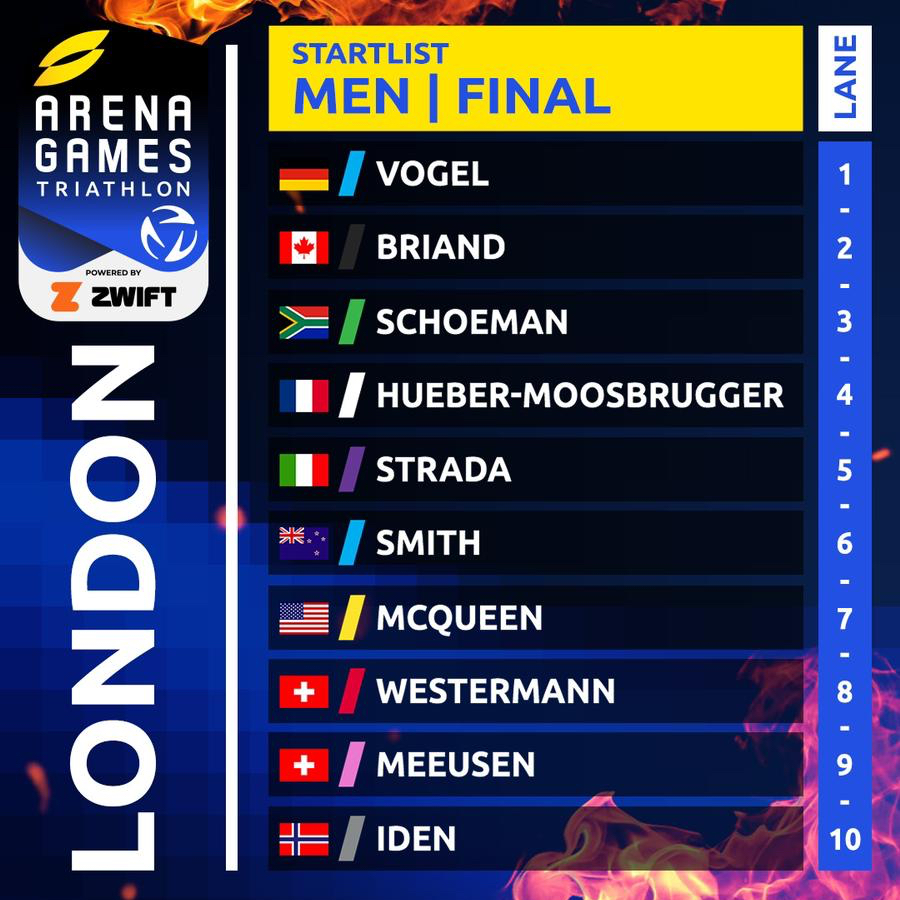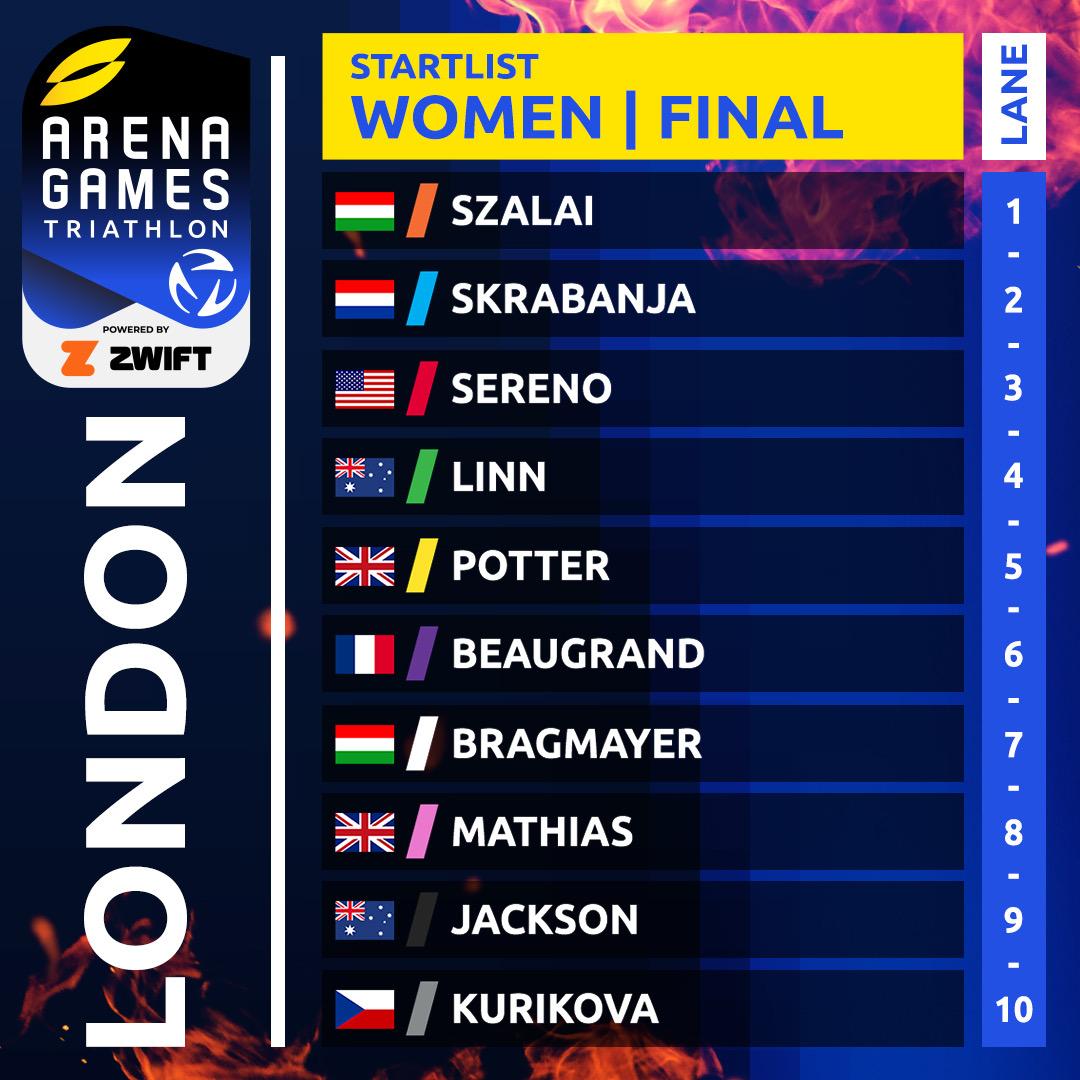 Elite Men – Schoeman and McQueen go head-to-head
In the men's race, there is a full complement of athletes, with 30 competitors on the start list. With the quality at the front and the overall strength-in-depth of the field, this may well be the most competitive start list the Arena Games racing format has ever produced, even in the absence of triple-Olympic medallist Jonny Brownlee.
Underlining that, just take a look at heat two for the men – Gustav Iden, Jawad Abdelmoula, Max Stapley, Dan Dixon, Henri Schoeman, Jack Stanton-Stock, Lasse Nygaard Priester, Valentin Wernz, Jamie Riddle and Kyle Smith!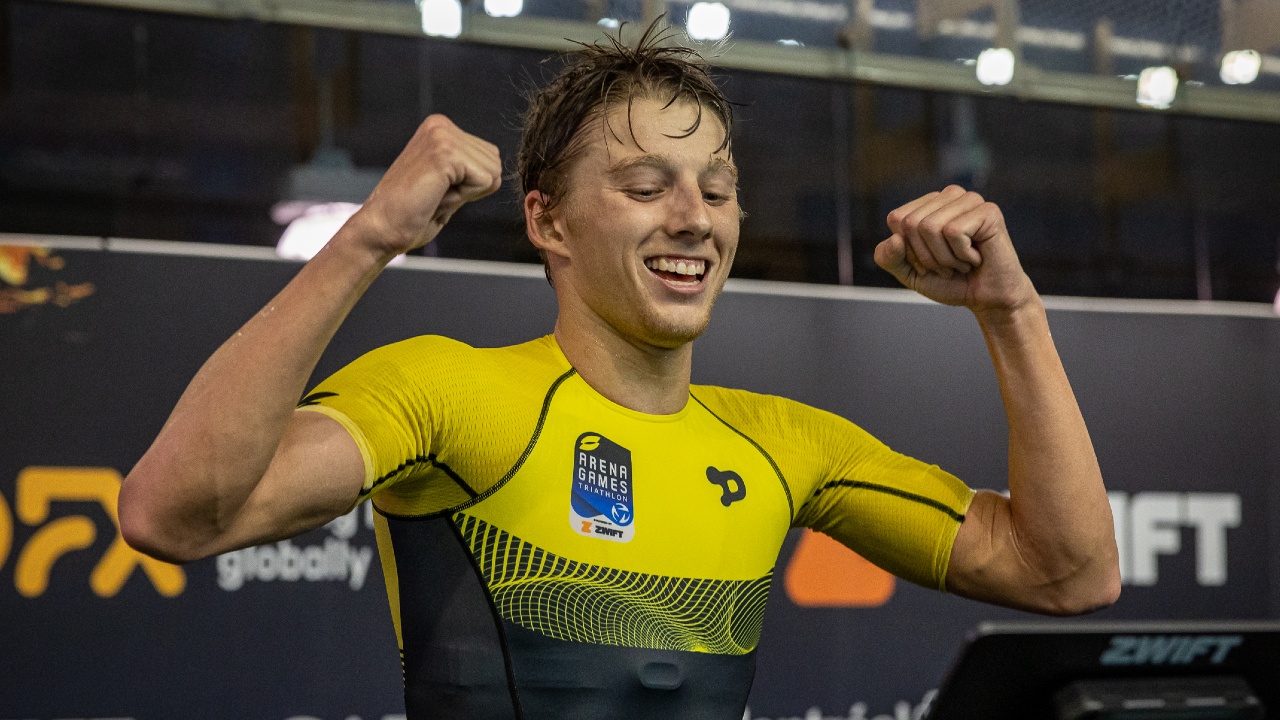 Every man who has so far stepped on the podium in this year's series is returning to race in London, with previous race winners McQueen and Schoeman going head-to-head as each attempt to take home the World Championship title.
The last time these two faced off, McQueen beat Schoeman by just seven seconds in Montreal, as the American managed to hold off the South African over the bike and run to take a maiden Arena Games win. Since then, however, Schoeman has gone from strength-to-strength, and looks to be the slight favourite this weekend.
After an extraordinarily testing last few years, Schoeman is a man on a mission. Following Montreal, the South African finished 36th at WTCS Abu Dhabi, where he showed good form on the swim and the bike before fading on the run, before winning in Sursee.
That win in Switzerland, where Schoeman held off Frenchman Maxime Hueber-Moosbrugger and home favourite Simon Westermann had a glimmer of the old Schoeman about it, which coupled with an additional four weeks of training, will give the 2016 Olympic bronze medallist the confidence that he can win in London.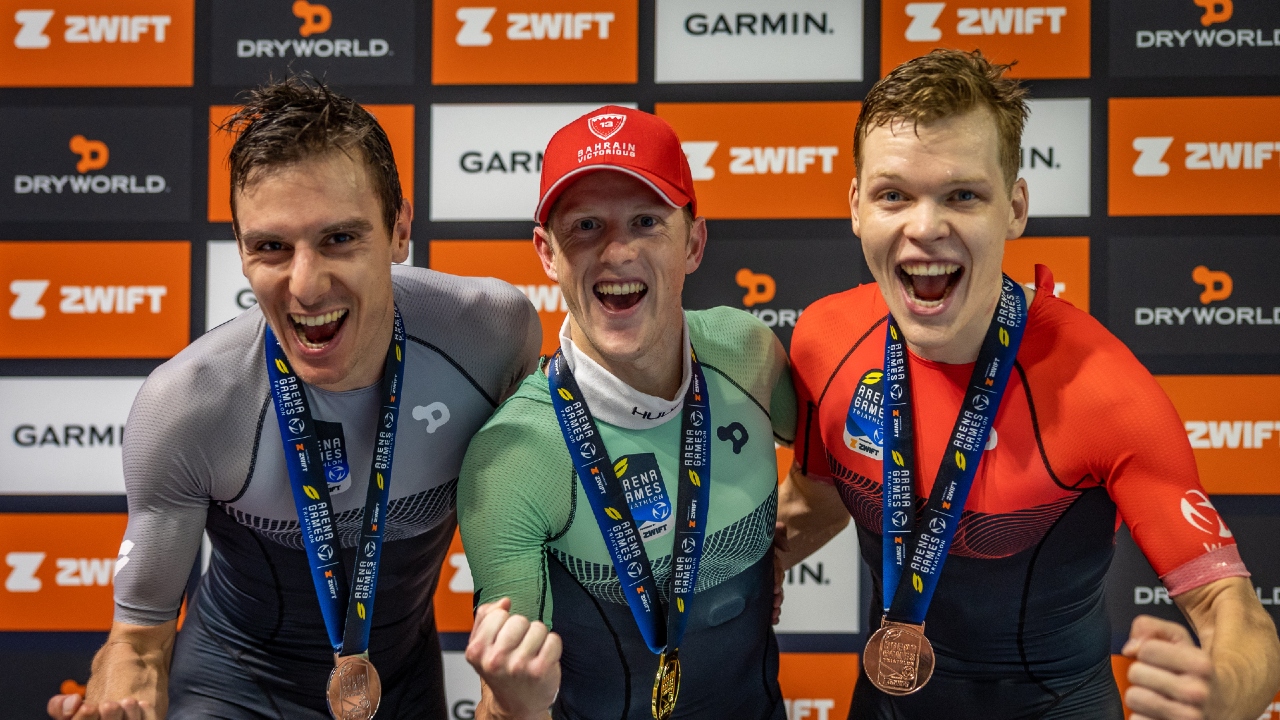 Alongside McQueen and Schoeman, the other three podium finishers of the series so far, Westermann, Hueber-Moosbrugger and Jack Stanton-Stock of Great Britain, will all be on the start line in London and will hope to feature.
In the lead up to London, Hueber-Moosbrugger has finished fourth at the European Duathlon Championships and 21st at the Quarteira European Cup, where Westermann showed his strength over the Olympic distance to take fifth.
Stanton-Stock, on the other hand, finished 14th at an Americas Cup in La Paz, Mexico and has recently joined the Paula Findlay and Eric Lagerstrom backed TTL Development team. All three athletes will go into London this weekend knowing what it takes to make that podium.
Elsewhere on the start list, the potential contenders pop up thick and fast. Arena Games veteran Justus Nieschlag of Germany is racing, with 2022 Super League Championship Series stars Dan Dixon of Great Britain and Jamie Riddle of South Africa also likely to feature.
WTCS medalists Jawad Abdemoula, Gustav Iden and Bence Bicsak are three big names who nobody will want to overlook, with Moroccan Abdemoula and Norwegian Iden making their Arena Games debuts.
Iden in particular, will have a lot riding on this race, as the World Triathlon points that come with a good result become increasingly crucial in his bid to make the 2024 Olympics. The Norwegian, who won't improve his Olympic ranking this weekend, needs the points on offer here to get himself into World Cup and WTCS races that will allow him to move higher up the Olympic Qualification Rankings.
The race just to make the finals will be incredibly fascinating in London, as qualifying directly from the heats will make a huge difference to the athletes who do, but will mean another two races on Saturday morning for those who have to go through the repechage. The full men's start lists and heat line-ups can be found here.
Elite Women – Potter looks to defend title
Whilst men's defending champion Alex Yee is absent, Beth Potter of Great Britain, the women's defending champion, will be on the start list in London.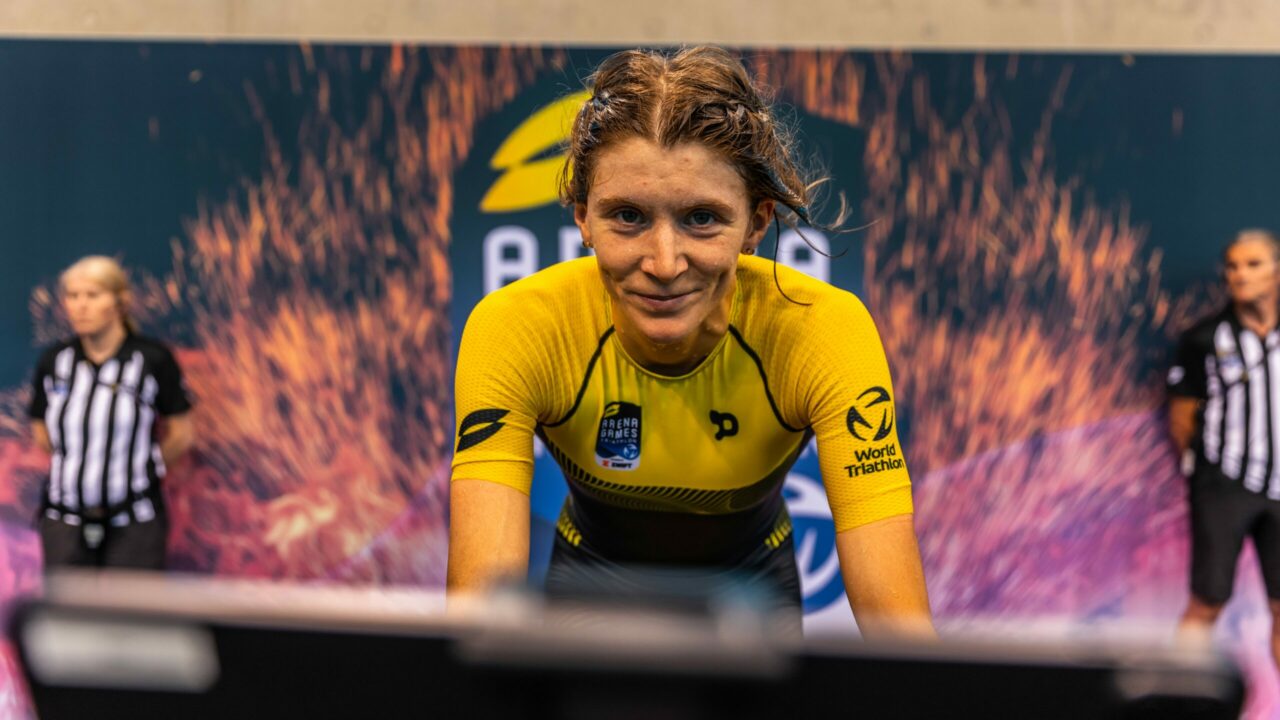 Potter, who has looked in incredible form so far this season, with a maiden win at WTCS Abu Dhabi, is one of the class names in the London field. Her experience over this race format will go a long way in trying to hold off the other high calibre athletes on the start list such as Frenchwoman Cassandre Beaugrand and Hungary's Zsanett Bragmayer.
Beaugrand is coming into the race off the back of a dominating win at the European Cup in Quarteira, whilst Bragmayer also heads to London after a win at the last race of the series in Sursee, where she triumphed by over 20 seconds.
Last year, Potter dominated in Munich, Beaugrand was sublime in London while Bragmayer overcame the heat in Singapore. Now living in the UK, Beaugrand won at WTCS Leeds, Arena Games London and the SLT Championship Series event at West India Quay in 2022 – she's 'at home' here in several ways!
Montreal winner Sereno is another threat, but may have to settle for a place on the series podium if Bragmayer performs as she did in Sursee and takes the race for the World Championship title by the scruff of the neck.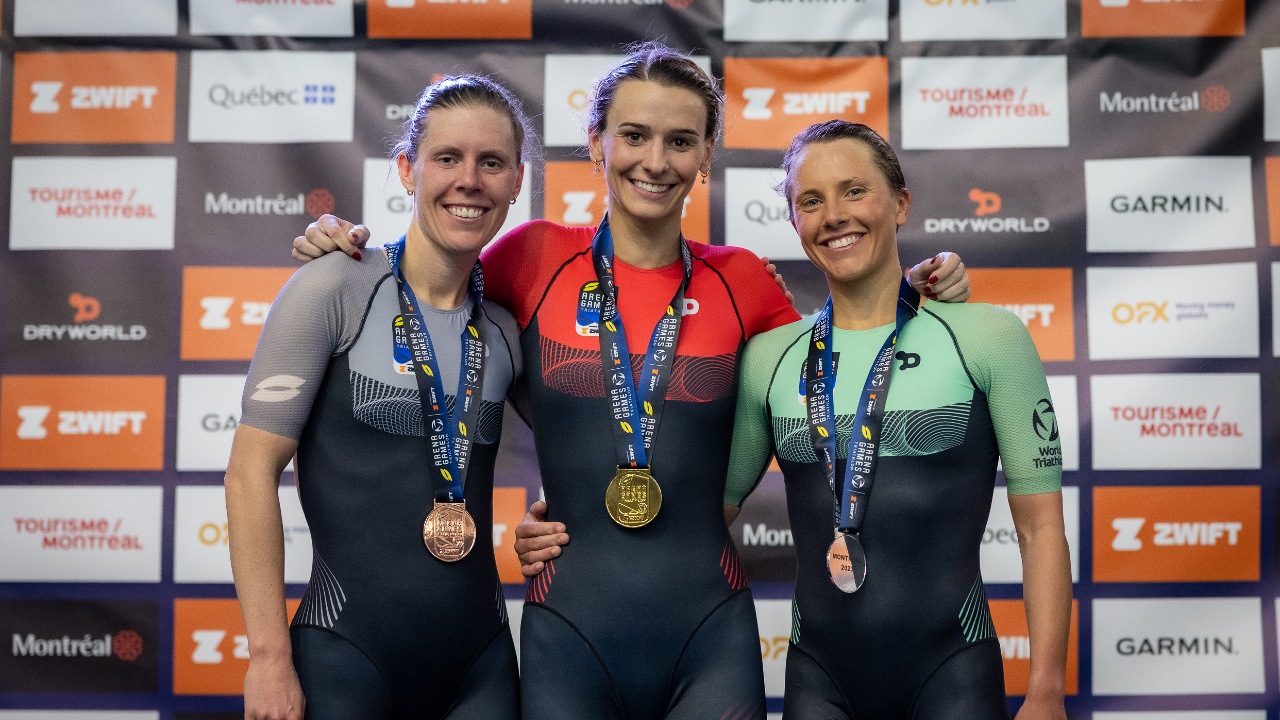 Since Montreal, Sereno has finished 41st at WTCS Abu Dhabi and 20th at the New Plymouth World Cup, so it will be a major opportunity for the NASA employee to shine in London and perhaps put her name forward for a slot in the Super League Championship Series in the Autumn.
British duo Kate Waugh and Olivia Mathias offer more chances of a home podium alongside Potter, with Mathias coming into the race off the back of a strong showing for third in Sursee at the start of March.
Waugh is the defending World U23 Champion and will look to build on a strong start to the season so far which saw her take eighth at the Quarteira European Cup.
Finally, Barbara De Koning could be an athlete to keep an eye out for, as the young Dutch athlete is coming into the event hot off a successful African Cup campaign, which saw her pick up two wins in South Africa and one in Namibia before finishing second in Zimbabwe last weekend.
For the full women's start list and heat line-ups, click here.
Race Distances
While the order may change (see format details below), across all events the distances raced in each discipline will be as follows:
SWIM: 200m in a 50m Olympic-sized pool at the London Aquatics Centre in London's Queen Elizabeth Olympic Park.
BIKE: 4km, ridden on Zwift, athletes all using Tacx NEO 2T smart trainers (athletes weigh-in ahead of the race on Garmin Index S2 Smart Scales). The Zwift draft function for cycling will be set to 'off' – so it's all about watts/kg.
RUN: 1km, run on a self-powered curved treadmill, linked to Zwift.
Format in London
The racing this weekend will take place in a 'Heats' and 'Final' basis, with a "repechage" on Saturday morning:
Heats: In the heats, athletes will race twice. Both stages will be in swim-bike-run format.
The times from the first stage will provide a pursuit start style start order for the second. Thus, in the second race, the winner of the first stage will start, and the second place finisher will start behind them, the number of seconds slower than they were in the first race. Overall Heats results will thus be based on when you finish the run portion of that second stage. No requirement for points accumulation etc.
The first two athletes in each heat will automatically qualify for the final, with athletes finishing third through seventh in each heat qualifying for the repechage. Additionally, the fastest five remaining athletes across all heats will go on to the repechage.
Essentially, six athletes will qualify from the heats straight through to the finals. Then, 20 athletes will compete in the repechage on Saturday morning in a bid to qualify for the final.
Repechage: In the repechage, athletes will again race twice. Both stages will be in swim-bike-run format, with the second stage a pursuit start.
There will be two races in the repechage, with ten athletes in each race. The first two athletes across the line in each repechage will qualify for the final, meaning a total of ten athletes will race on Saturday evening in the finals.
Finals: how will they work?
Athletes that qualify for the finals will race three more times, over these formats:
Stage 1: Swim-Bike-Run
Stage 2: Run-Bike-Swim
Stage 3: Swim-Bike-Run
There will be a very short gap between each of the stages to allow the athletes to prepare their kit etc, but the action barely stops.
In a similar manner to the heats, the final leg will be in a pursuit style start, based on accumulated times from the first and second stages. Once again therefore, the first to finish that final run in stage 3 will be the event winner, no points accumulation or calculations to be made.
Prize Money
There's a large prize purse of $57,100 on offer this weekend in London – and that is exclusively for this event, with further bonuses available for the top finishers overall in the Arena Games Esports World Championship.
Race winners will collect $7,500 each, with the total pot paying ten-deep – thus, every finalist will take home some winnings.
| | |
| --- | --- |
| Position | Purse |
| 1 | $7,500 |
| 2 | $6,000 |
| 3 | $4,500 |
| 4 | $3,000 |
| 5 | $2,100 |
| 6 | $1,800 |
| 7 | $1,500 |
| 8 | $900 |
| 9 | $675 |
| 10 | $575 |
The top three finishers across the series will receive an additional $8k/$6k/$4k respectively. Including the Montreal, Sursee and London races, a total of $177,500 will be earned across the three events.