Henri Schoeman put a tough couple of years behind him as he took the victory in a thrilling men's final at Super League Triathlon's Arena Games Sursee, powered by Zwift.
The South African, a Commonwealth Games winner and Olympic Games bronze medallist, is on the comeback trail and he showed he was going the right way with second at Arena Games Montreal a fortnight ago.
Given that, the only way he could improve ahead of the final in London was by winning and he did just that, taking the lead with a trademark power-packed swim at the end of Stage 2.
France's Maxime Hueber-Moosbrugger was second and Switzerland's Simon Westermann third in a final that was characterised by small margins.
Stage 1: Narrow lead for Westermann
(Format – 200m swim / 4km bike / 1km run)
A theme of the final was just how little was between the field and that was the case early on as they emerged from the water.
It all stayed together on the bike before home favourite Simon Westermann put in a huge run to take the lead – but there were just five seconds between the top eight.
Stage 2: Schoeman swims to the front
(Format – 1km run / 4km bike / 200m swim)
Reverse order for Stage 2 and the close-packed nature was underlined at the start of the run as all 10 were within metres of each other.
The first notable factor was Nieschlag – never off the podium in five previous appearances in this format but now focussing on middle distance – again losing a bit of time on the treadmill.
And then the swim was where Schoeman made his move, cutting through the field to move into the lead.
Stage 3: Emotional win for Schoeman
(Format – 200m swim / 4km bike / 1km run – Pursuit start based on aggregate Stage 1 plus Stage 2)
Starting the final stage, in pursuit order, Schoeman had an eight-seconds advantage from Westermann, with Lasse Nygaard Priester in third.
And Schoeman maintained his advantage – it was just into double figures starting the run – to take a hugely popular and significant win.
Hueber-Moosbrugger clocked a superb 2:37 1km to move from seventh into second at +16 seconds, with Westermann rounding out the podium two seconds back.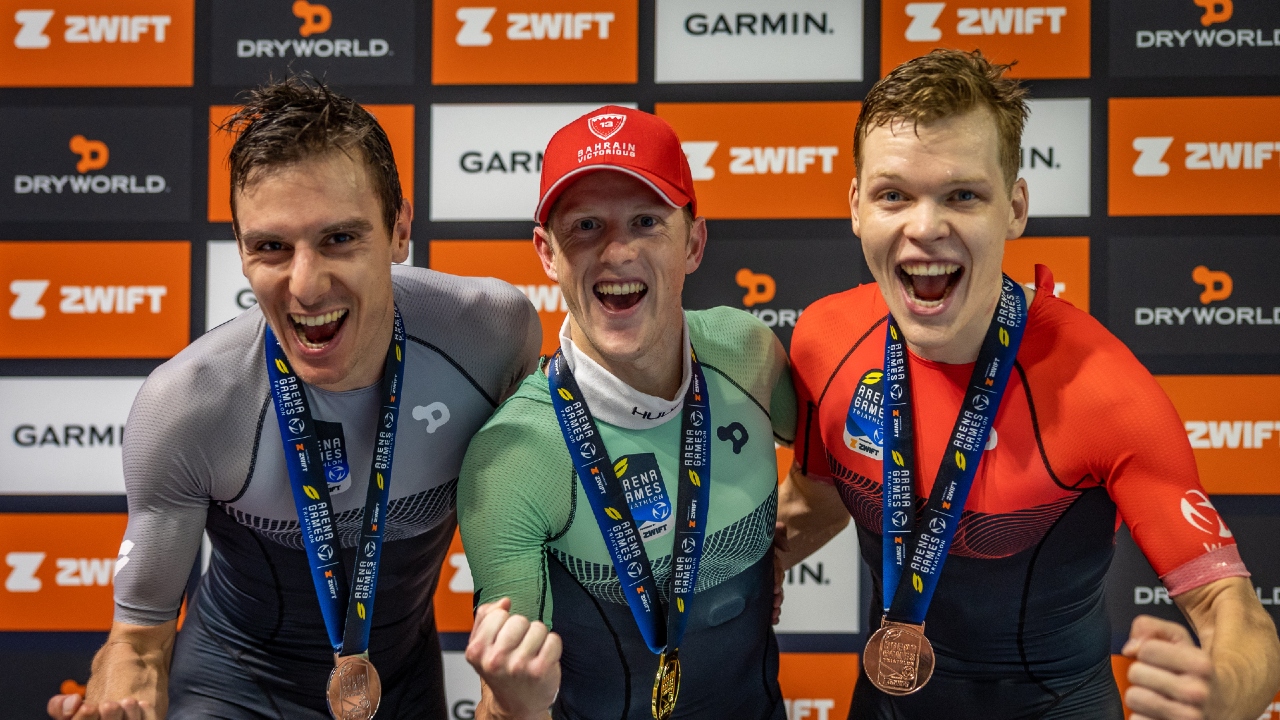 Schoeman was understandably delighted afterwards and said: "I am just so thrilled about my performance. In Montreal I was second and I came here trying to get on top of the podium and did just that.
"It's my first win since all the injuries and the setbacks so I'm just so happy.
"My goal was to give myself the best possible chance going into London and now I'm in prime position – I think my biggest opposition will be Chase [McQueen, winner in Montreal]."
Arena Games Triathlon Sursee 2023 Results
Final – Elite Men: Sunday March 12, 2023
1. Henri Schoeman (RSA) – 34:18
2. Maxime Hueber-Moosbrugger (FRA) – 34:26
3. Simon Westermann (SUI) – 34:28
4. Nicolo Strada (ITA) – 34:33
5. Fabian Meeusen (SUI) – 34:35
6. Justus Nieschlag (GER) – 34:35
7. Lasse Nygaard Prister (GER) – 34:38
8. Max Stapley (TRI) – 34:51
9. Maciej Bruzdziak (POL) – 35:10
10. James Chantler-Mayne (GBR) – 35:35