This is a preview of the event – click on the named links to read about a clear-cut victory for Zsanett Bragmayer and an emotional one for Henri Schoeman.
The three-race Esports Triathlon World Championship continues this weekend, as the Arena Games Triathlon heads to Sursee after a spectacular first round in Montreal a fortnight ago.
This weekend will mark the first Super League event in Switzerland, as the Arena Games Triathlon Sursee powered by Zwift hosts an exceptional field of elite athletes on the shores of Lake Sempach.
Start times and how to watch live
All racing takes place on Sunday 12 March 2023.
You can watch all of the action live via the embed below as well as Super League Triathlon's website and YouTube channel, on TriathlonLIVE.tv and via Eurosport, Discovery+, L'Equipe, Viaplay, OutsideTV and others, dependent upon the specific broadcast rights in your region The Super League Triathlon website has a breakdown of which broadcasters will operate in your region, with that information available here.
The live broadcast show for the Finals will begin at 19:00 local time. That's 18:00 for UK viewers, 11:00 on the East Coast and 08:00 on the West Coast of the USA. The full schedule for the event is as follows:
Women's Heat #1: 10:00 (09:00 UK)
Women's Heat #2: 10:50 (09:50 UK)
Men's Heat #1: 11:40 (10:40 UK)
Men's Heat #2: 12:30 (11:30 UK)
Broadcast show starts: 19:00 (18:00 UK)
Women's Final: 19:00 (18:00 UK)
Men's Final: 20:00 (19:00 UK)
Elite Men – Schoeman back in action
Whilst entertaining, the men's race in Montreal wasn't the most stacked Arena Games start list the competition has seen. However, this weekend in Sursee sees bigger numbers as athletes head to central Switzerland to see where their fitness is at as they start the 2023 season.
Jonny Brownlee, triple Olympic medallist and last year's Super League triathlon Championship Series third place finisher, had been an intended starter but now misses out because of illness.
However, another Olympic medallist who will take part is Henri Schoeman, with the South African the top returner from Montreal after finishing second a fortnight ago in Canada.
Schoeman just missed out on a fairytale win as Chase McQueen took home the plaudits in Montreal, but the 31-year-old showed glimpses of his former self and will recognise the opportunity Sursee presents to cement himself as the top athlete heading into the Grand Final in London next month.
The dark horse in the men's field, who has the skillset in this format to really challenge is German Justus Nieschlag.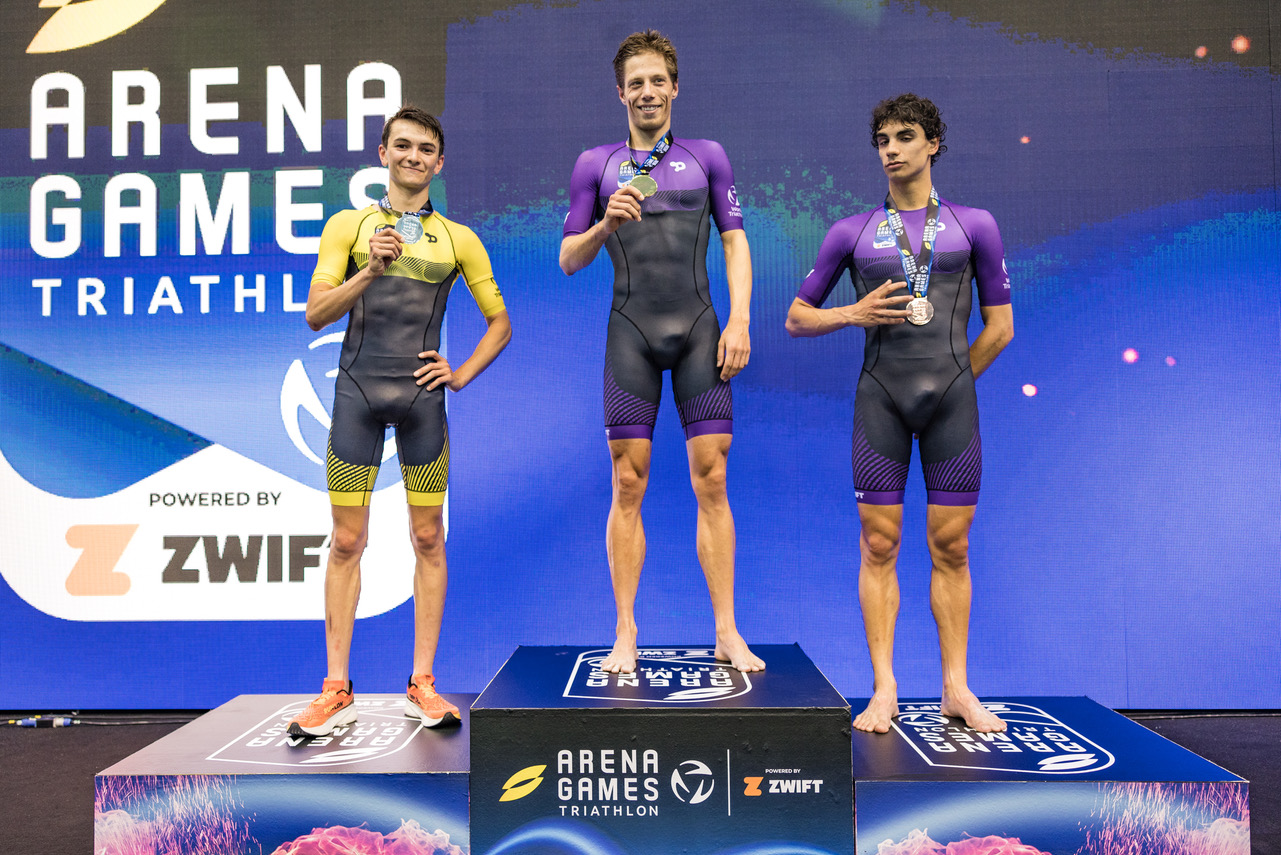 Nieschlag, who was the runner up in the Esports Triathlon World Championships in 2022, is starting his season in Sursee having announced his move to middle distance at the start of the year and is an athlete who has never finished off the podium at the Arena Games.
The 30-year-old, who can boast wins at Rotterdam 2020 as well as London 2022, is a master at this style of racing, and will enjoy an element of home support racing in Sursee, which is the capital city of the German speaking region of Switzerland, Lucerne.
Other notable names on the start list include a trio of young athletes, each with a real chance of finding themselves on the podium if things go their way.
First up, Italian Nicolo Strada, who finished a surprise third in London last year, knows this format well and even at just 22 is one of the more experienced Arena Games Triathlon competitors in the field.
In addition to Strada, Max Stapley is a Super League Triathlon favourite who has also previously finished on an Arena Games podium. That happened last season, where the 24-year-old took second in Munich before going on to record two sixth place finishes in London and Singapore.
Finally, up and coming British athlete Hamish Reilly, who at the end of last year ran his way into second at the World U23 Championships in Abu Dhabi, will make his senior Super League debut in Sursee after previous success in the youth and junior ranks.
For the full men's start lists, click here.
Elite Women – Bragmayer leads the charge
In the women's race, the standout athlete on the start list is Hungarian Zsanett Bragmayer, who last year took down Beth Potter and Georgia Taylor-Brown to take a shock win at the Grand Final in Singapore.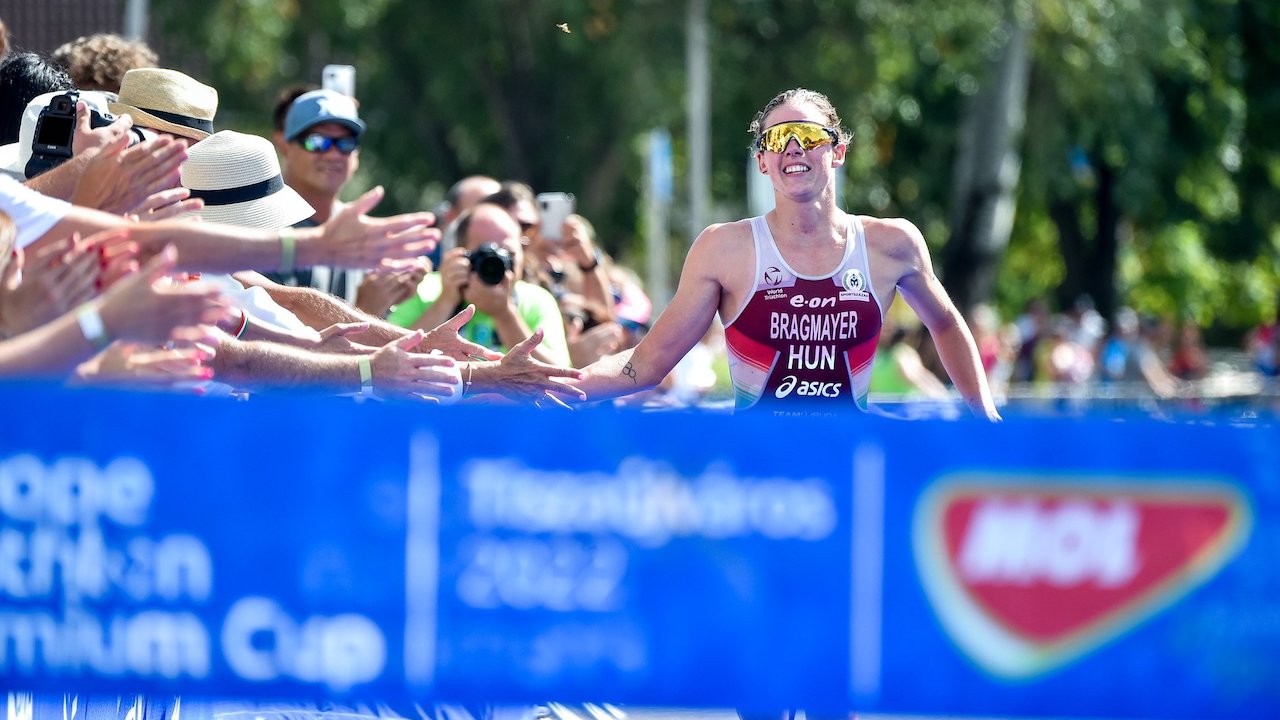 Following that maiden Arena Games victory, Bragmayer went on to win her first European Cup since 2015 in Tiszaujvaros before also getting her first World Cup top 10 with a ninth place finish in Miyazaki in October.
After 12th in Tokyo in 2021, the Hungarian has been gradually building up her profile, with wins in Singapore and Tiszaujvaros a culmination of almost a decade of racing as an elite triathlete. Will she be able to get her 2023 season off to a solid start with a win in Sursee?
Challenging Bragmayer and flying the flag for the home nation, with a reasonable expectation of a podium place, will be Cathia Schar, who at just 21 years of age, is still one of the most experienced Super League athletes in the field.
Last season, Schar raced the entirety of the Super League Triathlon Championship series, with her best result ninth in London, as she finished 11th overall in the women's series as part of the Bahrain Victorious team.
In 2022, Schar made her debut in the WTCS, where she raced impressively to record two top 20 finishes in Hamburg and Bermuda, and she looks likely to be one of the leading contenders for the women's U23 World title later on this year if she can keep on this trajectory.
Another notable name making their debut at the Arena Games is Emma Jackson, the Australian Olympian, who in 2012 finished 8th in London and since then has most notably won WTCS Edmonton in 2019 as well as the Mooloolaba World Cup in 2017.
Jackson, who is part of the JFT crew, will begin her season in Sursee after a tough 2022, which featured a top 10 result at the World Cup in Bergen but saw her struggle to make an impact on the upper echelons of short course racing.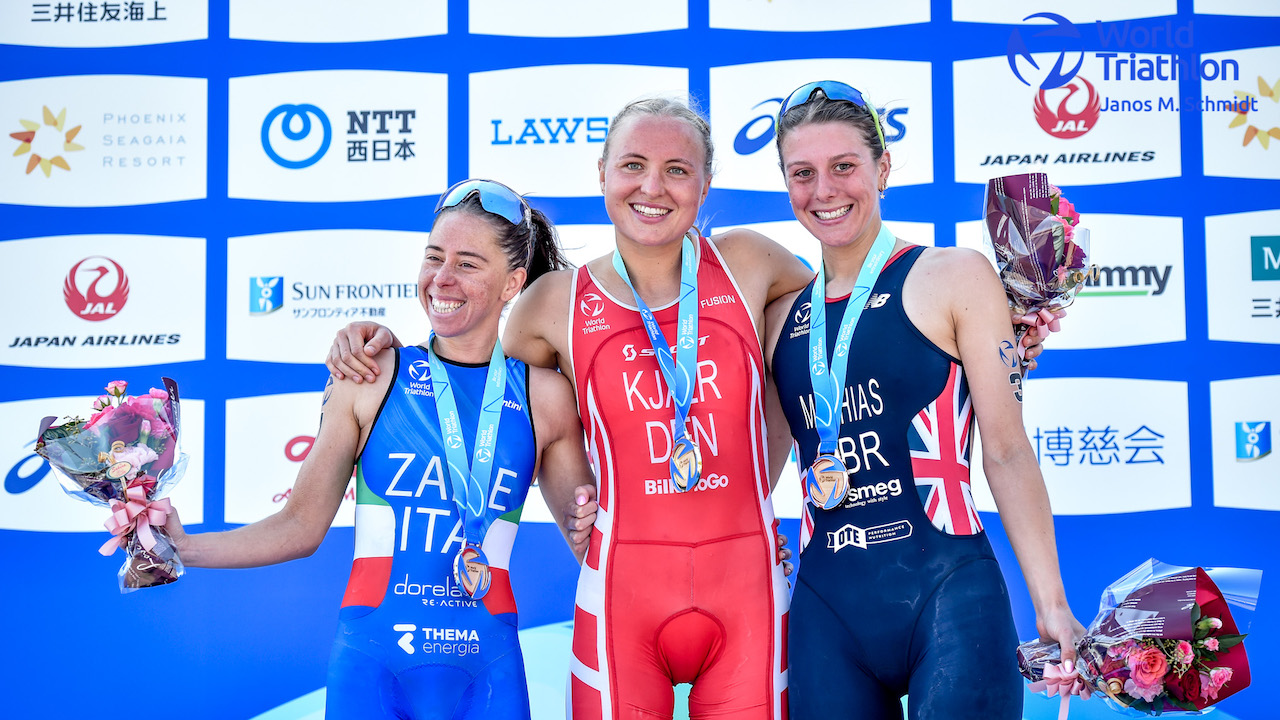 Finally, Brit Olivia Mathias will be flying the flag for the UK in the women's race and will be a real podium contender, especially if she is in similar shape to the form that saw her finish seventh individually at last year's Commonwealth Games (with a team silver to boot) as well as four World Cup top 10 finishes including third in Miyazaki.
For the full women's start lists, click here.
Race Distances
While the order may change (see format details below), across all events the distances raced in each discipline will be as follows:
SWIM: 200m in a 50m Olympic-sized pool (four lengths) at the Campuss Sursee Sportsarena, which is home to the Swiss National Triathlon Federation.
BIKE: 4km, ridden on Zwift, athletes all using Tacx NEO 2T smart trainers (athletes weigh-in ahead of the race on Garmin Index S2 Smart Scales). The Zwift draft function for cycling will be set to 'off' – so it's all about watts/kg, rather than making the lead group in Sursee.
RUN: 1km, run on a self-powered curved treadmill, linked to Zwift.
Format in Sursee
The racing on Sunday will take place in a 'Heats' and 'Final' basis:
Heats: In the heats, athletes will race twice. Both stages will be in swim-bike-run format.
The times from the first stage will provide a pursuit start style start order for the second. Thus, in the second race, the winner of the first stage will start, and the second place finisher will start behind them, the number of seconds slower than they were in the first race. Overall Heats results will thus be based on when you finish the run portion of that second stage. No requirement for points accumulation etc.
Qualification for the finals will be achieved by the top four finishers in each heat, plus the next two fastest athletes from across the two heats, leaving ten athletes to race into each of the finals.
Finals: how will they work?
Athletes that qualify for the finals will race three more times, over these formats:
Stage 1: Swim-Bike-Run
Stage 2: Run-Bike-Swim
Stage 3: Swim-Bike-Run
There will be a very short gap between each of the stages to allow the athletes to prepare their kit etc, but the action barely stops.
In a similar manner to the heats, the final leg will be in a pursuit start style, based on accumulated times from the first and second stages. Once again therefore, the first to finish that final run in stage 3 will be the event winner, no points accumulation or calculations to be made.
Prize Money
There's a sizeable prize purse of $42,200 on offer this weekend in Switzerland – and that is exclusively for this event, with further bonuses available for the top finishers overall in the Arena Games Esports World Championship.
Race winners will collect $5,000 each, with the total pot paying ten-deep – thus, every finalist will take home some winnings.
| | |
| --- | --- |
| Position | Purse |
| 1 | $5,000 |
| 2 | $4,200 |
| 3 | $3,400 |
| 4 | $2,600 |
| 5 | $1,800 |
| 6 | $1,400 |
| 7 | $1,100 |
| 8 | $800 |
| 9 | $500 |
| 10 | $300 |
In addition to the race day prizes, for athletes also racing at the Finals in London (which of itself will have an increased prize purse of $57,100), there will be a further bonus pot $36,000 to the top three athletes in the series.
The top three finishers across the series will receive an additional $8k/$6k/$4k respectively. Including the Montreal, Sursee and London races, a total of $177,500 will be earned across the three events.