Alberte Kjaer Pederson and Gianluca Pozzatti produced superb displays to take victories at World Triathlon Cup Miyazaki in Japan on Saturday.
Top-ranked Pederson lived up to the billing, while Pozzatti exceeded expectations, having never finished higher than seventh in a World Cup race.
Elite Women: Pedersen in charge
Olivia Mathias (GBR) led on the choppy 750m ocean swim, with Sara Guerrero Manson (ESP) and Ilaria Zane (ITA) also among the frontrunners at the start of the bike leg.
Over the 20km course, that trio were joined by Pederson and Zsanett Bragmayer (HUN), with Niina Kishimoto (JAP) also in touch as she was urged on by the local supporters.
Mathias took charge at the beginning of the 5km run leg, but Pederson soon reeled her in and established a healthy advantage.
The Dane was unchallenged over the latter stages and went on to add another World Triathlon Cup gold medal to her collection after her triumph at Huatulco last year.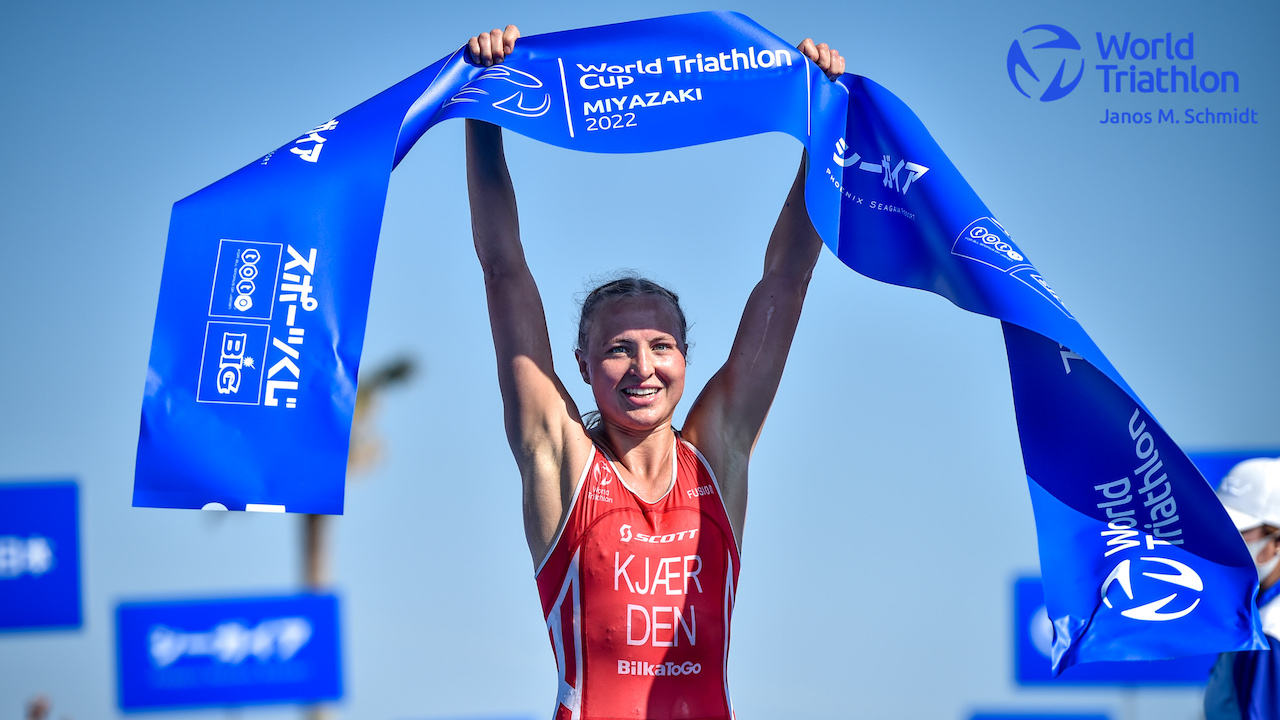 "I am just so happy, it was hard wearing number one from the start, and I just really wanted to win the race and I did so I am just so happy," Pederson told World Triathlon media post-race.
"I was quite nervous before the run today because I haven't felt my run legs in the training lately."
"My plan was just to keep with the other girls in the front and then try to feel how the legs were.
"I just felt good, just started running my pace and hopefully no one would catch me, and I was quite happy.
"It gives me a lot of confidence and it's great to get to know the other girls so when we're travelling around the world, we're friends outside the course as well so it's quite nice."
Elite Men: Pozzatti stunner
The stacked field broke into two distinct groups on the swim, with Oscar Dart (AUS) out in front heading into the bike leg.
An 11-strong lead group formed on the twisty, technical course, with Japanese duo Jumpei Furuya and Makoto Odakura eager to impress and Ricardo Batista (POR) and Jack Willis (GBR) also involved.
David Castro Fajardo (ESP), who was tipped for a podium, was forced to retire amid a mechanical issue.
Italy's Pozzatti, his compatriot Alessio Crociani, Alberto Gonzalez Garcia (ESP) and Batista were among those pushing the pace as the leading contingent broke away.
Takumi Hojo (JAP), a winner at Europe Triathlon Cup Quarteira in March, asserted himself as contender for victory as he stormed clear early on the run, but Pozzatti produced a phenomenal burst to overhaul his rival.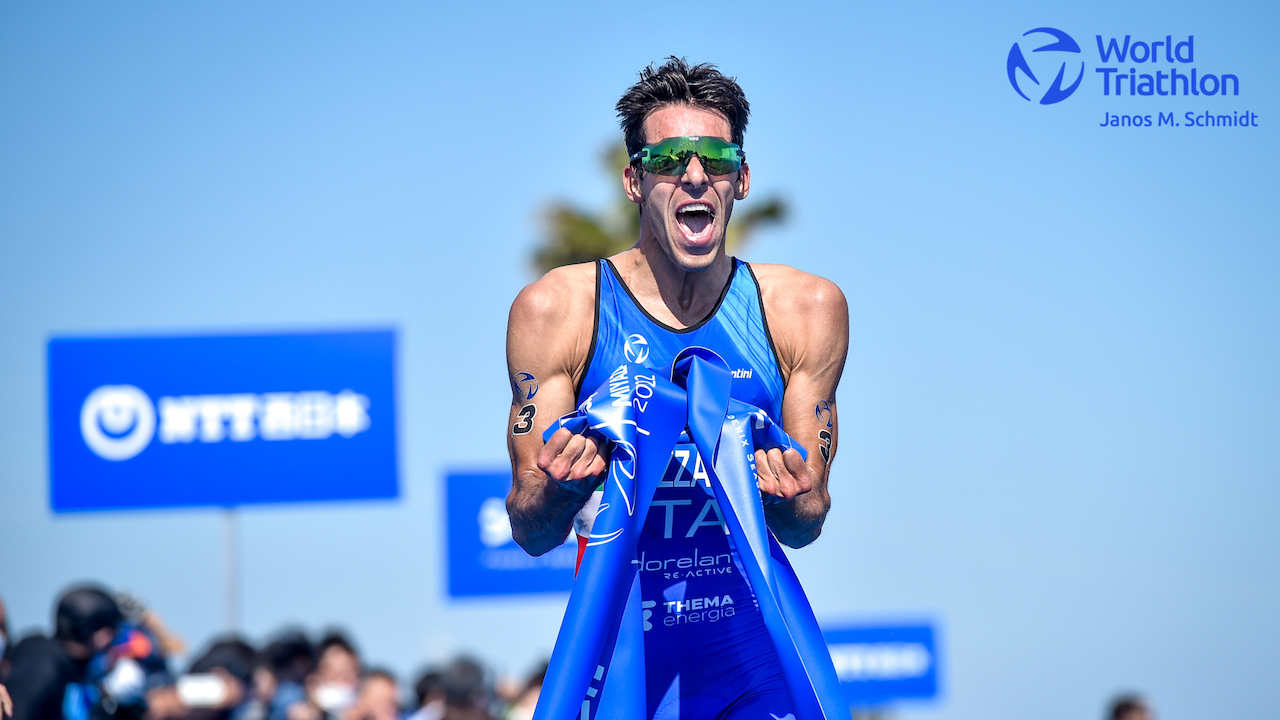 With Pozzatti looking ever more likely to secure the win, a battle for second emerged, with Garcia narrowly edging out Batista as Willis missed out on a podium place and Hojo dropped to fifth.
Pozzatti said after the race: "Honestly, I am still speechless, I don't what to say. My top result in a World Cup was seventh so it's a huge improvement.
"The last two hundred metres I didn't want to look back because I knew he (Alberto Gonzalez Garcia) was coming and I know he is a strong runner.
"It was incredible, I want to thank all the people who stayed in my corner during the real lows, and they trusted me more than I did myself, so this is for you guys, I love them all.
"In a sprint distance race, the strategy is to go all out from the beach start until the finish line."
"The swim was pretty messy but we managed to breakaway with a group of guys up front, we cooperated together and we ran off with 45-seconds so I knew there was a good group of athletes up front.
"It was nice to fight with the guys until the finish line and I am so happy to take the win.
"I love Japan, I have such good memories also because of the Olympics last year. It's always nice to come here, even though it's on the other side of the world, it's totally worth it.
"I'm in the shape of my life. The podium was my goal but to be on the top is unbelievable, I am so happy,"
World Triathlon Cup Miyazaki Results 2022
Saturday October 29, 2022 – 750m / 20km / 5km
ELITE WOMEN
1. Alberte Kjaer Pederson (DEN) – 1:00:43
2. Ilaria Zane (ITA) – 1:00:55
3. Olivia Mathias (GBR) – 1:00:56
4. Coninx Lea (FRA) – 1:00:58
5. Tanja Neubert (GER) – 1:00:59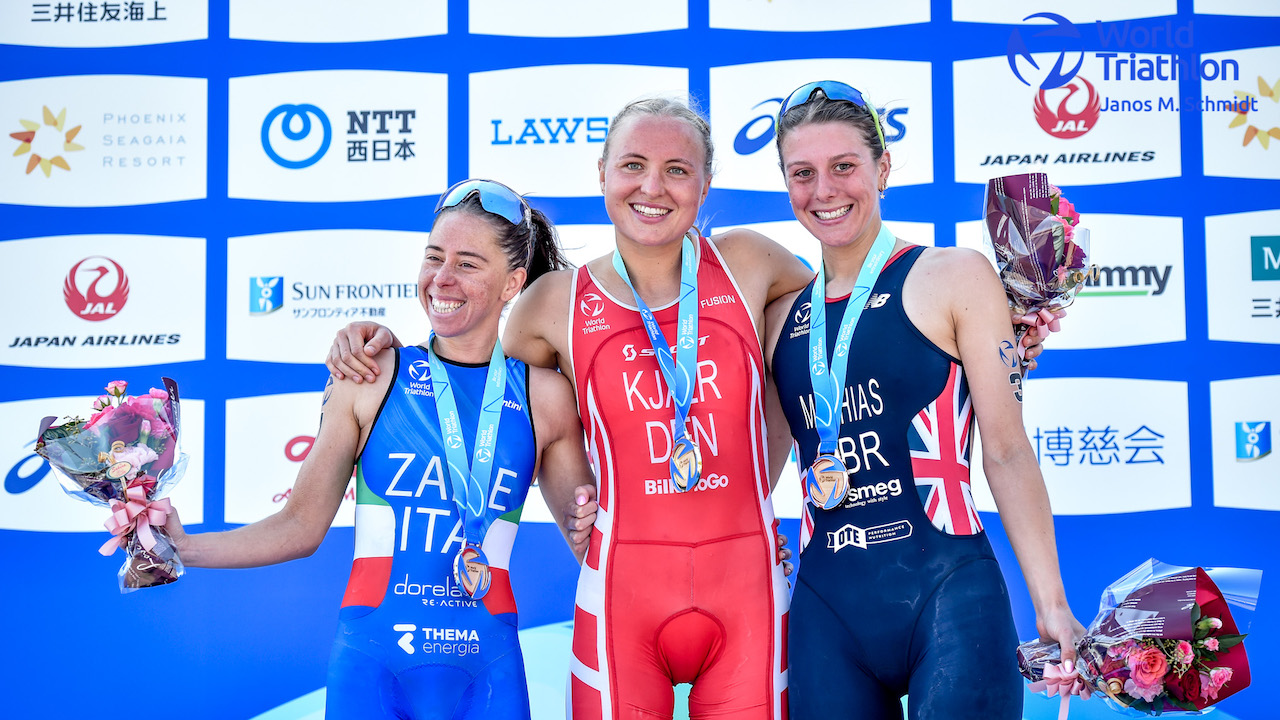 ELITE MEN
1. Gianluca Pozzatti (ITA) – 53:11
2. Alberto Gonzalez Garcia (ESP) – 53:17
3. Ricardo Batista (POR) – 53:18
4. Jack Willis (GBR) – 53:25
5. Takumi Hojo (JPN) – 53:32
12. Ben Dijkstra (GBR)
19. Harry Leleu (GBR)
23. Connor Bentley (GBR)