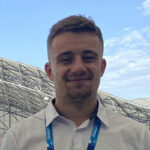 Olly Green
Olly is is been the content lead for RUN247, is a regular contributor to TRI247 and keeps an eye out for content that appeals to both audiences including interviews with pro Heather Jackson.
Olly Green is an established sports journalist who has been providing tailored content for endurance sports websites RUN247 and TRI247 for more than two years. 
He graduated from Liverpool John Moores University (LJMU) in 2020 with a First Class Honours degree in Sports Journalism, having undertaken successful journalistic roles during his studies. He worked at professional football club York City, rugby union website Huge Rugby and renowned local newspaper the Liverpool Echo. 
Olly secured a professional role with established sports content agency Sport Acuity later in 2020 and has since written for a plethora of prominent organisations and websites. He is the website content strategist for European Professional Club Rugby (EPCR), and has gained further experience writing for influential bodies such as the European Club Association (ECA) and UEFA. He has also been entrusted with supplying exclusive content to the World Curling Federation (WCF), F1 Play and 188BET. 
During his time with Sport Acuity, Olly has also developed an expansive knowledge of endurance sports, producing news articles for the Professional Triathletes Organisation (PTO) in a role which deepened his understanding of elite triathlon racing. 
As well as being a regular contributor to TRI247 over the past two years, he has been the content coordinator for RUN247. He has interviewed esteemed British ultra runner Tom Evans ahead of his podium at Ultra-Trail du Mont Blanc (UTMB) and USA star Heather Jackson following her switch from triathlon to trail running.