Flora Duffy is adamant she will be primed for World Triathlon Championship Series (WTCS) Bermuda on Sunday, despite having taken on the IRONMAN 70.3 World Championship nine days prior.
Bermuda's first ever gold medallist comes into her home race off the back of a fifth-place finish in St George last Friday.
The 35-year-old was unable to match the pace of eventual winner Taylor Knibb on the run, though she will get another shot at the American this weekend.
Knibb rematch
Duffy says she is looking forward to the prospect of taking on Knibb again, and racing in her home nation where she has helped inspire a growth in triathlon.
"Round two with Taylor – in Bermuda so my home turf", she told Bob Babbitt on his famous Breakfast with Bob show (embedded below).
"And instead of starting in 30 Fahrenheit, we will be starting in 30 Celsius which is a little bit more to my liking.
"But what's really cool is we have two other Bermudians racing – Erica Hawley and Tyler Smith.
"I think that's pretty special that we have three Bermudians racing at the World Triathlon level. It's pretty incredible for a tiny island.
"And Tyler Butterfield's actually been doing a lot of training with me in Boulder. He helped me immensely in my Commonwealth Games preparation this year.
"It's really cool to see how the sport's developing, and more and more people getting involved in the sport in Bermuda."
Recovery key
Duffy admitted that it wasn't a straightforward choice to commit to two races in quick succession and asserted that how she recovers from Friday could be the difference in her battle with Knibb.
"It definitely was [a tough decision], but this year I wanted to do some new stuff," she explained.
"I wanted to explore the 70.3 distance so that kind of helped me push it over the line and I think nine days is enough to recover.
"I'm hoping we'll see who recovers better between me or Taylor."
The latter stages of the St George race saw Duffy in close proximity of Canada's Paula Findlay and Britain's Lucy Charles-Barclay.
Although she was ultimately overcome, Duffy acknowledged the spectacle of three of the sport's most accomplished athletes going head-to-head.
"At the time it wasn't that fun but now that I look back at photos, I'm like, wow what a cool moment the three of us battling it out on the run, really going for it.
"You don't see that that often in 70.3 racing. You see it all the time in short course racing, but for us three to come off and really be battling it out was really cool.
"I guess I just wish I had a little bit more in me to really enjoy the moment a bit more and really push and to try to battle for the podium.
"But after the first lap I was kind of just hanging on hoping I wouldn't get caught by too many other women."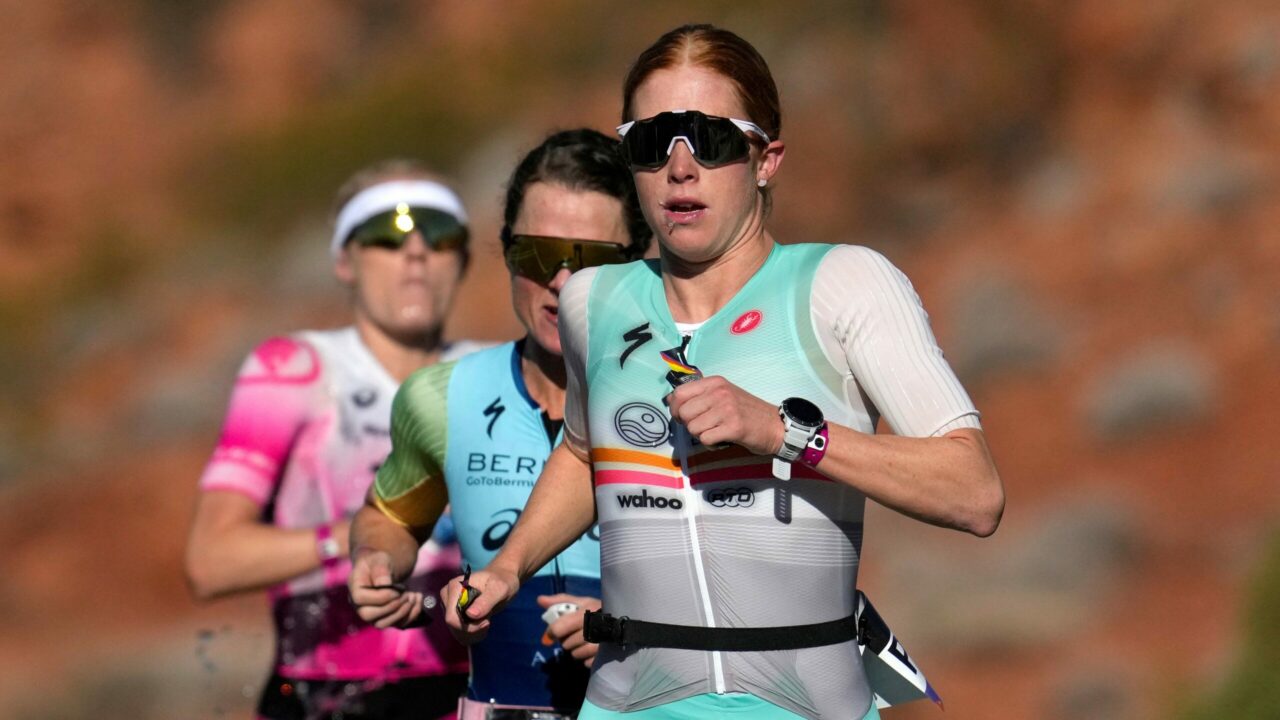 This year's 70.3 World Championship test was another step on Duffy's triathlon journey, and she remains hopeful of conquering the distance in the future.
"It's been a big journey for me, and I think I've got to keep that perspective with 70.3 because this is definitely a world title I would like to win, and it doesn't just happen overnight," she stated.
"My Olympic gold definitely did not happen overnight, or any of my other world titles – it's a long progression."
Giving back
Amid her Bermuda homecoming this weekend, Duffy explained her launch of the Flora Fund, which helps support aspiring Bermudian athletes.
She believes the foundation gives her purpose outside of triathlon, and provided her with fresh motivation following her gold medal at Tokyo 2020.
"In 2018 I launched The Flora Fund and the goal of that was to give back the sporting community that's given me so much, and to keep doors open for young athletes pursuing the sport," she said.
"That doesn't have to necessarily be at the super-high level, just keeping them involved with sport because I've always believed it can open doors and create opportunities.
"Thus far it's a small start but it's something I want to continually build as my career goes on and after my career.
"We've helped many athletes from a wide variety of sports, from gymnastics to motocross, some swimming, some running, triathlon.
"It's been really special and meaningful to hear what it's meant and to follow the young athletes' journeys."
"When I got into this sport many years ago, I never thought I would have the platform to be able to do this and I think it's you know up there with one of the most special things that sport has like enabled me to be able to do.
"I mean this is a very selfish pursuit, endurance sport, particularly triathlon – your life revolves around it.
"Especially after I accomplished such a big goal in Tokyo it was like 'what's next?', so being able to build this fund and have the profile that it can be meaningful, and people want to support it – it's helped some young individuals – is really incredible."