Flora Duffy's IRONMAN 70.3 World Championship dream is alive again after she was selected as a Wild Card for the event in October.
The Tokyo Olympic gold medallist had previously shelved plans to reach the St George race after two qualification attempts were scuppered.
A COVID infection saw her miss IRONMAN 70.3 Chattanooga before her bid at Mont Tremblant was thwarted when her bike didn't arrive.
However, after receiving the Wild Card pick from IRONMAN, she will finally take on the showpiece event in Utah, fulfilling an ambition which has eluded her for years.
Long time coming
"Thank you for the opportunity @ironmantrti," she wrote on Instagram. "I really appreciate it and will do my best to add to the excitement of the women's race.
"Truth is, I have been trying to get to 70.3 Worlds for a few years now. I really wanted to race in PE in 2018, being in South Africa. But I got injured. An injury that somewhat kept me down through Nice 2019.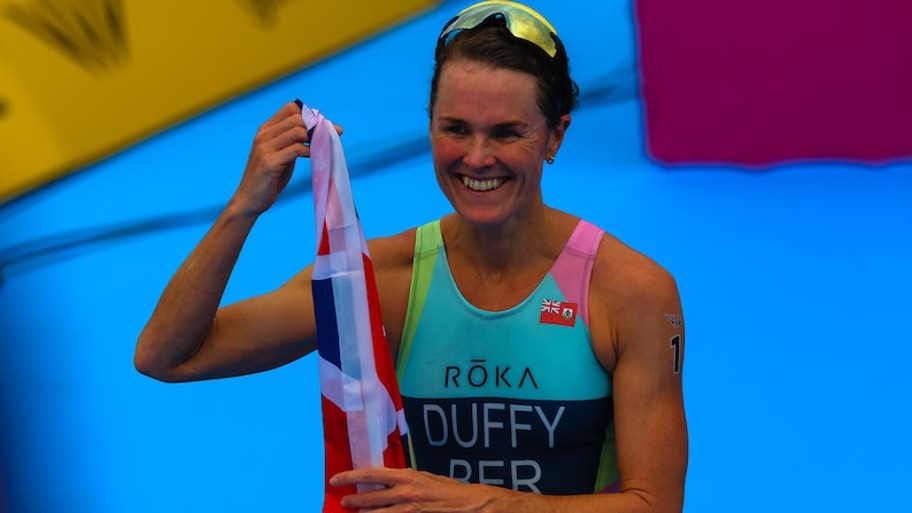 "I then did qualify for the 2020 Worlds in New Zealand, but then the race was cancelled due to Covid.
"My slot was rolled to 2021 but after the Olympics I was exhausted and did not race. So laid out like this, it has been a journey – this year included. I am really thrilled to get to start finally."
Duffy comes into next month's race having become the first person to retain a Commonwealth Games triathlon title in July.
The Bermudian, who is a reigning World Champion, has limited experience of middle-distance racing, but was winner at IRONMAN 70.3 South Africa in 2020 and finished second in Match 1 at this year's Collins Cup.
Season plans?
So, how does the rest of Flora's season (potentially) look? Bearing in mind that Duffy will be looking to retain her World Triathlon title (aiming to become the first woman to win that four times), here is her potential schedule for the rest of 2022, based on what we know and a bit of analysis:
17 September: PTO US Open, Dallas
8 October: WTCS Cagliari, Italy
28 October: IRONMAN 70.3 World Championship, St George
6 November: WTCS Bermuda
25 November: WTCS Abu Dhabi Championship Final
NOTE: The World Triathlon Rankings are based on 'best four WTCS results, plus the Championship Final'
Georgia Taylor-Brown currently has 1st, 1st, 2nd, 2nd in her points total (3850). Flora has 1st, 1st, 3rd, 7th to her name for second place in the standings (3482), and so will certainly want to try and close that gap ahead of the race in Abu Dhabi, notably improving on that disappointing seventh place in Leeds.
Abu Dhabi points are worth 1250 for a win (rather than 1000), and with a 7.5% reduction per position, second place would be worth 1156, a difference of 94 points.
Were Duffy to win in Cagliari, her points total would rise to 3856 (based on 3x 1st, 1x 3rd) and move her into the lead by just six points. Why would that be key? Well, it means that even if GTB were to win in Bermuda and Duffy was lower than second, her points total would improve to 3925, leaving a difference of just 69 points heading into the Championship Final.
While Duffy, of course, will want to dominate on home soil in Bermuda, the race does fall just a week after that 70.3 World Championship. 'If' there was any hangover / fatigue from that effort – and assuming that she could win in Cagliari – whatever happens in Bermuda, if Flora wins in Abu Dhabi she would be World Champion.
Which is a long way of saying that we think….
Duffy will be fully focussed on Cagliari success, and
Assuming that is achieved, she can go 100% all-in on St George, without concern that WTCS Bermuda will impact her overall prospects. With one significant assumption of course (!)….
… that she is confident of success in Abu Dhabi.
With a full month between St George and Abu Dhabi, plenty of time to regroup, rebuild and prepare.
The competition and schedule is tough – but could Duffy finish 2022 as the reigning Olympic Champion, 2x Commonwealth Champion, 4x World Triathlon Champion and IRONMAN 70.3 World Champion?