A cycling masterclass from Taylor Knibb is, pretty much, the entire race report from Saturday's World Triathlon Championship Finals Edmonton, the final event to determine the 2021 World Triathlon Champion.
Quickest in the swim too, Knibb had also gained 15 seconds on Flora Duffy, and her intentions were pretty clear from the first kilometre. Having finished second at IRONMAN 70.3 Boulder and second last week in Montreal, 23 year-old Knibb is an athlete in fine form, as she showed earlier in the season in Yokohama. She'll be racing again in seven days at the Collins Cup too.
Having seen first hand Knibb's cycling prowess, Duffy spotted the risk immediately, and set off in chase – but before she could bridge back, Knibb was gone and, out-and-backs on the course aside, would never be seen again. Riding more than two and a half minutes quicker than the entire field, and doing it solo, is not something we see often, but Knibb was in fearless mode. She put time into her chasers lap after lap.
Not needing a race win to add a third World Triathlon title to her Olympic and Commonwealth Games championship titles, Flora went into defensive mode in the big chase group, with the Knibb train departed.
Taylor started the run with a huge lead, and while that was more than halved over the 10km, that was really irrelevant. She never, for a second, looked under pressure. Three years to Paris? She's an early favourite for that one.
Leonie Periault (FRA) produced the quickest run of the day (33:52) to take silver, with Duffy completing the podium, which was more than enough to top the rankings and earn a tenth career world title.
[ *** Report to be updated ***]
Edmonton Results – Elite Women
World Triathlon Championship Finals Edmonton – Saturday 21st August 2021
1.5km / 40km / 10km
Taylor Knibb (USA) – 1:54:47
Leonie Periault (FRA) – 1:55:43
Flora Duffy (BER) – 1:56:11
Katie Zaferes (USA) – 1:56:14
Taylor Spivey (USA) – 1:56:16
Maya Kingma (NED) – 1:56:23
Sophie Coldwell (GBR) – 1:56:46
Laura Lindemann (GER) – 1:56:56
Vicky Holland (GBR) – 1:57:32
Kirsten Kasper (USA) – 1:57:47
Non Stanford (GBR) – 1:58:03
14. Sian Rainsley (GBR) – 1:58:41
18. Beth Potter (GBR) – 1:59:32
2021 Maurice Lacroix World Triathlon Championship Series Rankings (Final)
Flora Duffy (BER) – 3861 – World Champion
Taylor Knibb (USA) – 3486
Taylor Spivey (USA) – 3239
Maya Kingma (NED) – 3161
Sophie Coldwell (GBR) – 2942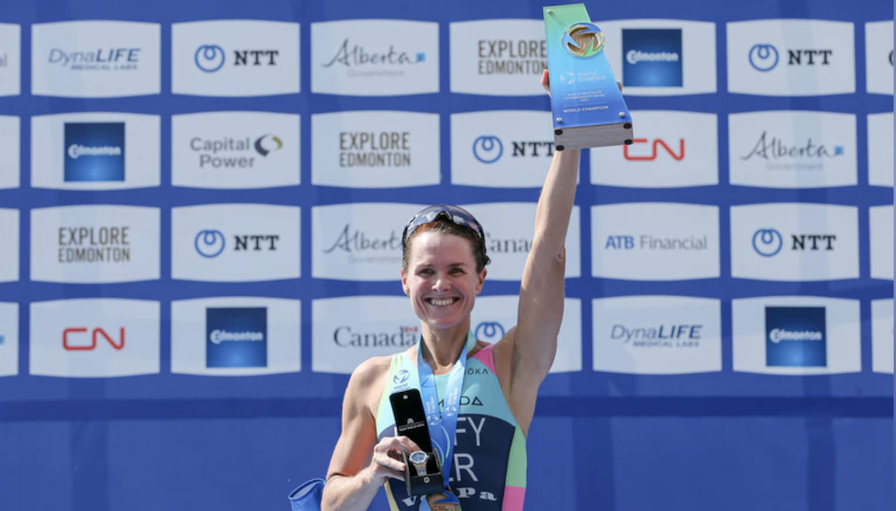 9. Non Stanford (GBR) – 1982
13. Jessica Learmonth (GBR) – 1461
17. Sian Rainsley (GBR) – 1238
19. Vicky Holland (GBR) – 1062
21. Beth Potter (GBR) – 958
22. Georgia Taylor-Brown (GBR) – 925
27. Lucy Charles-Barclay (GBR) – 732
56. Olivia Mathias (GBR) – 267