The IRONMAN World Championship is the event every elite athlete wants to win, but first they have to make sure they are among the qualifiers.
Normally held in Kailua-Kona, on the west coast of Hawaii Island ('The Big Island'), the race brings together the very best long-distance triathletes on the planet to compete for the coveted title.
The inaugural event back in 1978 was the brainchild of US Navy Commander John Collins and his wife Judy, with 15 competitors taking on the gruelling course.
The October 2021 version was postponed due to the ongoing COVID pandemic, and after a further reschedule from February 22 it will now take place in St George, Utah on May 7, 2022. It will then return to its spiritual home in October 2022.
US Navy Communications Specialist Gordon Haller was crowned as the first-ever IRONMAN Champion, finishing in 11:46:58.
Dave Scott, Paula Newby-Fraser, Mark Allen and Natascha Badmann are among an array of athletes that have since etched their name into the event's history by claiming multiple Ironman World Championship titles.
2021 will be the 44th edition of the legendary competition, with up to 100 slots available across the professional men's and women's races, and hundreds more age-group athletes set to compete.
Jan Frodeno is the current course record holder for the men's race, after his sensational 7:51:13 saw him clinch victory in 2019.
The year prior, Switzerland's Daniela Ryf clocked a course record for the women's race, finishing in 8:26:18.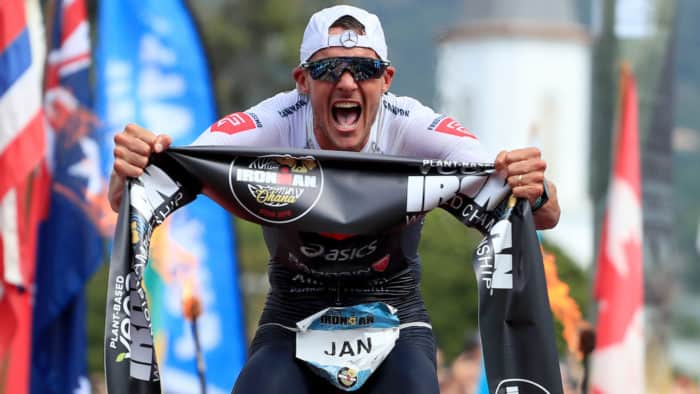 Qualifiers for St George
Athletes spent a large part of 2021 aiming to secure their places at St George, and now both professional fields are set.
Below is the list of names who have confirmed their places on the starting line:
PRO MEN (51)
Bart Aernouts (Belgium)
Emilio Aguayo Munoz (Spain) – WITHDRAWN
Josh Amberger (Australia) – WITHDRAWN/VISA ISSUES
Florian Angert (Germany)
Daniel Bækkegård (Denmark)
Andi Boecherer (Germany) – WITHDRAWN
Matt Burton (Australia)
Tyler Butterfield (Bermuda)
Leon Chevalier (France)
Denis Chevrot (France)
Braden Currie (New Zealand)
Mario De Elias (Argentina)
Andrea Dreitz (Germany)
Adam Feigh (United States)
Henrik Goesch (Finland)
Pedro Gomes (Portugal)
Arnaud Guilloux (France)
Matthew Hanson (United States)
Ben Hoffman (United States)
Kristian Hogenhaug (Denmark)
Pieter Heemeryck (Belgium)
Sam Laidlow (France)
Chris Leiferman (United States)
Sam Long (United States)
David McNamee (United Kingdom)
Justin Metzler (United States)
Max Neumann (Australia)
Patrik Nilsson (Sweden)
Tim O'Donnell (United States) – WITHDRAWN
Mike Phillips (New Zealand) – WITHDRAWN
Jason Pohl (Canada)
Kevin Portmann (France)
Andy Potts (United States)
Matt Russell (United States)
Kyle Smith (New Zealand)
Boris Stein (Germany)
Rasmus Sveningsson (Sweden) – WITHDRAWN
Matt Trautman (South Africa)
Jan Van Berkel (Switzerland)
Tim Van Berkel (Australia) – WITHDRAWN
Michael Weiss (Austria)
Cameron Wurf (Australia)
PRO WOMEN (45)
Teresa Adam (New Zealand) – WITHDRAWN
Ruth Astle (United Kingdom)
Nikki Bartlett (United Kingdom)
Mirinda Carfrae (Australia) – WITHDRAWN
Haley Chura (United States)
Judith Corachan Vaquera (Spain) – WITHDRAWN
Linsey Corbin (United States)
Sarah Crowley (Australia) – WITHDRAWN
Chantal Cummings (United Kingdom) – WITHDRAWN
Flora Duffy (Bermuda) – DECLINED SPECIAL INVITATION
Kelly Fillnow (United States)
Gurutze Frades Larralde (Spain)
Tara Grosvenor (United Kingdom) – WITHDRAWN
Anne Haug (Germany)
Meredith Kessler (United States)
Renee Kiley (Australia)
Tessa Kortekaas (Spain)
Chloe Lane (Australia) – WITHDRAWN
Fenella Langridge (United Kingdom)
Carolin Lehrieder (Germany)
Carrie Lester (United States) – WITHDRAWN
Justine Mathieux (France) – WITHDRAWN
Katrina Matthews (United Kingdom)
Rachel McBride (Canada)
Jocelyn McCauley (United States)
Simone Mitchell (United Kingdom) – WITHDRAWN
Skye Moench (United States)
Kimberley Morrison (United Kingdom) – WITHDRAWN
Angela Naeth (Canada)
Lisa Norden (Sweden)
Laura Philipp (Germany) – WITHDRAWN
Sarah Piampiano (United States) – WITHDRAWN
Joanna Ryter (Switzerland)
Laura Siddall (United Kingdom)
Imogen Simmonds (Switzerland) – WITHDRAWN
Kylie Simpson (Australia) – WITHDRAWN
Maja Stage-Nielsen (Denmark)
Sara Svensk (Sweden) – WITHDRAWN/INJURED
Michelle Vesterby (Denmark) – WITHDRAWN
Amelia Watkinson (New Zealand) – WITHDRAWN
Hannah Wells (New Zealand) – WITHDRAWN
Laura Zimmermann (Germany)
St George 2021 qualifiers – upcoming races
Qualification has now been completed.
When is the 2021 IRONMAN World Championship?
The 2021 IRONMAN World Championship will take place in St George, Utah on May 7, 2022.