Third IRONMAN World title for Jan Frodeno in Hawaii
New course record in Kona as 2008 Olympic Champion proves his class
In the lead pack throughout, a late attack on the bike and then the fastest marathon of the day too. Three years after his last victory in Kona, the 2008 Olympic Games Gold medallist, Jan Frodeno, was an impressive winner of the 2019 IRONMAN Triathlon World Championship.

The Race
Swim – Amberger leads the way, Lange off to a great start
No surprise to anyone to find Australia's Josh Amberger pushing the pace through the water. The presence of debutant Alistair Brownlee along with the return of Jan Frodeno – both fine swimmers – gave extra incentive to the speedy Aussie to use his swim strength, safe in the knowledge there would be a quorum of top quality athletes more than willing to go with him. It was a very swift 'out' leg, reaching the turn in little more than 21 minutes, but any thoughts of challenging the swim course record (46:29) would be extinguished by the current on the return.
It was still a swift opening leg (47:28), with Amberger leading out a group of nine which included Frodeno (GER), Brownlee (GBR), Daniel Bakkegard (DEN), TIm O'Donnell (USA), Maurice Clavel (GER), Patrick Lange (GER), Braden Currie (NZL) and Jesper Svensson (SWE). The key news there was the presence of two-time defending champion Lange. That was a great start to his day. Alas, that was as good as it got for Patrick.
.@JoshAmberger is first out of the water at the 2019 @VegaTeam IRONMAN World Championship clocking a 47:28 swim.#IMWC #AnythingisPossible #VegaTeam pic.twitter.com/DDHK1OqNgd

— IRONMAN Triathlon (@IRONMANtri) October 12, 2019
That lead pack had three minutes over a very large group headed by Nils Frommhold (GER), which included David McNamee, Andy Potts (USA) and Ben Hoffman (USA) just to name three, with a powerful biking quartet of Cameron Wurf (AUS), Sebastian Kienle (GER), Lionel Sanders (CAN) and Joe Skipper (GBR) within seconds of each other, five minutes back on the Amberger group. Will Clarke would also start the ride alongside the bike powerhouses.
Bike
It didn't take long for the leading swim group of nine to become five – Frodeno, Amberger, Clavel, O'Donnell and Brownlee. Less than 40km into the ride, Wurf, Sanders, Kienle and Skipper were among those that had bridged up to the chase pack, now just over three minutes down. One man missing from that front group, losing time and soon to be out of the race was the two-time defending champion Patrick Lange. Apparently he had shown flu-like symptoms in recent days and this was not destined to be three-in-a-row race for him.
2x-Defending IRONMAN World Champion Patrick Lange abruptly stopped when he saw his coach and has officially dropped out of the race. #IMWC pic.twitter.com/CnB68dlRKW

— IRONMAN Triathlon (@IRONMANtri) October 12, 2019
It wasn't just Lange who wasn't having things go to plan. Third for the past two years, David McNamee didn't make it much past two hours of racing before he too was an addition to the Pro DNF listing, sickness also forcing him out of racing action.
https://www.instagram.com/p/B3ifBW8BGJh/
Any thoughts of an inevitable and quick catch were extinguished though, as the leaders were pushing the pace – Clavel in particular – and at the Hawi turn (60 miles), the leading five was down to four with Amberger now 45 seconds back. While the chasers had closed, Wurf's group (Boris Stein (GER), Kienle, Sanders, Skipper, Hogenhaug (DEN), Koutny (SUI), and Russell (USA)), were still two and a half minutes shy of the pace being set at the front.
The attrition at the front continued, and the next to fall off the pace was Clavel, leaving Frodeno, Brownlee and O'Donnell still more than two minutes clear with just 15 miles of the bike remaining. It was then that winner in 2015 and 2016, Jan Frodeno, made a big move and really hit the pedals hard. Within 10 miles he put more than a minute into everyone, really changing the shape of the race as they approached T2.
And now onto T2. @janfrodeno was first off the bike and is first onto the @HOKAONEONE Run Course at the 2019 @VegaTeam IRONMAN World Championship! #IMWC #VegaTeam

Brought to you by #IMCairns. #ItsLive pic.twitter.com/wd34in0yGW

— IRONMAN Triathlon (@IRONMANtri) October 12, 2019
Jan built a lead of almost 90 seconds to O'Donnell at T2, with Wurf in next (3:08), closely followed by Brownlee, Kienle, Sanders and Stein. Joe Skipper suffered a puncture late in the bike – but fortunately was able to get a quick wheel change – and he would dismount in 10th, 5:43 down on the leader.
Puncture for @Noaveragejoe88 five miles to go. Very quick change though pic.twitter.com/ZDgtFJagKv

— Richard Melik (@richardmelik) October 12, 2019
Run
Leading the way onto the run course, Frodeno was never headed. He needed to be quicker than 2:44:09 to break the course record set last year by Patrick Lange – and 2:42:43 achieved that landmark, as well as making him the first German athlete to win the IRONMAN World Championship three times.
.@janfrodeno is your 2019 @VegaTeam IRONMAN World Champion in a world best 7:51:13. This is Frodeno's third World Championship victory! 🏆#IMWC #AnythingisPossible #VegaTeam pic.twitter.com/FdCckimOew

— IRONMAN Triathlon (@IRONMANtri) October 13, 2019
Second to start the run, Tim O'Donnell like Frodeno also held his position for the full 26.2 miles. A 2:49:44 clocking brought him home to his secretary nd top-three finish in Hawaii (he was 3rd in 2015) and a Sub-8 finish to go with it.
Alistair Brownlee started the run well and held third place in the early stages. Sebastian Kienle passed him, but the Brit still held fourth place after 10-miles – but from then on the wheels started to fall off, but he kept going to the end (a 3:13:01 marathon), eventually finishing 21st.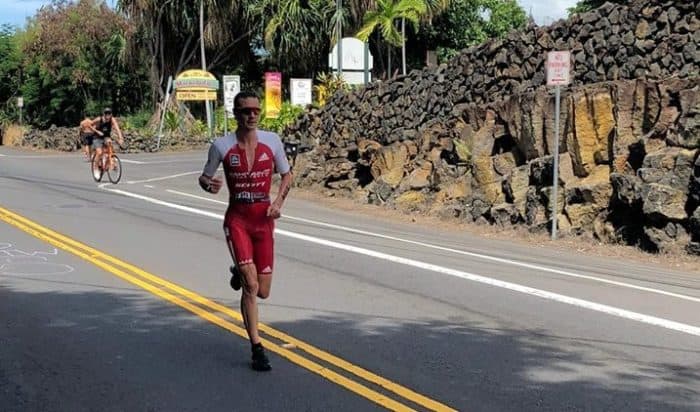 Having passed Alistair, Sebastian would hold third place for the next 20+ miles, all but matching the pace of O'Donnell step-for-step. After non being able to finish last year, it was a welcome return to the podium for the popular German.
While Alistair was slipping down the field, a British athlete going in the other direction though was Joe Skipper. Seventh 12 months ago, he worked his way up to a sixth place finish with a 2:53:31 marathon. Considering how his season has gone, a great result and he'll surely be back again many times with the podium a real prospect.
*** to be updated ***
IRONMAN World Championship, Kona, Hawaii – Saturday 12th October 2019
3.8km / 180km / 42.2km
PRO MEN
1st – Jan Frodeno (GER) – 7:51:13
2nd – Tim O'Donnell (USA) – 7:59:40
3rd – Sebastian Kienle (GER) – 8:02:04
4th – Ben Hoffman (USA) – 8:02:52
5th – Cameron Wurf (AUS) – 8:06:41
6th – Joe Skipper (GBR) – 8:07:46
7th – Braden Currie (NZL) – 8:08:48
8th – Philipp Koutny (SUI) – 8:10:29
9th – Bart Aernouts (BEL) – 8:12:27
10th – Chris Leiferman (USA) – 8:13:37
What. A. Day. 🏆 #IMWC pic.twitter.com/qYHxZXKHsY

— IRONMAN Triathlon (@IRONMANtri) October 13, 2019
21st – Alistair Brownlee (GBR) – 8:25:03
25th – Will Clarke (GBR) – 8:29:00
DNF – David McNamee (GBR)
Your 2019 @VegaTeam IRONMAN World Championship men's podium!

🥇 @janfrodeno (7:51.13)
🥈 @TOinTRI (7:59.40)
🥉 @SebastianKienle (8:02.04)

Congratulations to all the finishers! #IMWC pic.twitter.com/ZHtgD7a1PS

— IRONMAN Triathlon (@IRONMANtri) October 13, 2019