Sarah True says watching her competitors improve over past two years was added motivation as she returned to racing with a victory at IRONMAN 70.3 Eagleman this month.
The American had been out of action since the birth of her son, but made a winning comeback as an excellent bike leg helped her see off Canada's Tamara Jewett in Maryland.
Although two-time Olympian True impressed on the second leg, she highlighted that there has been a marked upswing in the pace of women's races, particularly on the bike.
Long-awaited return
"It was actually my first triathlon in over two years, which that feels like an eon, obviously, for those of us who love to race," she told Bob Babitt's 'Breakfast with Bob' show,[embedded below].
"I felt a little rusty going in. You know, what's fascinating is what we've seen over the last couple of years. Obviously, the ante on the bike has really gone up.
"It's a nice little carrot to know that the women are raising the bar all the time, and it's great for the sport, but ultimately, you just have to focus on yourself and your own progression.
"And for me, it took longer than maybe on paper, I would have wanted to be back racing."
True admitted that she had some doubts about whether she could compete at the front of the field following such a lengthy absence from racing, but her competitive nature meant there was no easing up.
Doubts dispelled
"It was really fun to be back," she said. "But also you have that little voice inside your head; 'this is harder than I should be going', or 'I don't know if I can do it'.
"But then the racer part of your brain is like, just be quiet, let's keep on going. This is fun. This part of it is fun.
"And you can't be thinking two hours down the road, you have to be in the moment and just getting the most out of yourself.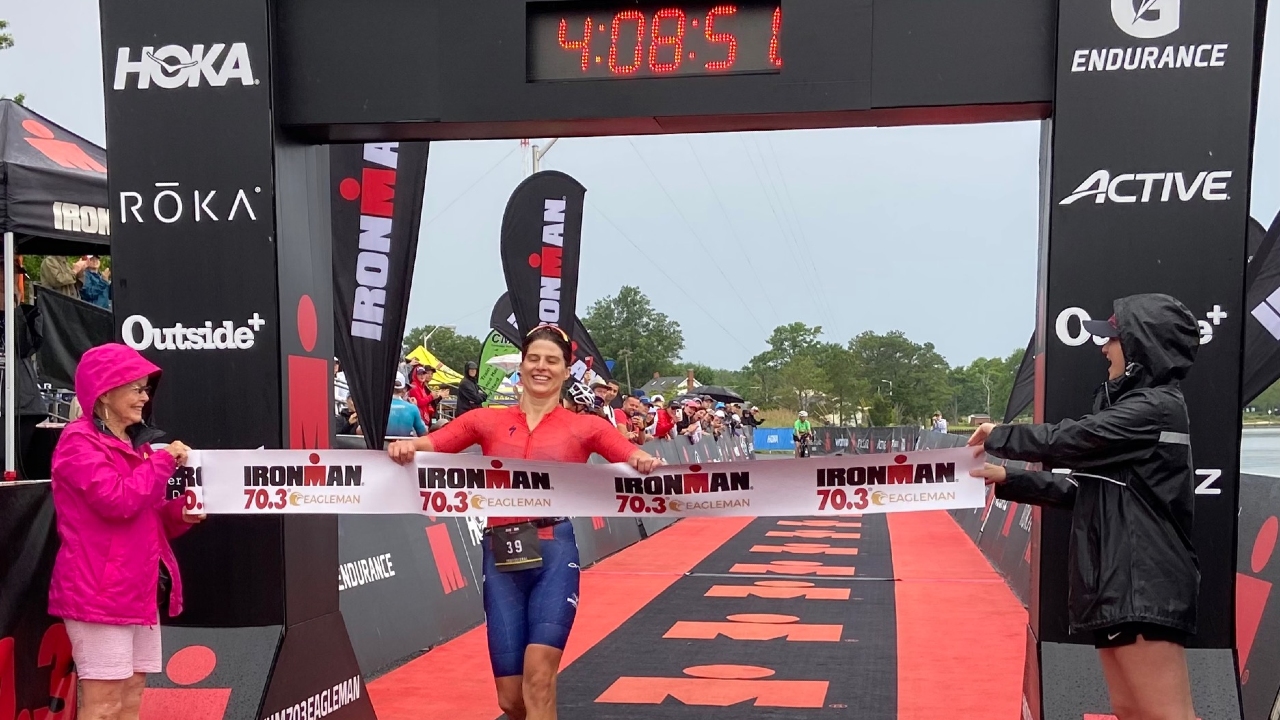 "We were only in structured training for maybe ten weeks before this race. But the benefit of years of endurance training is that I know kind of what to do.
"I wasn't doing super hard stuff, but really just trying to find that consistency, trying to find a rhythm with this other human being who really just threw a little bit of complication into what my training schedule used to look like."
True went on to explain that she has a her sights set on more races in her home country following Eagleman, with IRONMAN Lake Placid next up.
Lake Placid next
"I'm definitely taking it one race at a time," she asserted. "But I am signed up for IRONMAN Lake Placid.
"I'm trying to get some of those classic US races in. Eagleman has a long history in the sport.
"Lake Placid's a super-classic race. I grew up in upstate New York, so it's kind of going back home and very long history. Great community support, absolutely beautiful, brutal course granted.
"So hopefully I can find a little bit more strength and endurance over the next few weeks and then after that, I don't know, more races."
St George up in the air
One event that can't yet be confirmed in the diary is the IRONMAN 70.3 World Championship, despite her victory at Eagleman.
She explained to Babbitt: "So I did qualify, but, the Worlds ceremony was at four and I think I was in New Jersey at that point because right after the race I had to get back home. Because I'm a mom.
"So I missed the Worlds ceremony and so I don't have my St George slot."