Three-time World Triathlon Champion, Mario Mola, who is aiming for his fourth Olympic Games in Paris next year, got his 2023 season underway with a third place finish in Venice-Carole at the European Duathlon Championships this past weekend.
The Spaniard, who hasn't quite been able to rediscover the form that took him to the top of the world in recent years, just missed out on the European title by a couple of seconds, but will likely take confidence from this result heading into his next block of racing.
Strong run pedigree within the field
In Venice-Caorle, a number of world class duathletes, including former Duathlon World Champion Benjamin Choquert of France and last year's European Duathlon Champion Maxime Hueber-Moosbrugger, also of France, looked ready to push Mola's running abilities with some serious speed.
Whilst Mola, well known as one of the best runners in the sport of triathlon, boasts impressive running personal bests, with a 13:41 5000m and a 28:44 10km, athletes such as Choquert are as quick or even quicker.
The Frenchman, who in 2015 won the French 5000m national championships, has a 10km personal best of 28:21, which combined with 1500m speed of 3:49, signalled that if he remained in contention on the bike, he'd have the ability to either outlast or outkick the rest of the field.
Choquert edges it
On the day, a group of six athletes made it through the first run side-by-side, including Choquert, Hueber-Moosbrugger and Mola, before the group settled in together on the bike to leave it down to a lockdown on the final run.
Whilst the race distances unfortunately don't seem to be accurate, there's no doubt that these men were absolutely flying over the final "2.5km" run leg, with Choquert overcoming a small deficit out of T2 to overhaul Arnaud Dely of Belgium, to win in 48:21, with Dely second in 48:23 and Mola just missing out on the top spot by three seconds in 48:24.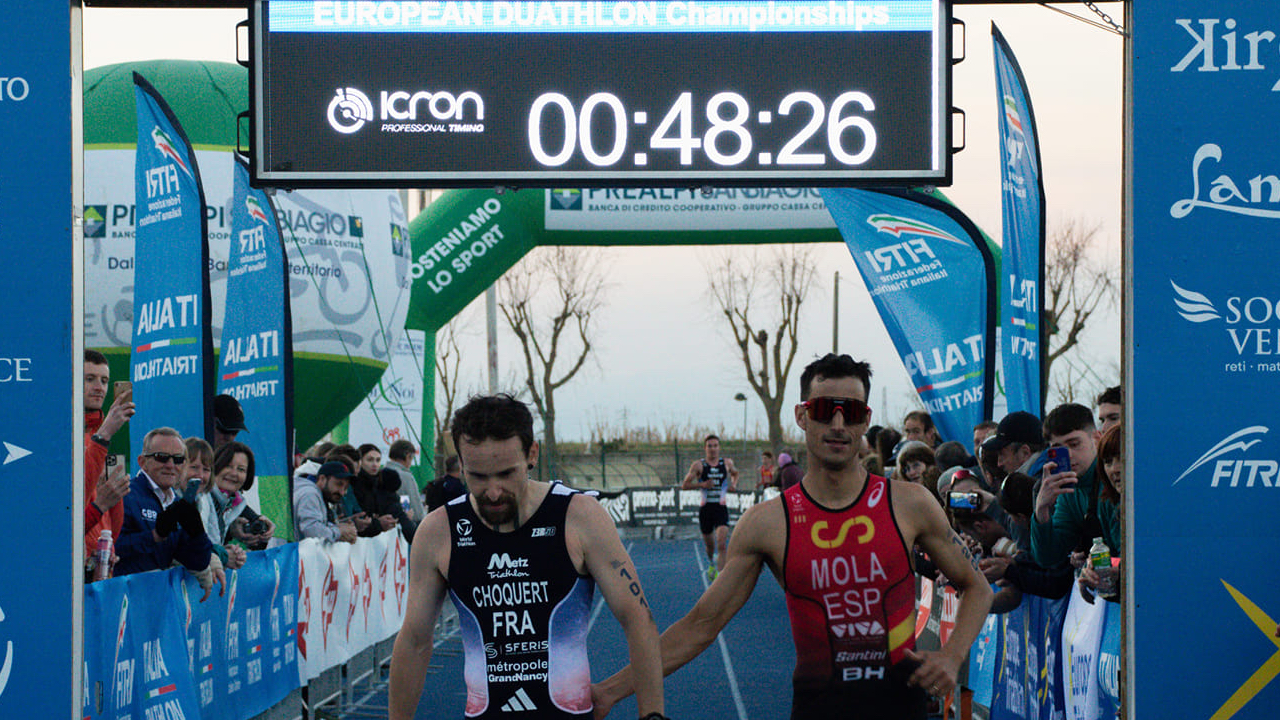 Hugo Milner, who is an incredible runner with a 13:44 5km personal best as well as a European Cup winner, was the top finishing Brit in eight place, whilst defending champion Hueber-Moosbrugger couldn't stay with the leading trio in the final stages of the second run leg and finished out of the medals in fourth.