Heading into the Arena Games Final in London, Chase McQueen (USA) and Zsanett Bragmayer (HUN) were amongst the favourites to take the Esports World Championship title after wins in Montreal and Sursee respectively.
After comfortably making it through the heats on Friday, both Bragmayer and McQueen started the final strongly. The pair featured at the front in the pool and off of the bike in the first stage.
For Chase, he finished the bike in third on Stage 1, before starting the 1km run within seven seconds of eventual winner, Nicolo Strada. Zsanett was even closer at the end of the first two disciplines – just three seconds behind Beth Potter at that point – before a transition error (leaving a gel in her shoes), saw that go out to 13 seconds. From that point on however, both lost time on the run.
Whilst it may initially have been chalked down to a bad day by the commentators on-site, the fact Bragmayer and McQueen were on the same treadmill quickly raised one major question – did a technical fault prevent the pair from challenging for the world title?
It's a complex situation in a technologically difficult format, and Super League are confident from their perspective that "reports of issues with a treadmill were unfounded". Here are the perspectives from the athletes themselves, that Super League Triathlon statement, plus our own thoughts.
"They saw that something was not okay"
After winning in Sursee by over 20 seconds, Bragmayer was widely tipped as the only other athlete in the field who could take the battle to pre-race favourites Beth Potter and Cassandre Beaugrand. Instead, the Hungarian Olympian eventually finished 10th, almost three minutes behind Potter and Beaugrand, as Australian Sophie Linn took the world title.
Following the race, Bragmayer shared her belief that not only did the treadmill she was running on cost her a shot at the world title, but that the organisers at the event were aware of the issue, and did nothing to fix it between rounds or even after the event, leaving McQueen to deal with the same problem.
"Today on the repechage, a lot of athletes mentioned that treadmill number seven was really slow, but they [Super League Triathlon] didn't do anything about that.
"When I ran in the final, they saw that something was wrong with my treadmill, but it's so short between the rounds so they did not do anything. Because it was so close to the men's final, they let the race begin, and then it happened with Chase."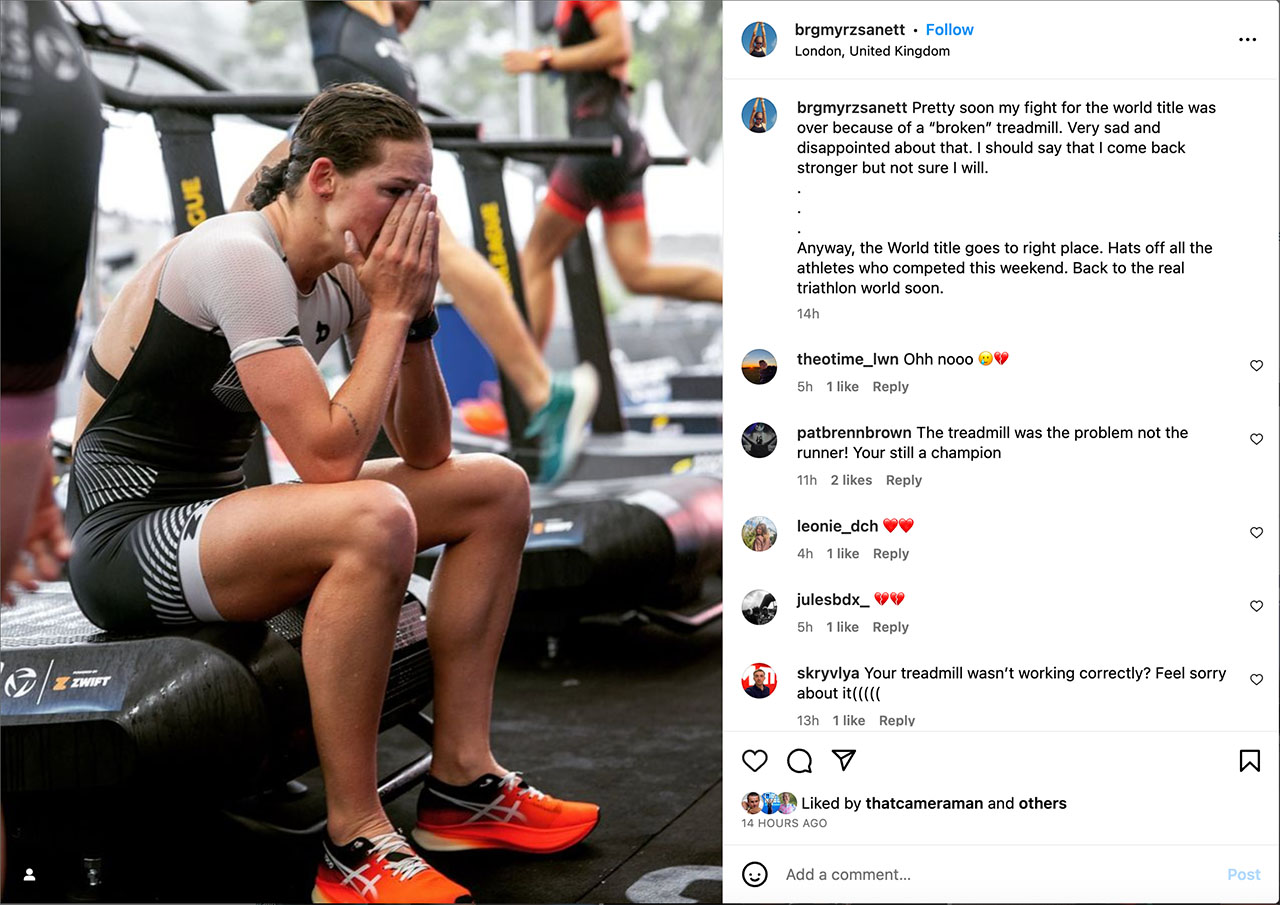 Bragmayer also claimed that despite speaking with the director of Super League, the situation left a sour taste, after the Tokyo Olympian paid her own way to the event, with the alleged technical fault potentially costing her up to $15,000 in prize money, via the overall series purse and the standalone London prize money.
As well as the potential financial losses, Bragmayer also lost out on significant World Triathlon points, and said she is unlikely to race the Arena Games again.
We move forward together
While frustrated with the outcome – reflected in a 200m Butterfly mid-race – Chase was sanguine about #TreadmillGate, when he gave us his thoughts:
"At the end of the day, I can't speak on behalf of the data, because I haven't seen anything. I only know the sensations that I had in the race, and I can tell you that I was fit, healthy, and ready to compete to try and win a world title. I trust that Super League and their team have taken the necessary steps to investigate, test, and analyse the relevant information to provide an accurate statement.
"I have been in conversations with them to try and contribute to helping improve and fool-proof the technology to help make this format flawless. With any technology, there are lots of variables from software to hardware, and I know there will be ups and downs to making this a fully polished format.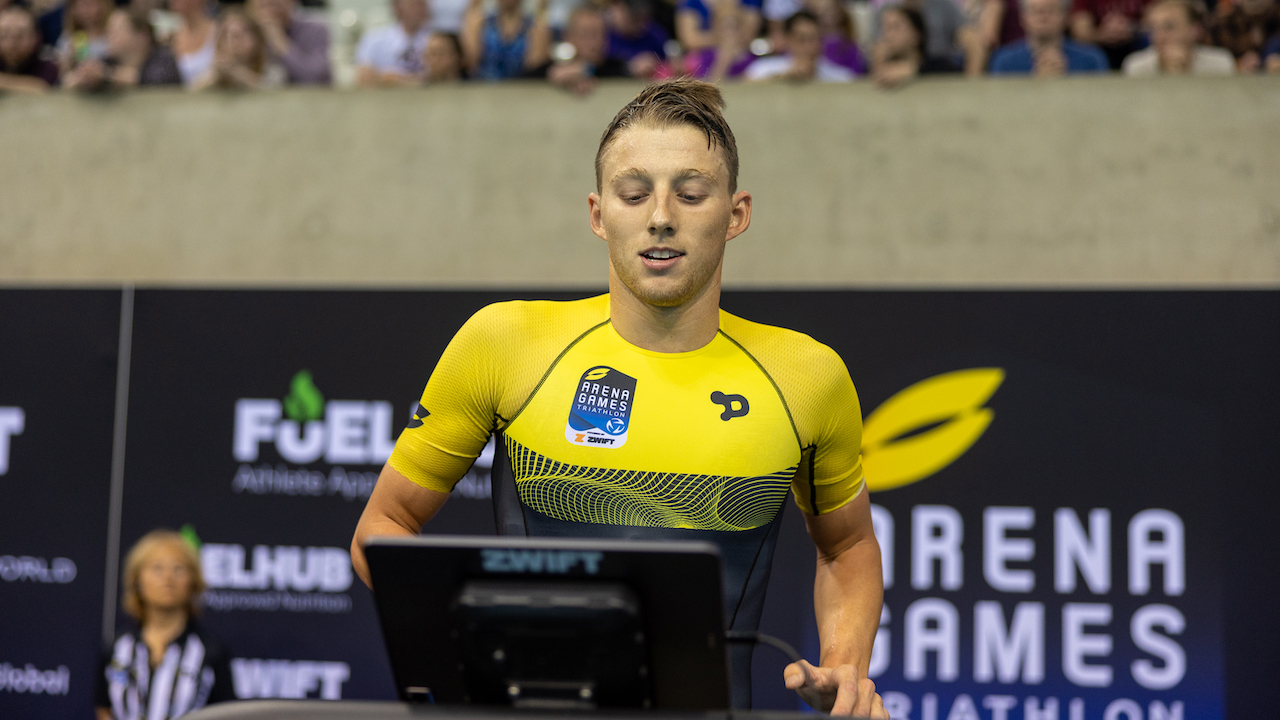 "What I can speak on is the atmosphere in the Arena and everything that's taken place since the weekend. Triathlon is a special community, and I'm grateful to be apart of it.
"Super League continues to be at the forefront of innovation in our sport, and there's always going to be highs and lows along the way. In the end, we move forward together, and continue to bring more athletes and fans to the sport."
Super League Triathlon response
According to a statement released by Super League Triathlon following the race, the reports of issues with a treadmill were unfounded, and testing done by the organisers was used to determine that treadmill number seven (used by McQueen and Bragmayer) showed no indication of being inaccurate.
"After conducting a review of protocols and analysing data we have found no issues with any of the treadmills used at Arena Games Triathlon powered by Zwift London.
"We can confirm that:
Protocols established by Leeds Beckett University were carried out before the event, the sensors were correctly calibrated and all delivered the exact same speed measurements
A team of elite runners tested the treadmills under the supervision of the experts at Leeds Beckett University to expand our research and ensure that the treadmills are consistent and no concerns found
Immediately following the Finals treadmills were kept in place for a blind trial with elite athletes and no discrepancy was found.
We have carried out an in depth analysis of data from the event. Times recorded on treadmill seven raise no concerns compared to the average data across all races before the Finals
"We remain committed to the Arena Games Triathlon and to our athletes and ensuring our research helps drive forward this exciting new race format."
Analysis
We have tried to look at the data ourselves, firstly between the Heats (Friday) and the Repechage events (Saturday morning). While picking two data points (run splits) across two days is a long way from 'beyond all reasonable doubt', to that point at least, we don't see any obvious errors or concerns.
When you look at athletes on 'treadmill seven' in the Heats, who then raced again in a different lane in the Repechage – but then also consider those that raced on treadmill seven in the Repechage, and then compared to what they did in the Heats, it's an almost even split as to whether they were faster / slower. For clarity, quite how you take fully into account fatigue, tactics and more is for data analysts above our pay grade – but between the Heats and Repechage at least, things feel pretty solid and consistent to us.

So what about the Final? Based on the Heats – in comparison to their performances in Montreal and Sursee, respectively – both McQueen and Bragmayer appeared to be in strong form. Both athletes ran quicker than their performances from their previous events this year, qualifying in relative ease, and looking good for the final. If anything – and again, it's difficult to measure – we would say they arrived in London in better shape than their previous victories.
In the London Final, McQueen was 14 seconds slower on Stage 1 relative to Montreal (and 17 seconds slower than his Heat), 13 seconds slower on Stage 2 relative to Montreal, and any comparisons to Stage 3 are redundant, as he was certainly not in 'race' mode at that point.
Zsanett was also off the pace relative to her Sursee Finals (3:14 vs. 3:11), which was also something of a surprise. Given how well both athletes qualified – and with particular note to McQueen's immediate reaction at the end of Stage 1 that all was not well in Treadmill Town – that doesn't feel quite right, on a best-efforts basis to try and be objective.
Conclusion
And that, perhaps, is where the continued work is needed. Clearly, feel is not a good word when objectivity and measurement is the aim.
The logistics and technology required to make AGT work is extensive and impressive. we don't know if either or both of Chase or Zsanett, on this occasion fell on the wrong side of technology, but it's clearly not the best situation for all parties to be in, having sold out the London Aquatics Centre.
As is part of their DNA, Super League Triathlon continue to push forward at an impressive pace. From a format which was a response to a global pandemic in 2020 to try and create 'something', just three years later we are at the conclusion of a second Esports Triathlon World Championship Series, in partnership with the governing body of the sport.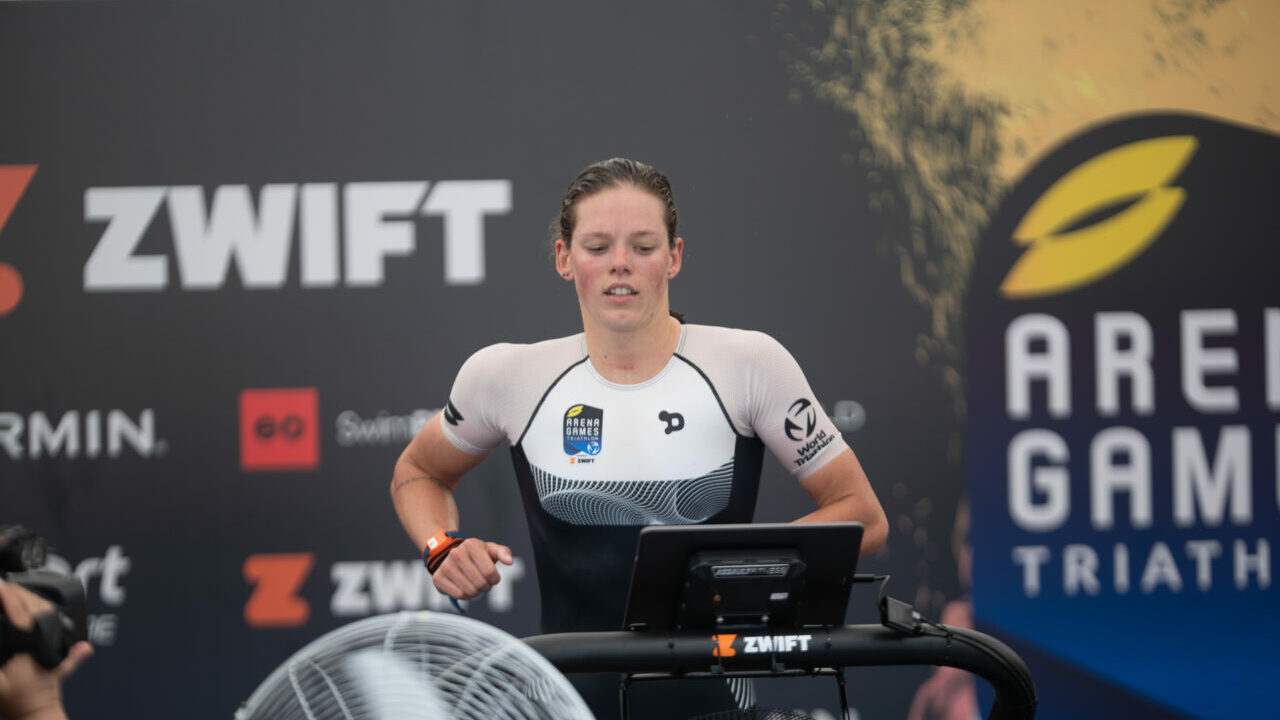 So fast has been the progress, that the first step towards potential Olympic Games consideration for the format begins later this year at Olympic Esports Week in Singapore. When you also have World Triathlon ranking points on offer (London's Arena Games event awarded points consistent with a World Triathlon Cup), then of course things get more serious. Kyle Smith, for example, jumped more than 100 places thanks to his third, while race winner Nicolo Strada gained 30 to move to #61.
As the stakes rise, so will the controls required and the questions around it, which are only further magnified when the rewards are higher. When you add in the complexities of multiple technologies to a real life / virtual world combination, then trust and belief from those taking part and spectators watching on, is crucial.
If that Olympic dream – somewhere down the line – is to be realised, then all of the boxes need to be crossed, multiple times over. It's a very high bar to meet.