All too familiar news in this strange year of 2020, as another major UK multisport event has had to be cancelled. Here is the latest news just in from Always Aim High Events:
Thank you to everyone for their continued support since our last update on the impact of COVID-19 on our 2020 events.
Working closely with everyone involved, we have taken the difficult decision to postpone the 2020 Odlo Snowman Triathlon & Duathlon​, and the ​Aqua Sphere Snowman Swims to next year.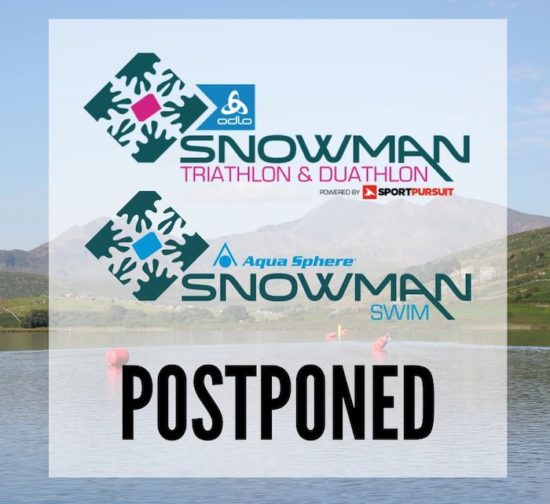 As always the health, safety and well-being of everyone at our events is at the heart of everything we do. Our decisions have been based on discussions and with Plas y Brenin, public bodies, sports governing bodies, and other parties, as well as taking note of any official Government guidance. Our priority is to minimise disruption and do everything we practically can to support and protect our athletes, staff, volunteers, spectators and suppliers.
If you have entered the 2020 Odlo Snowman or Aqua Sphere Snowman Swims, you will already have been sent an email giving further information about the options available to you.
Currently, all events in our calendar after the Odlo Snowman Triathlon weekend will remain in place. However we are constantly monitoring the situation and taking advice from all relevant bodies. We will communicate developments as they unfold and will maintain regular contact about the status of our events.
In the meantime, we have been working hard behind the scenes on ways to keep the Always Aim High Community active. Our Virtual Events have been extremely popular helping to keep you active while raising very welcome funds for some amazing local charities. Thank you for your continued support with this not for profit community initiative.
Thanks again for all your patience and understanding.