Aberfeldy Triathlon: Sunday 20th August 2017
1.9km / 90km / 21km
Aberfeldy Triathlon is just under 20 days away and is shaping up to be a great event. This triathlon is has been part of the UK open water triathlon scene for 20 years – and has grown in field and status over that time.
Aberfeldy Triathlon is organised in collaboration between Paul McGreal –Durty Events (Craggy Island Triathlon, Aviemore Triathlon) and Richard Pearson- Still Going Strong (Scottish Triathlon scene stalwart, organiser of BTF Event of The Year 2014). Richard and Paul were also joint Race Directors on IRONMAN 70.3 Edinburgh, the first Ironman branded race to come to Scotland
Set in the beautiful Highland Perthshire region, this great Middle Distance race (1900m Swim, 90km Bike, 21km Run) takes in the cool, clear waters of Loch Tay, challenging roads over the shoulder of Schiehallion, a circumnavigation of the wild Loch Rannoch, and the grounds of the spectacular Taymouth Castle. A real test in an amazing place – in short, THE classic Scottish triathlon.
With 20 days to go the race has a good quality field assembling and we are delighted that GB top age grouper Ali Rowatt has decided to toe the line as part of her Kona world championship preparations. Ali recently qualified at Ironman Frankfurt (European Championships) winning her age group clearly, by 12 minutes, Ali had this to say about the Race:
"The Aberfeldy Triathlon is without doubt one of my favorite races – it was my first ever half Ironman distance race back in 2009 and is still without doubt one of the best racing experiences I've had and continue to have each year I go back.
"Scotland has some spectacular scenery, none more so than in Perthshire and the central highlands where Aberfeldy is located and the triathlon is a real show case of that. The swim is in the warm inviting waters of Loch Tay.. ok ok so this is Scotland – it looks beautiful but it's COLD! The one loop swim course is a refreshing start to the day and sets (wakes) you up nicely for the "challenging" bike course ahead.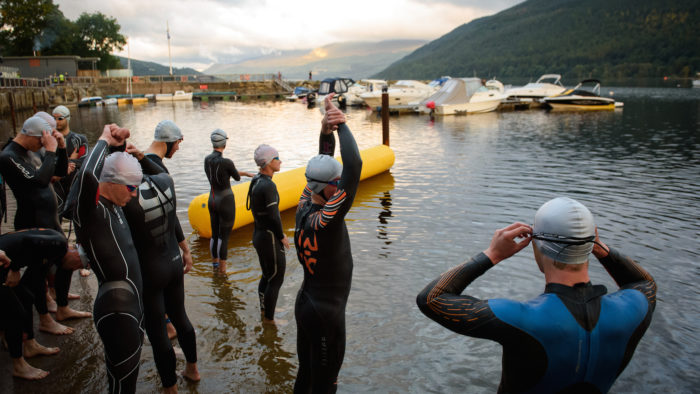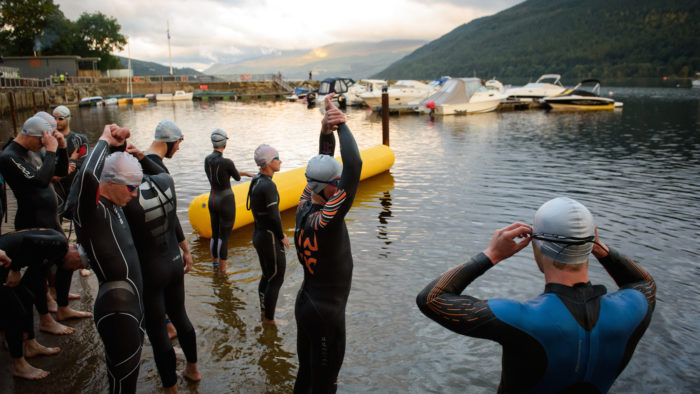 "Following the swim the cold is soon forgotten as the bike course takes you on some of the most stunning roads in Scotland. The climb up Schiehallion is testing but the views make the effort worthwhile before the thrilling descent towards Loch Rannoch which tests both skill and nerve as it winds towards the small village of Kinloch Rannoch. The loop then takes you around Loch Rannoch again providing a stunning back drop for the nicely undulating terrain before the climb back over Schiehallion and long descent into T2.
"The bike course is challenging, rewarding, stunning and spectacular and I've not come across many courses that compare.
"The run course for 2017 has changed from previous years and is a 3-loop course within the grounds of Taymouth Castle – a change which I can only imagine will be for the better, from a spectator point of view if nothing else. Lapped courses are always great for crowd support and I suspect this is going to be a fantastic addition to an already great race.
"The organisation of this race is second to none – the volunteers and marshals are superb and it's quite simply a wonderful racing experience showing off some of Scotland's most spectacular scenery.
"If you ever get the chance to race Aberfeldy Middle Distance Triathlon – do it! "
We are delighted that Doug Roberts, GB International triathlete has just announced his entry into the race and he had this to say about the event:
"Aberfeldy Middle Distance Triathlon certainly isn't for the weak minded. It is one of the toughest and most challenging triathlon courses I have competed in, however equally the most special. The swim takes place on the stunning stores of Loch Tay, the bike winds through and over Schiehallion around Loch Rannoch and depends steeply back into Aberfeldy. The new run course in the grounds of Taymouth Castle looks stunning.
Having raced here before, I now understand the severity of the course but I am equally excited by the scenery and pure enjoyment of racing around the hills of Scotland on what promises to be another brilliant day out. It takes weeks and months to prepare fully for a race like this, lots of early mornings and long hours on the bike, but here are some of my top tips for preparing for this particular half iron man.
it's now three weeks until race day so lots of the hard work has already been done but some race specific work is always beneficial, especially if its your first time racing here.
The swim will be noticeably colder than any other race you have probably done due to the depth and location of Loch Tay. I find it quite important to practise with some open water swimming prior to the race and attempt to replicate a similar sort of temperature so come race day it isn't such a shock. 
The bike, although its noticeably quite a hilly cycle, its more the severity of the climb and technical nature of the descents that you maybe need to practise more. The first hill comes less than 10k after the swim so i find it useful trying to replicate this in training. Also getting used to your race day bike, so when it comes to the tight technical corners you are comfortable handling it on wet slippy corners.
The run I find can often just be survival, depending how hard you have pushed on the bike. I find it really important to maybe practise doing some longer runs on tired legs or off the back of a bike ride a week or so leading into the event. The most important part of the race however is to make sure you keep hydrated and to keep feeling yourself on the bike and at the start of the run so you can maximise your effort across the whole race. When I raced here in 2014 i could only manage one energy bar on the bike and come the last 5k on the run I completely ran out of sugars and ended up weaving my way the last couple of kms to the finish, and collapsing over the line.
Any other information would just be to go and enjoy it! its a fantastically organised event, in beautiful surroundings with great support and volunteers who really do make it a brilliant weekend. I would like to wish everyone the best of luck and I will hopefully see you all out there racing alongside me"
Entries close on Thursday 17 August so don't delay and enter today at www.aberfeldytriathlon.com and be part of this great iconic race, you won't be disappointed.