Race alongside the Elite in Nottingham on 7th June 2018
Making it's debut in 2017 (as the British Triathlon Mixed Relay Cup), the city centre based Accenture World Triathlon Mixed Relay Nottingham was a very welcome and successful addition to the domestic racing calendar. The inclusion of the Mixed Relay format at Tokyo 2020 means additional prestige to the event this year, one of three global Mixed Relay Series events offering Olympic qualification points.
Taking place three days before the ITU World Triathlon Leeds, there are also opportunities for Age-Group athletes to race, before recovering and then enjoying the world's best athletes racing around the River Trent based course.
At first glance, I'd also say that the entry fees look very reasonable too, especially if you get in early. If you enter the 'Sprint Tribe' event (three athletes all completing a Sprint Distance event (750m / 18km / 4.5km), with total times aggregated, during the current priority window the cost is £105 (i.e. £35 / head). Enter the Sprint as an individual and the current price is £40. Against the wider triathlon market, that seems pretty competitive.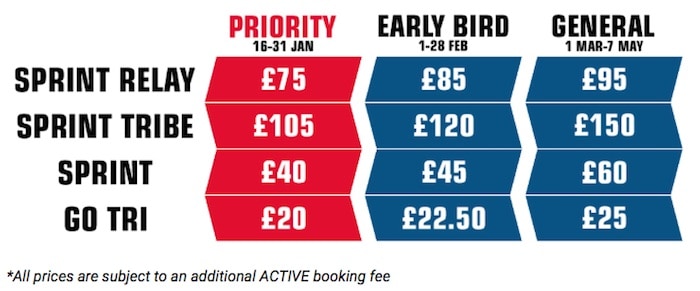 Here are the full details from British Triathlon.
---
Triathlon Trios Invited to Compete Alongside World's Best in Nottingham
Both triathlon beginners and seasoned competitors are being asked to team up and take part alongside the world's best when the Accenture World Triathlon Mixed Relay Nottingham comes to town in 2018.
Thursday 7 June 2018 will see some of the world's best triathlon quartets dive into the River Trent as the prestigious ITU World Triathlon Series makes its stop in the midlands. The race will be well and truly on as Olympic heroes from across the globe then battle over bike and foot around the city's Victoria Embankment in a race to claim the first Olympic qualification points on offer for Tokyo 2020. Athletes will then head north for the ITU World Triathlon Leeds just three days later.
The Accenture World Triathlon Mixed Relay Nottingham acts as one of three global Mixed Relay Series events in 2018, with nations looking to hone their team skills in the fast and furious racing style ahead of competing for the first ever Olympic Triathlon Mixed Relay medal in two years' time.
Today, British Triathlon is calling on participants to find their team and join in the action, before sitting back and watching the world-class action unfold from the comfort of the grandstand.
This year, we're encouraging prospective participants to join together with two friends and form their very own relay team, each completing either the swim, bike or run leg in the afternoon and experiencing the course just hours ahead of the elite stars. Or if you fancy a greater challenge, conquer a full sprint distance triathlon together as a team of three, supporting each other every step of the way.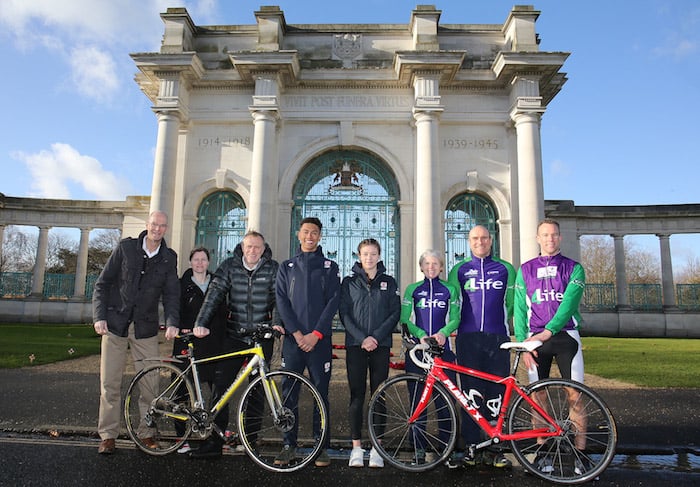 Can't find a team? There are still plenty of opportunities to take part and cross the line in front of the iconic War Memorial as an individual in either the sprint distance or GO TRI beginner waves.
Julian Skan, Senior Managing Director at Accenture, said: "Accenture is thrilled to support the elite stars in their battle to take the tape at the very first Accenture World Triathlon Mixed Relay Nottingham.
"We're proud to be behind an event showcasing top triathlon talent and helping inspire others to start their own sporting journey."
Andy Salmon, British Triathlon CEO, said: "This is the first time British Triathlon has developed an event focussed totally around teams working together to achieve a collective goal, for both our mass participants and elite stars, which is a really exciting prospect.
"We're thrilled to welcome both budding triathletes and regular competitors to be part of the action and hope to create an exciting showcase for the City of Nottingham to enjoy."
Cllr Dave Trimble, Nottingham City Council Portfolio Holder for Leisure and Culture, said: "We had more than 15,000 spectators coming down to enjoy the triathlon action in 2017 and we hope that now some of those have been inspired to find their teammates and take part in what will be a show-stopping event in June."
Esther Britten, Head of Major Events of UK Sport said: "We are delighted to be working in partnership with British Triathlon, City of Nottingham and ITU to bring the Mixed Relay Series to the UK.
"Hosting the event not only gives members of the public the opportunity to compete themselves, but British athletes will also reap the rewards of home crowd support as they look to qualify for this new event which debuts at the Tokyo 2020 Olympic Games."
The action doesn't stop once participants have crossed the line as come 6:30pm, the stage will be set for some of the world's best to start their campaigns in a nail-biting race for the finish line.
Grandstand tickets are now on sale to book a front-row seat to witness the very best in triathlon heroics, with prices from £17.50 (plus booking fee). With a sold-out grandstand in 2017, advice is to book soon to avoid missing out. Both entries and grandstand tickets are available to British Triathlon Home Nation members at a discount price from today, with public release taking place at 9am, Thursday 1 February.
To find out more about the Accenture World Triathlon Mixed Relay Nottingham and book your spot on the start line, or to purchase grandstand tickets, visit https://nottingham.triathlon.org/
To become a British Triathlon Home Nation member today and access entry at a reduced cost, visit https://www.britishtriathlon.org/join
The Accenture World Triathlon Mixed Relay Nottingham is being organised by British Triathlon, in partnership with Accenture, Nottingham City Council, OSB Events, UK Sport and the ITU.