After the debut in 2017 of the Accenture British Triathlon Mixed Relay Cup Nottingham, my comment was:
It was an impressive debut. I hope now that the concept is both sustainable and can be expanded. It was an impressive start, congratulations to everyone involved.
Well, with the upgrade (effectively) of the event to Olympic qualification status, the re-titled Accenture World Triathlon Mixed Relay Nottingham should be another great event this summer, falling just three days before the ITU World Triathlon Leeds.
Today, course details have been confirmed for both the Elite and Age-Group events which – as I've mentioned before – offer some attractive racing options. Get the Thursday off work, get to race yourself and then watch the world's best on this compact course.
Here is the formal course news from British Triathlon.
---
Triathlon routes revealed for Olympic qualification event
Victoria Embankment is set to come alive this summer, with official Accenture World Triathlon Mixed Relay Nottingham elite and amateur race routes being released today.
On Thursday 7 June, the City of Nottingham is expecting to welcome 15,000 Nottingham locals to the embankment to see 18 of the world's top triathlon nations dive into the River Trent and start their campaigns to book a spot on the Tokyo 2020 Olympic start line.
In the newest format of the sport, which sees two men and two women each take on a mini triathlon before tagging their teammate, the elite stars will complete a mixed relay featuring a 300m swim in the Trent, before cycling 7.5k and running 1.5km around Victoria Embankment in front of a packed grandstand and huge Nottingham crowd.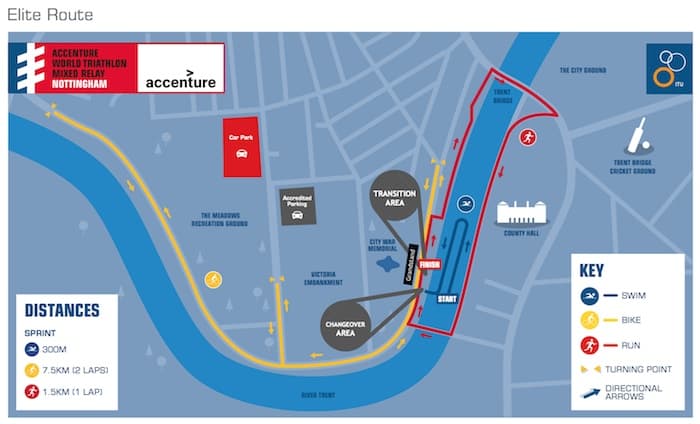 What's more, the event presents a rare opportunity to test the course for yourself, with mass participation races taking place all afternoon ahead of the elite action kicking off at 6:30pm. If you're not ready for the entire triathlon challenge and only want to take on a swim, bike or a run, then grab two friends and form a relay team and get the full experience for a third of the effort.
For those confident about tackling a triathlon from the swim all the way to the finish, choose from two distances and book your spot on the start line.
With medals awarded to all who complete the course, the Accenture World Triathlon Mixed Relay Nottingham truly will be a day to remember. Following your challenge, sit back, relax and prepare for some nail-biting head to heads as the world's best start their medal campaigns.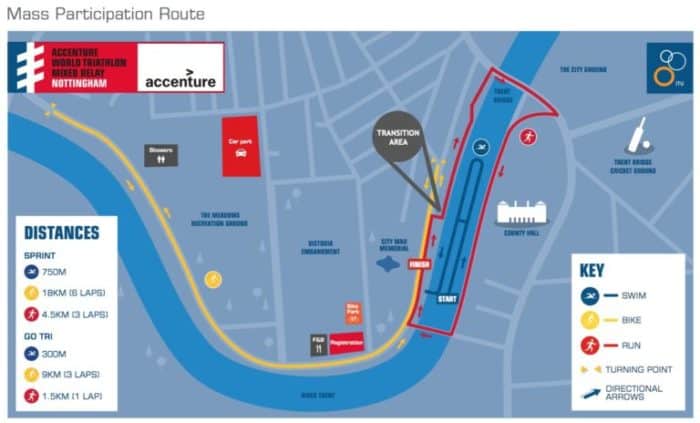 Julian Skan, Accenture Senior Managing Director said: "As Title Partner of Mixed Relay we're proud to support this inclusive event which allows each and every individual on the start line a world-class event experience, from the elite athletes to those at the start of their triathlon journey."
Sophie Coldwell, 2017 ITU Triathlon World U23 bronze medallist, said: "The course in Nottingham is guaranteed to be flat and really fast. What really makes it special is the crowds cheering for you the whole way around. I'm really proud that my home town is hosting this event and would encourage everyone to come down and watch or take part themselves."
Andy Salmon, British Triathlon CEO said: "The compact nature of the course makes the Accenture World Triathlon Mixed Relay Nottingham an event like no other for spectators. Mixed Relay is exciting and attention grabbing, and we expect fans to be on the edge of their seats as the action unfolds on Thursday evening."
 Cllr Dave Trimble, Portfolio Holder for Leisure and Culture said: "Having the course confirmed really sets the scene now and I can imagine the packed grandstand and routes lined with spectators as they cheer on our local athletes, as well as the world class field in a world class setting. I can't wait for June when Victoria Embankment becomes Nottingham's sporting heart."
Rushcliffe Borough Council's Leader Cllr Simon Robinson said: "We're delighted world class athletes will pass through Rushcliffe as part of the running route on the south bank of the Victoria Embankment. It promises to be a wonderful event, make sure you're there on June 7."
Head of Major Events at UK Sport, Esther Britten said: "We are proud to use National Lottery funding to bring world class events, such as the World Mixed Team Relays, to the UK. Hosting this event gives the public an opportunity to challenge themselves as they race around the city, as well as be able to cheer on British triathletes who will be trying to qualify for Tokyo 2020 Olympic Games."
Grandstand tickets, for an unrivalled view of the action, are now on sale. Having been a sell-out in 2017, we advise triathlon fans to book their seats as soon as possible at https://www.seetickets.com/event/accenture-world-triathlon-mixed-relay-nottingham/victoria-embankment/1193224
To view the event entry options and book a spot on the start line, please visit Nottingham.triathlon.org