Castle Howard Triathlon festival returns with 2,300 competitors, embracing new race format
This weekend saw 2,300 competitors, with a strong field of female athletes (40%, bucking the trend of a 30% average), descending on the stunning Castle Howard, York for a weekend triathlon festival.
The weekend celebrated triathlon in a typical Castle Triathlon Series fashion, with a swim in Castle Howard's Great Lake, a challenging bike and run through the Howardian Hills, finishing on the North Lawn of the iconic castle where competitors were welcomed by cheering spectators, supported by Macmillan Cancer Support's cheer point.
Qualifying dreams for Olympic distance triathletes
Sunday morning saw 700 triathletes take part in the Olympic distance race, which for the first time was a British Triathlon Age-Group Qualifier for the ETU European Championships in 2018. Catherine Jameson flew around the course in 02:30:02, chased closely on the swim, bike and run by Hannah Drewett who came across the finish line just 44 seconds behind her. Jameson, who recently won The Gauntlet at Hever Castle's Festival of Endurance, commented, "This is my first Olympic distance in 13 months as I've been going longer so I knew I needed more speed and had to ride hard, which I did, and I wasn't sure how hard I could run, but it was a really good race for me."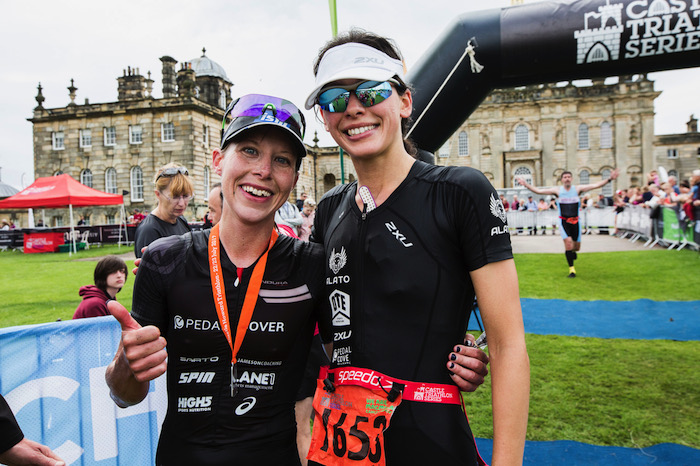 In the men's race Sam Wade stormed to first place, putting a 4-minute lead over Sebastian Garry after the cycle to finish at 02:10:59. Wade, who also won the Olympic distance race at Lough Cutra Castle Triathlon, commented, "I put a lot of effort into the bike to make the gap as I knew there were a couple of good runners, which worked out well as the run was particularly challenging."
18 year old Sebastian Garry, who was second on the podium, said, "It was great fun, a great course, a bit of cross country and a bit hilly, I love it. Normally running is my favourite discipline but today it was the bike, the hilly course is great."
The Olympic podium ended (1.5km / 44km / 10km):
| | | |
| --- | --- | --- |
| Position | Men | Women |
| 1. | Sam Wade (02:10:59) | Catherine Jameson (02:30:02) |
| 2. | Sebastian Garry (02:14:13) | Hannah Drewett (02:30:46) |
| 3. | Jonathan Dudley (02:17:34) | Gwen Kinsey (02:33:34) |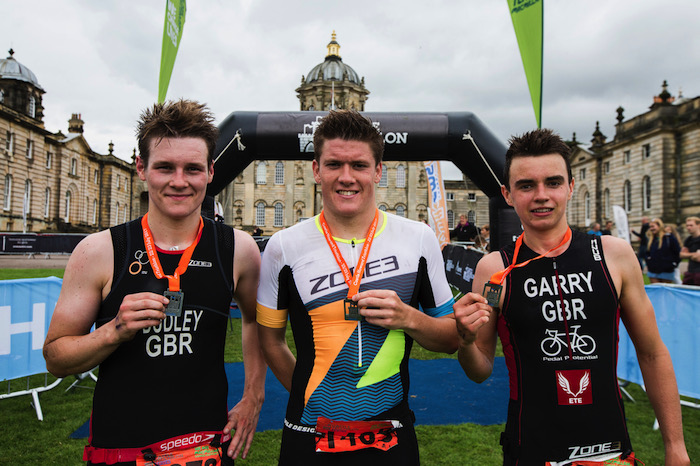 The Gauntlet
It was an early start on Sunday for the half-iron distance Gauntlet competitors who met by Castle Howard's Great Lake to take on their 1.9km swim, 90km cycle and 21km run. Lough Cutra Castle Triathlon's Gauntlet winner, Aichlinn O'Reilly, stormed around the course, completing the swim in 25 mins, putting a 3-minute lead ahead of Richard Whitfield who left the water in second place. O'Reilly flew around the cycle leg of the course on his Wheelscience Performance race wheels which he won at Lough Cutra Castle Triathlon. To further celebrate women taking part in triathlon on a weekend where 40% of the field were women, this weekend's prize of £,1800 Wheelscience race wheels were awarded to Elaine Garvican, who completed the fastest cycle split ( and came first on the women's podium.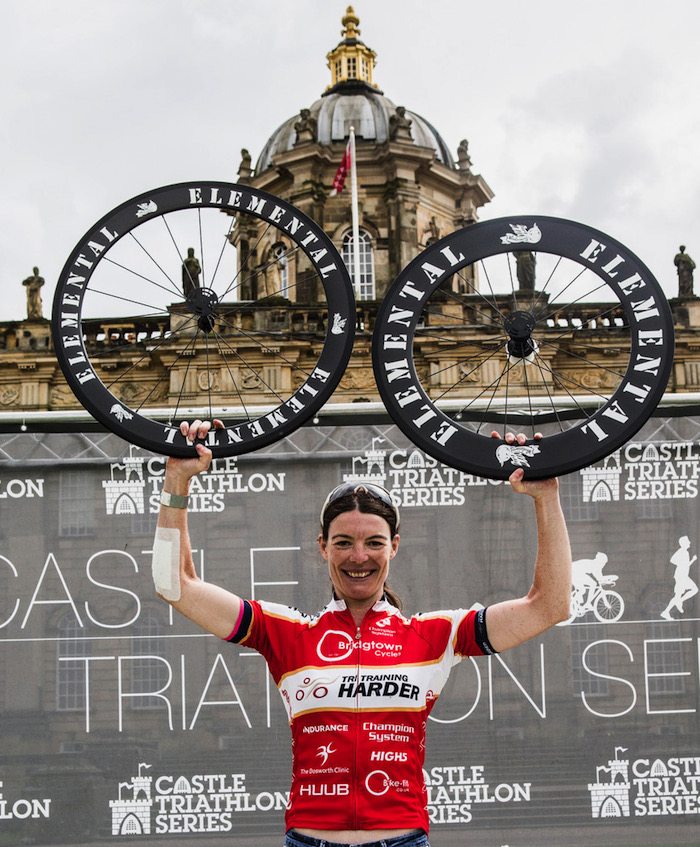 The Gauntlet podium ended (1.9km / 90km / 21km):
| | | |
| --- | --- | --- |
| Position | Men | Women |
| 1. | Aichlinn O'Reilly (04:21:40) | Elaine Garvican (04:51:24) |
| 2. | Seppe Odeyn (04:22:39) | Alice Jenkins (04:59:12) |
| 3. | Richard Whitfield (04:31:07) | Carolyn Pfalzgraf (05:02:50) |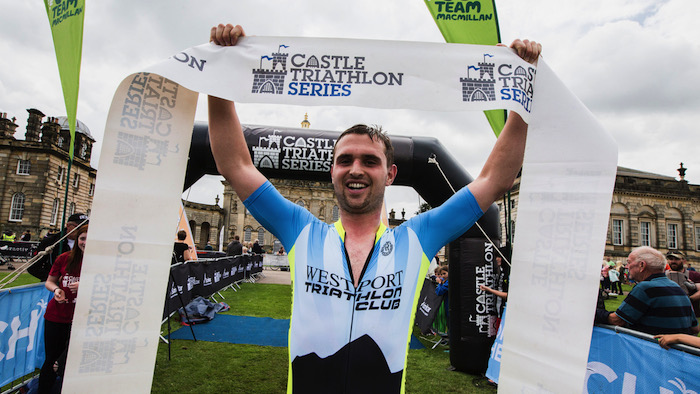 Castle Howard Triathlon embraces Mixed Relay race format
Saturday afternoon saw the adult mixed team relay races take part, giving spectators at Castle Howard a taste of what is to come at the Tokyo 2020 Olympics. The mixed relay race, which sees four team members (two males, two females) each complete a 250m swim, 5km cycle and 1.5km run, saw 120 triathletes take part in 30 teams from local triathlon clubs in the area. The Whitney Warriors, made up of elite athletes from Leeds Triathlon Centre including Steven Sims, Jemma Speers, Harry Speers and Jonny Dudley, won the race.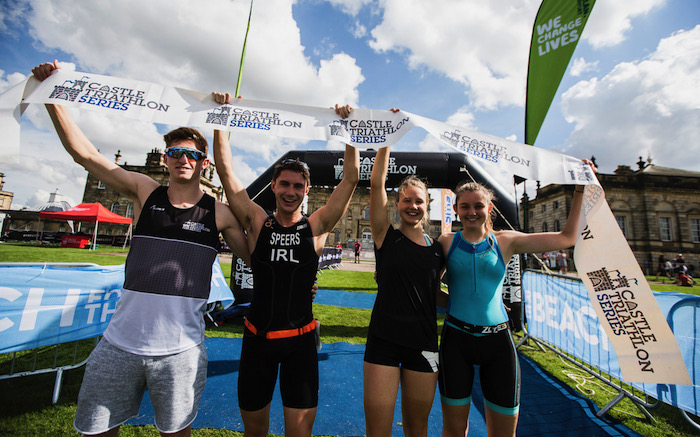 Two teams from the West Yorkshire Police also entered the race, coming 6th and 24th on the leaderboard. Steve Leyland from the Yorkshire Police Triathlon team commented, "I've just had knee surgery so wasn't sure I'd be able to take part, and the mixed relay was perfect for testing it out. The event had a great, relaxed, fun atmosphere, and wad very well organised, with fantastic marshals. I loved every part of the day; the band playing throughout was also a nice touch. This was a brilliant event, if you want to try tri, or be part of a great event, enter the mixed relay at Castle Howard Triathlon!"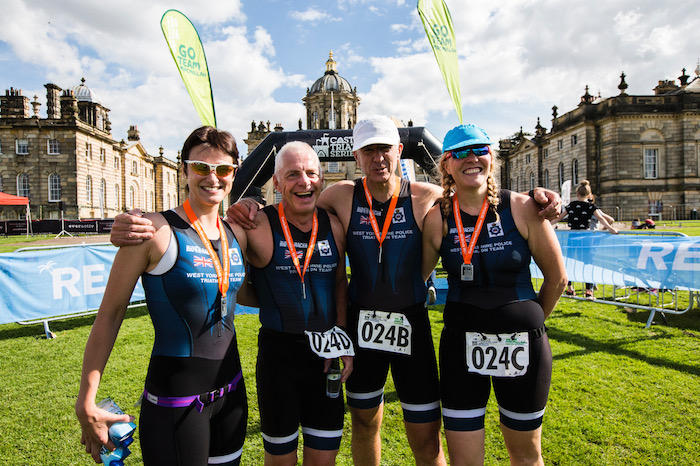 Bailey Matthews returns to Castle Howard along with 500 junior triathletes
500 junior triathletes joined the adults at Castle Howard on Sunday to take part in the junior races, including BBC Sports Personality of the Year Helen Rollason Award winner Bailey Matthews. Matthews returned to Castle Howard for the third time, where he first began his triathlon journey in 2015, to complete the course un-aided for the first time. Upon finishing his race in the 11 to 12 year old wave, where he completed the 200m swim, 4km cycle and 1.6km run in 01:37:24, Matthews commented on the hilly bike course saying, "I really enjoyed the bike, it's tough but you have got to get out of your comfort zone to see what you can do. It's a case of having to #BeMoreBailey!" Matthews is determined to also race the Hever Castle Triathlon un-aided in September.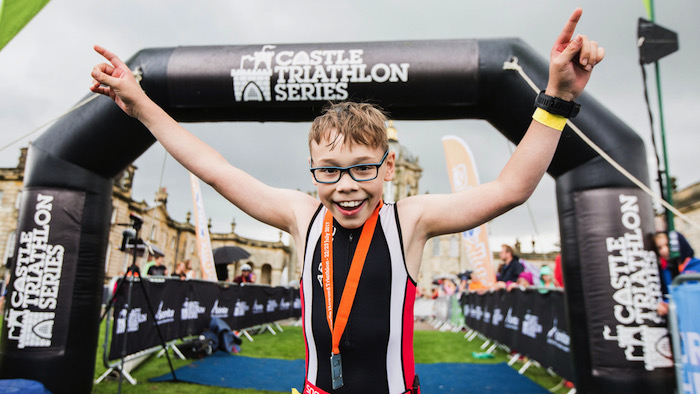 Triathlon that makes a difference
At the heart of the Castle Howard Triathlon weekend is a sense of athletes coming together to fundraise through their tri efforts. 100 competitors were racing to raise money for the Castle Triathlon Series 2017 charity partner, Macmillan Cancer Support, who hosted an energetic cheer point in support of all athletes taking part at Castle Howard. The local charity partner, the Huntington's Disease Association were supported by the Yorkshire Law Society, who entered a range of relay teams in the Super Sprint race on Saturday, who each raced to beat the time of local Family Lawyer William Kaye. Law Society President Pamela Precious pledged to donate £1 to the Huntington's Disease Association for every minute by which a relay team beats William Kaye's time.
Registration is now open for 2018 for Saturday 23rd and Sunday 24th June 2018 with an early bird discount of 30%*.
*Until Midnight, Wednesday 26th July 2017