CHALLENGE FAMILY to offer discount for first 100 athletes who enter CHALLENGE LISBOA 2018
Following a successful inaugural event earlier this year, CHALLENGEFAMILY are pleased to announce that entries for the second CHALLENGELISBOA, taking place in May next year, are open.
Furthermore, Rocktape, one of the new official CHALLENGELISBOA partners, is giving a 10% discount off entry fee to the first 100 UK athletes who register online.
As one of CHALLENGEFAMILY's latest additions to its portfolio of 45 races worldwide, CHALLENGELISBOA is set to feature competitions and races suitable for all levels of triathlon. The main middle distance race will be the first event of its kind to start 4pm, aiming for all competitors to finish before midnight, setting the scene nicely for a Challenge-style party atmosphere for all to enjoy.
Held at Parque das Nações – one of the world's greatest natural harbours just 3km from Lisbon's international airport – CHALLENGELISBOA is served by all manner of public transportation, subway, buses, taxis, making it one of the most accessible races in the CHALLENGEFAMILY series.

The course itself features an idyllic swim venue, a closed road bike course and a run course alongside the famous Tagu river that's effortlessly flat. CHALLENGELISBOA may well be the perfect race for any age-groupers looking to achieve a new PB and with an average air temperature of 27°C and water temperature 19°C, the warm conditions make it not only competitor but also spectator friendly.
Side events taking place on the 19th May include The Family Relay, Battle of The Sexes, Corporate World Cup and The College Cup, which is a race perfect for those who are not quite ready to tackle triathlon on their own and want to be part of a team.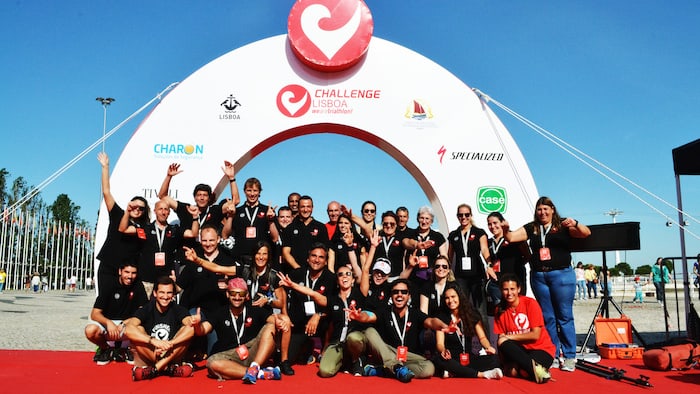 Running with CHALLENGEFAMILY's inclusive atmosphere, CHALLENGELISBOA is in a location perfect for supporting friends and family taking part. With all competitions finishing relatively early, the nightlife, world class restaurants and culture of Lisbon is only streets away.
CHALLENGELISBOA takes place between May 19-20 2018.
*** To take advantage of the 10% offer, enter the discount code 'RockTape_ChLisboa' but remember, this is only valid for the first 100 entrants. ***
To find out more information, or to secure your entry to one of the must-do events of the CHALLENGEFAMILY European series, visit http://www.challenge-lisboa.com.
Getting to Lisbon from the UK
British Airways, TAP Portugal, Ryanair, EasyJet, Ryanair and Monarch all serve regular direct flights from major UK airports to Lisbon.
About CHALLENGEFAMILY
The CHALLENGEFAMILY is the fastest growing global triathlon series. With 45 full and half distances in 26 different countries, CHALLENGEFAMILY is changing the face of triathlon around the world. Due to spectacular courses in iconic destinations, no CHALLENGEFAMILY race is like another. Focusing on delivering the race of a lifetime to athletes of all ages and abilities, CHALLENGEFAMILY races provide memorable experiences that capture all the excitement and emotions of this inspirational sport.