The Collins Cup confirms Challenge Roth 2018 as inaugural race venue
New PTO World Ranking system also announced
It's been a long time coming since the concept launch in September 2016, but The Collins Cup – the 'Ryder Cup of Triathlon' – is now truly starting to move from idea to reality, with confirmation today the first event will be held in Europe, alongside the 2018 DATEV Challenge Roth in Germany on 1st July 2018.
[UPDATE] – Just for clarity, the 'normal' Challenge Roth 'full distance' race will continue, The Collins Cup race(s) will begin later in the afternoon on an adapted / shorter course
Recent months have seen the Team Captain's announcements: Team USA | Team Europe | The Internationals – and while they were of interest, it is the confirmation today of both a date and a location which really starts to answer a few of the questions we raised last year. Plenty more bridges to be raised, but this is now another big step closer to reality – and there are plenty in the industry who doubted / still doubt perhaps, that this will work.
Collins Cup Captains @lisabentley @chrissiesmiles @simonwhitfield announcing plans for 2018 @TheCollinsCup pic.twitter.com/Bc81Sg6T9s

— Thorsten Radde (@TriRating) July 7, 2017
The initial working thoughts and assumptions were that year one would see a North American home, but Europe has stepped in and Challenge Roth CEO, Felix Walchshoefer, has worked with the Professional Triathletes Organisation (PTO), to bring the event to Roth
Tim O'Donnell and Rachel Joyce, Co-Presidents of the PTO, commented, "We could not be more thrilled that the first Collins Cup will be hosted at Roth. The primary mission of the PTO is to celebrate the sport of triathlon. The Collins Cup will bring together legends in this sport to captain today's top triathletes in a battle to see which region dominates triathlon. Not only is this going to create a riveting competition, it will also serve as a platform for professionals and fans to celebrate triathlon. We can think of no better place to start that celebration than in Roth, where the fan support is truly amazing."
CEO of DATEV CHALLENGE ROTH, Felix Walchshoefer, stated, "Europeans love triathlon and especially the 260,000 dedicated German fans at Roth. As Germany has been unsuccessful in its last two bids to host the Ryder Cup, we were not going to miss the opportunity to bring The Collins Cup to Germany. The whole Challenge Family team pulled out all the stops to make sure that The Collins Cup would be contested at Roth, and we are pleased to have been selected as host venue for the inaugural event. It is only fitting that our dedicated fans and supporters have the opportunity to witness what will be an iconic event for the sport for triathlon."
PTO World Rankings
When the initial announcement was made in September 2016, mention – but since then, nothing more – was made of a PTO World Ranking System which would act as the primary qualification mechanism for athletes to qualify for The Collins Cup. (Each team will have six male, six female – and the top four will qualify via the rankings, plus two additional "captain's picks").
Well, that is another hole which appears to have been filled today. Not only has that ranking process been announced – the rankings are live. RIGHT NOW >>> MEN | WOMEN
Thus, a new mechanism has been created which
Provides a process, similar to the rankings in say Golf and Tennis, to provide an (objective) measure of "world number one" etc.
Also provides a visible qualification process (similar to the Ryder Cup), to make automatic selection objective too.
In my opinion… THIS IS BIG FOR THE SPORT, and is MUCH wider than simply a 'Collins Cup' issue. The wider world understands "World Number one" (look at the kudos Andy Murray received when he finally achieved that status). Even putting aside The Collins Cup event, this – potentially – could be a hugely important step forward for the sport.
Full details of that ranking process are available HERE, so I won't outline the details again. What are my initial thoughts on this?
The ranking process (calculation) itself isn't simple…
…but, the 'problem' of how do you rank multiple races / distances isn't a simple one either. It needs to be.
I've done some basic reviews of how it works and… well, it 'works'.
The rankings "do not to favour any series of races or races in any geographical area, but to measure talent and achievement based on the results of an athlete no matter where and when they choose to race", and "No specific race is given any special treatment or weight." Now, that might make you think "but surely Kona is more important than, for example, IRONMAN UK?". You would be right, and…
…because of how the ranking are calculated, the true value of absolute performance IS taken into account. So simply, getting an 'easy' podium in a low quality race won't get you more points than a great race for 15th in Hawaii. THIS IS GOOD!!!
In simple terms, the faster you go on ANY course in ANY race (Middle distance Pro race or longer) – irrespective of position – versus an in-depth model of a) what the 'best' time on a course should be, and b) taking into account specific conditions on that day, in that race, will give you more points. BIG thumbs up for that. That is not an easy task.
The PTO have engaged the services and experience of Thorsten Radde from TriRating.com to help build this process. Thorsten knows his stuff. I'm sure there will be issues to work through… but, this is a VERY good start. It's taken six months to get to this point.
This is completely different (and massively more valuable) than the Kona Pro Rankings (KPR). The KPR exists solely for a) IRONMAN events, and b) to qualify athletes for the IRONMAN and IRONMAN 70.3 World Championships. Aside from getting 'enough' points to qualify, there is very limited (none at all?!) value to being 1st, 10th or 30th. Either you are 'in' or you are 'out' (of Kona qualification). I've never, ever heard an athlete want to improve their KPR ranking for anything other than Kona qualification. Would an athlete want to be recognised objectively with the "world number one" ranking? They certainly do in Golf and Tennis…
How do the rankings look now?
Ok, so they are my initial thoughts… but the proof is in the pudding, right? So, even if you are not a massively close to the sport, I think anybody would accept that on any measure you would fully expect to see, right now, Jan Frodeno (GER) and Daniela Ryf (SUI) at the top of any ranking, whatever the underlying calculations were. If they weren't, you'd be right to ask big questions. Fear not…
Here are the current top-10's: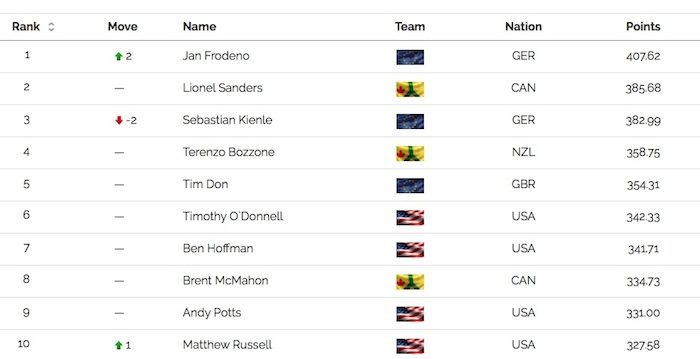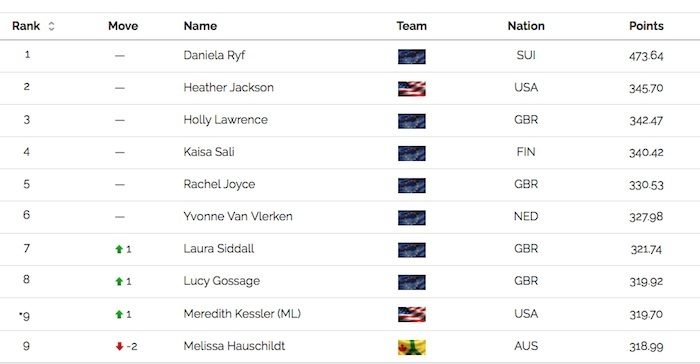 I'm sure I'll have more to write on this in the coming weeks as I dig down into the statto depths a bit more, but right now, this really is a good start.