After two editions, IRONMAN 70.3 Dún Laoghaire in Ireland has been discontinued and will not be held in 2020.
That news follows a raft of recent announcements from IRONMAN of new races being added to the European Tour in the Netherlands, Finland, Portugal, Germany and Austria, among others.
While the event has been held as IRONMAN 70.3 Dún Laoghaire for the past two years (starting and finishing in the town), Dún Laoghaire was previously the swim start venue for what was IRONMAN 70.3 Dublin, which was held for three editions in 2015/16/17.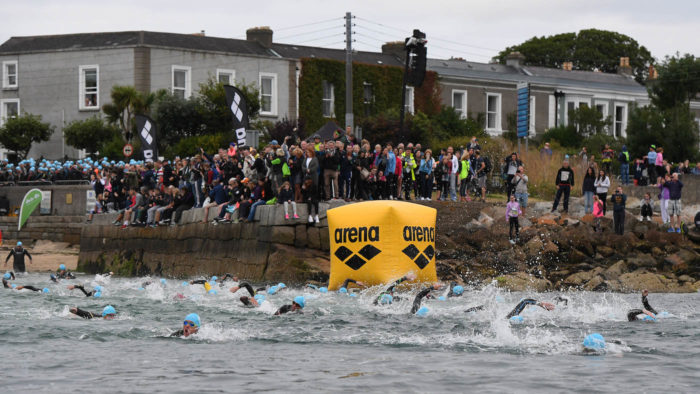 Objectively, the trend of entry numbers has been significantly downward for Ireland's 70.3 event, those five races (data from the officials results lists), showing athlete numbers as 2437, 1908, 1537, 1663, 1282.
Here is the full announcement this morning from the IRONMAN Ireland Facebook page:
We regret to announce that the IRONMAN 70.3 Dún Laoghaire will not take place in 2020.

We would like to thank our past participants, partners, and volunteers who have positively impacted this event, as well as the fans and community who welcomed and supported the event in Dún Laoghaire. We would like to pay special thanks to our host venue partner, Dún Laoghaire-Rathdown County Council, for their support in establishing and delivering the event over the past two years.

We understand the disappointment this may cause to our participants and the Irish triathlon community and we will continue to work with partners and stakeholders to discuss future opportunities in the region. We remain committed to hosting top quality IRONMAN events in Ireland and look forward to the second edition of IRONMAN Ireland, Cork on Sunday 21 June 2020.

To our athletes, thank you for being part of the IRONMAN 70.3 Dún Laoghaire story – we hope to welcome you to another IRONMAN and IRONMAN 70.3 starting line soon.