Olympian Gordon Benson leads the charge as 320 adventure racers ready for Red Bull Neptune Steps
Some of the world's most talented athletes are ready to compete in an adventure race like no other.
Among those set for Red Bull Neptune Steps, the world's toughest adventure swim which takes place in Maryhill on Saturday, will be Olympians, members of team Scotland and European champions.
This weekend sees the return of the event at the Forth & Clyde canal in Glasgow, which pits the very best open-water swimmers, multi-sport athletes and adventure racers against each other in a gruelling event.
Leading the elite bunch is Gordon Benson, as he prepares to build on his Olympic journey last year, kick-starting a busy race calendar with '"something a little bit different" in Glasgow.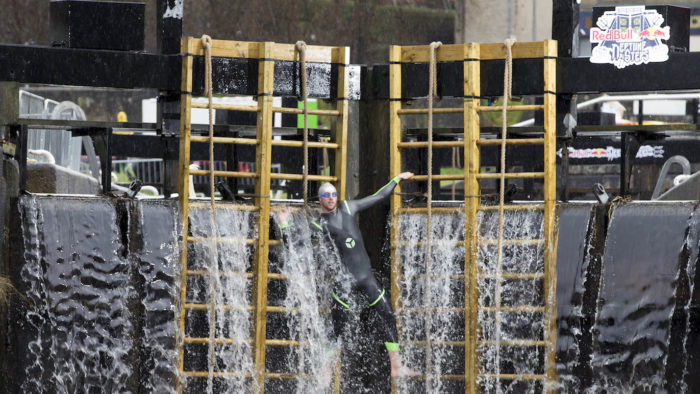 Joining Gordon from the World Triathlon Series elite is former ETU Triathlon European Cup champion Mark Buckingham, junior world bronze and silver medallist Con Docherty, and two-time world silver medallist and Team Scotland Commonwealth Games triathlete, Marc Austin.
With his season well underway, Marc Austin returns from the ITU World Series in Abu Dhabi, to take a short break from multi-sport action and compete at Red Bull Neptune Steps.
The 23 year-old Scot said: "I first saw the event a couple of years ago and it looked incredible. It's something a little bit different for me outside of the ITU calendar, and looks a real challenge.
"With a few friends competing this year I'll obviously be doing my best to get the better of them!"
With the competition more fierce than ever before, hometown boy Mark Deans from Glasgow will looks to defend his Red Bull Neptune Steps title for the third year running.
In the female competition, another former Commonwealth Games triathlete Natalie Milne bolsters a field of 75 other female participants all set to challenge Shannon Botham as she prepares to defend her title from last year.
Competitors will travel from as far afield as the US, Canada, Lebanon and France to take on the unique challenge of swimming uphill as they prepare to swim, climb and conquer Red Bull Neptune Steps 2017.
Red Bull Neptune Steps, which takes place on Saturday March 18, challenges endurance athletes in an adventure race like no other. Competitors will face a true test of speed, strength and resolve as they swim through 420 meters of cold water and climb 18 meters over seven canal lock gates.
This year will see double the number of competitors as 320 men and women will line up to swim, climb and conquer the ultimate open-water endurance test.
Red Bull Neptune Steps will start with heats throughout the day, featuring separate female and junior competitions. The highest placed swimmers from each round will move onto the semi-final heat and eventually the final.
Each canal gate features a different obstacle, which the swimmers have to climb over before diving into the next section of water, including cargo net, ropes, wood ladder, rope ladders and a climbing wall.
Red Bull Neptune Steps is free to attend for spectators. For more information on watching the event visit redbull.co.uk/neptunesteps.