IRONMAN 70.3 Bahrain 2017: The Race
The third edition of IRONMAN 70.3 Bahrain, the Middle East Championship, is fast approaching on Saturday 25th November 2017.
With a reasonable flight time from London of six and a half hours, and a time difference of a very manageable three hours, a late notice trip to the race is far more straightforward than you might imagine.
Having travelled to the original Challenge Bahrain event back in 2014 (HERE), we can speak from experience on that front. We'll also be returning to the race this year to experience Bahrain under the IRONMAN banner too.
Temperatures are likely to be pleasantly warm – circa 75/80ºc – but far from extreme. Bottom line – if you are considering a late notice addition to your 2017 season, IRONMAN 70.3 Bahrain really is a realistic option. With Javier Gomez (ESP) and Daniela Ryf (SUI) chasing the million dollar 'Triple Crown' bonus, the Pro field is stacked and there will be plenty of opportunity for star-spotting!
While still based in the capital of Bahrain, Manama (itself a very short taxi ride from the airport), the course has changed since that original event we intended. The bike course still includes a lap of the magnificent Bahrain International Circuit (BIC), home of the Bahrain Formula 1™ Grand Prix, the event is now logistically far easier, with no split transition with the swim / T1 / T2 / run all co-located by the Four Seasons Hotel.
Let's take a look at the course.
The Swim – 1.9km
A simple, one-lap, clockwise course, Age-Group athletes will begin their day under the rolling start system beginning from 6:30 a.m.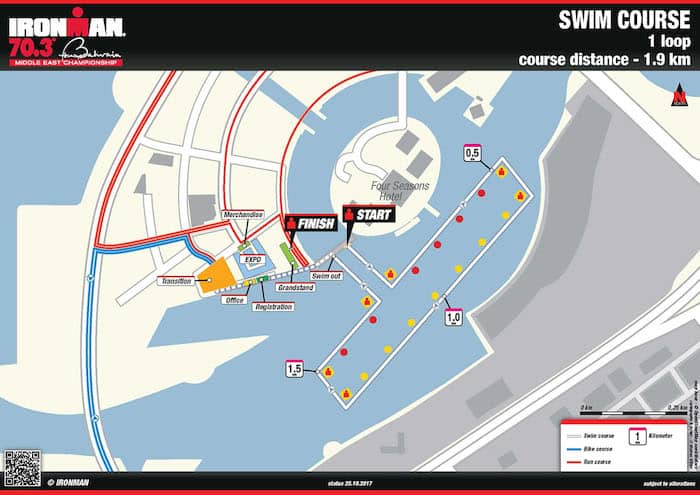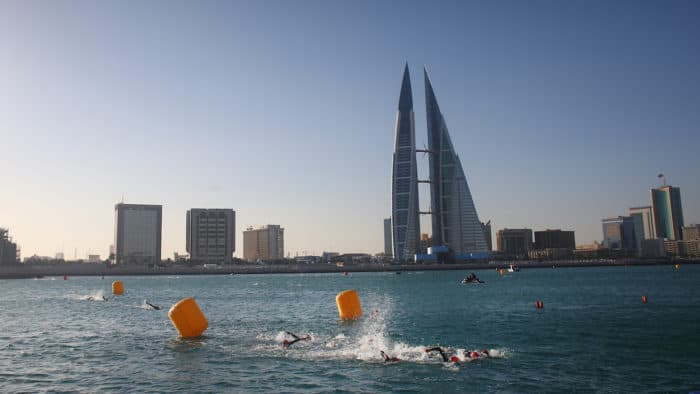 The Bike – 90km
A one-loop, 90km course, the bike circuit is primarily flat and fast. Departing T1 from the landmark Twisted tower in Bahrain bay, you will pass the Bahrain World Trade Center, Bahrain Financial Harbor, Dilmun Burial Mounds, National Charter Monument and Bahrain International Circuit and then back to Bahrain Bay.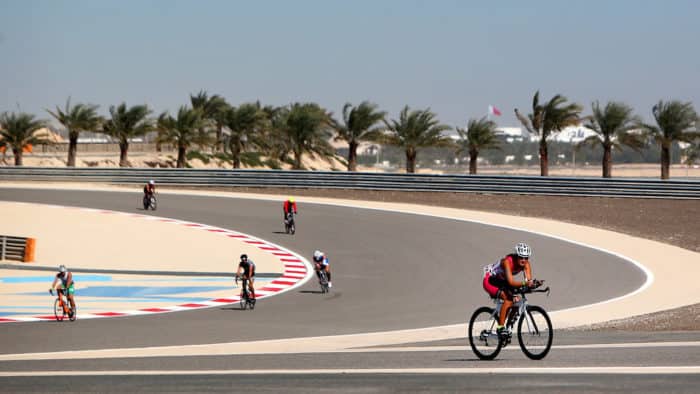 With the route heading south and then returning to the north, prevailing winds will likely be a factor on the day. A low wind day could well see some exceptionally fast bike splits on the wide and smooth Bahrain roads. 2016 champion, Terenzo Bozzone (NZL) secured his 2016 win on many of the same roads with a blistering bike split of 1:56:48 – the only athlete to break the two hour mark.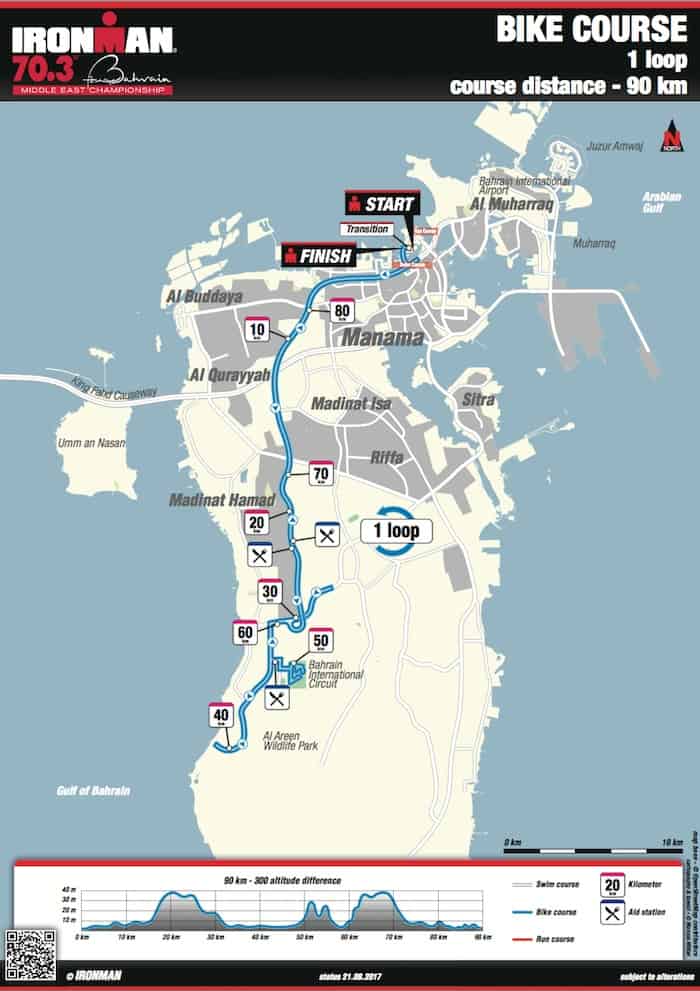 The Run – 21.1km
If you are travelling with family, the new run course should provide fantastic spectating opportunities.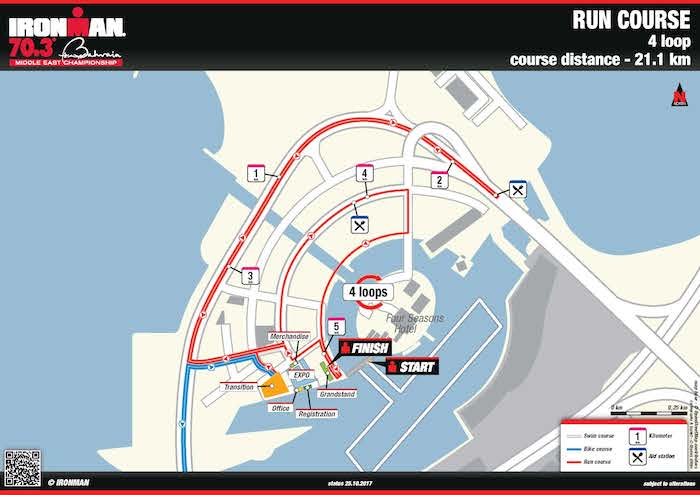 A four-loop, 21km circuit, each loop contains a number of switch-backs with the whole course contained within a very small area alongside the Bahrain Bay / Four Seasons Hotel base. There should be plenty of opportunity to see your competitors – and perhaps be lapped by some of the stars from the Pro races!