I FEEL SLOVENIA IRONMAN 70.3 Slovenian Istria to take place on September 23, 2018;
General registration to open December 18, 2017
IRONMAN, a Wanda Sports Holdings company, announced today the addition of its first event in Slovenia, the I FEEL SLOVENIA IRONMAN® 70.3® Slovenian Istria triathlon. The inaugural race will take place on September 23, 2018 and features a unique cross-border bike course through Slovenia and Italy.
Lending its name to the race, the region of Slovenian Istria is located approximately 100 km south-west of the country's capital of Ljubljana. With access to the Adriatic Sea and rolling hills as well as a perfect touristic infrastructure, it is a place made for triathlon.
"Years of work have culminated in finally bringing an IRONMAN 70.3 race to this region. To us, this is more than a race. It's the promotion of a lifestyle expressed through the I FEEL SLOVENIA brand which encourages a green, active and healthy Slovenia," said race director Milan Erzen. "I would like to extend my gratitude to our partner municipalities Koper, Izola, Ankaran and Piran for their help and commitment to this race. We are looking forward to bringing athletes from around the world to this wonderful region and present Slovenian Istria as a perfect tourism destination. The preparations for the event are already in full swing and our team's excitement grows daily."
Athletes will start their race in Koper a captivating Mediterranean city located at the Adriatic Sea. Its Italian name, Capodistria, derives from one of its former names – Caput Histriae, which means "Capital of Istria". The fortified town and its buildings, including the cathedral and multiple palaces can be admired from Ukmar Square, where the 1.9-km (1.2-mile) spectator-friendly swim course starts and ends.

A 90.1-km (56-mile) bike course leading through two countries – Slovenia and Italy – as participants ride through the old town of Koper and the city of Ankaran. In Milji (Muggia) athletes cross the state border between Slovenia and Italy and ride along the Italian coast. On its return to Slovenia the course passes Osop, one of Slovenia's oldest villages with beautiful stone houses and picturesque streets. Two more ascents follow in the hinterland of Slovenian Istria and the course ends with a long descent where athletes are able to enjoy an amazing view over well-known Slovenian tourist destinations, Koper, Izola and Piran.
A two-lap 21.1-km (13.1-mile) run course concludes the race. The course leads through the center of Koper and then along the coastal road to Izola and back. The run course is flat with its highest point just five meters (16 feet) above sea level. The finish line is located at the promenade of Koper right next to the sea.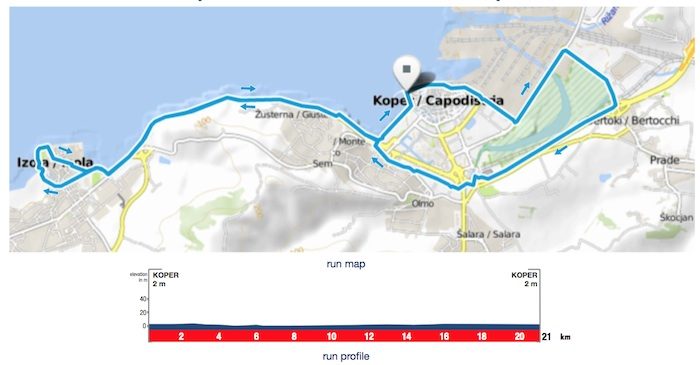 "Slovenia has quickly gained a reputation as one of Europe's top destinations for swimming, cycling and running. The country may be small in size but it has a big heart for sports and healthy living. With its wonderful nature, access to the Adriatic Sea and stunning cities, the region of Slovenian Istria is an ideal location for an IRONMAN 70.3 event. We are excited about next year's inaugural race," added Hans-Peter Zurbruegg, Managing Director IRONMAN Europe, Middle East and Africa.
I FEEL SLOVENIA IRONMAN 70.3 Slovenian Istria will offer 30 age-group qualifying slots for the 2019 IRONMAN 70.3 World Championship being held in Nice, France.
General registration for I FEEL SLOVENIA IRONMAN 70.3 Slovenian Istria will open at 2 p.m. local time on Monday, December 18, 2017 at www.ironman.com/slovenia70.3. Athlete inquiries may be directed to slovenia70.3@ironman.com.