Late changes affect more than just IRONMAN UK
Blue-Green Algae stops play at IRONMAN Hamburg
Sunday's IRONMAN Hamburg is a race of significant interest for British Pro athletes, with the return of Tim Don, Joe Skipper racing his third iron-distance race in a month and Will Clarke looking to get a good result after his problems at IRONMAN UK. For the women, Corinne Abraham will be looking to add a second 2018 full-distance victory after her impressive win at IRONMAN France.
However, the race will now be a 6km / 180km bike / 42.2km run format, 'thanks' to the cancellation of the swim section:
"We regret to inform you that the swim has been cancelled at IRONMAN Hamburg. This is due to the current blue-green algae levels in the Alster, which have been declared by authorities as health and safety hazards. We understand that this news is disappointing to our athletes and team that have prepared for this occasion for months. The situation is a result of unusual weather conditions and is beyond our control. Again, this decision has been taken to protect athlete health and safety which always remains our utmost priority. The race format will now be changed to a Run – Bike – Run duathlon, please read the Run (Duathlon) section below to find out more."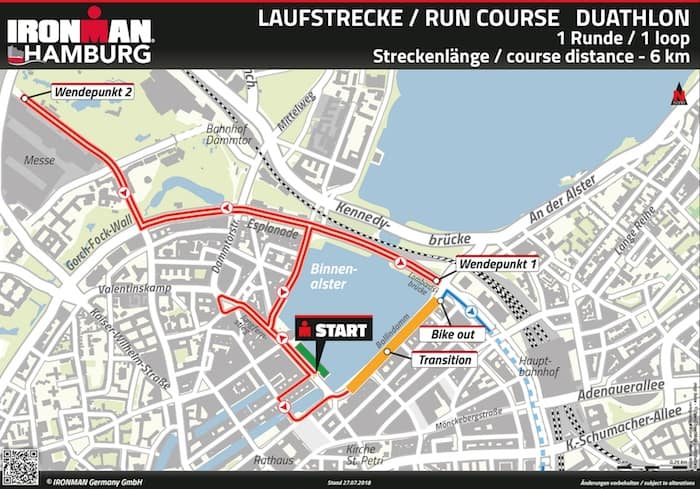 "To protect the safety of our athletes, the swim will now be replaced with a 6k run lap, which changes the race format to a Run – Bike – Run duathlon. As a result, the Pro Men's race will now start at 7:00 am, followed by the Pro Women's race at 7:02 am and finally the Age Group rolling starts from 7:10 am onwards. The rolling start will be prolonged to 60 minutes, in order to ensure a fair race on the bike. We recommend the use of 2 different pairs of running shoes."
Full details HERE.