Special edition medals on offer for 'European doubles'
This one is not 'new' as such, but when reading the news piece published earlier today regarding the 2019 IRONMAN 70.3 European Championship, one element within it was new(s) to me. Or perhaps that's just my memory failing me?
Either way, on that basis it's quite likely that it might be (potentially interesting) news to (some of) our readers too. Therefore, consider this our 'public service announcement' regarding the 2019 IRONMAN Tour Series.
What is it?
For Europe, nine countries (Ireland, France, Austria, Spain, UK, Switzerland, Germany, Sweden, Denmark), each have two designated races – one IRONMAN, one IRONMAN 70.3 – which, if both are completed (subject to a little bit of small print, concerning timing of entries), you will receive in the finish area of the second event your bonus IRONMAN Tour Series medal.
You can complete as many of these Tour Series combinations as you like (e.g. IRONMAN Cork / IRONMAN 70.3 Dun Loaghaire and IRONMAN 70.3 Stafforshire / IRONMAN UK Bolton), to earn the (different) medals in each country.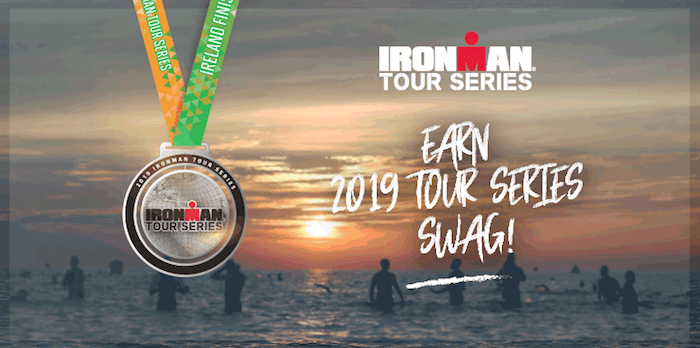 I've written before (HERE) about the potential marketing and motivational benefits of such targets, in particular, the London Classics medal introduced in 2017 by the London Marathon organisers (for completing London Marathon, Prudential RideLondon 100 and Swim Serpentine 2-mile swim). Even now, I think that was marketing genius in terms off boosting numbers and entries to the, at the time, only event on the trio which wasn't massively over-subscribed. It got me back in the water, and I duly collected mine at the first opportunity.
That was, no doubt, also a motivator for Challenge Family to introduce their Tri-Slam Challenge.
Are more medals of interest to you? Whether the answer to that is yes of no, if you weren't aware of the IRONMAN Tour Series before, at least you can now find out more and make your own decision. Public service announcement complete.