Long Course Weekend Mallorca makes its debut
We noted the debut of the Long Course Weekend Mallorca yesterday, when highlighting seven races to watch over the remainder of the 2017 season.
A long-time fan of the original Long Course Weekend event in Tenby (where she typically takes part in the mixture of the distances on offer), it would appear that Duracell Bunny, Lucy Gossage, is aiming to do the 'full' distances in Alcudia – and she leads after the opening 3.8km swim on Friday.
Pretty excited to have made it to @LCWMallorca. A nice filling for an '#endofseasonbreak' and '#kickstartwintertraining' sandwich.

— lucy gossage (@lucygoss) November 2, 2017
---
The Long Course Weekend Mallorca has started today with the Swim Day at the crystal waters of Alcudia Bay. Lucy Gossage (GBR) and Marco Hohlen (GER) are the first leaders of the Long Course Weekend full race (3,800 meters Swim today, 172Km Bike tomorrow, and 42,195Km Run on Sunday).
There was a Swim Race over 3.8 km where Michael Van Cleven (BEL) and Hanna Paull (GBR) were the fastest swimmers of the day. The Swim Day also has a 1.9km distance, 1.5km and 750m, all to correspond with triathlon's most popular distances.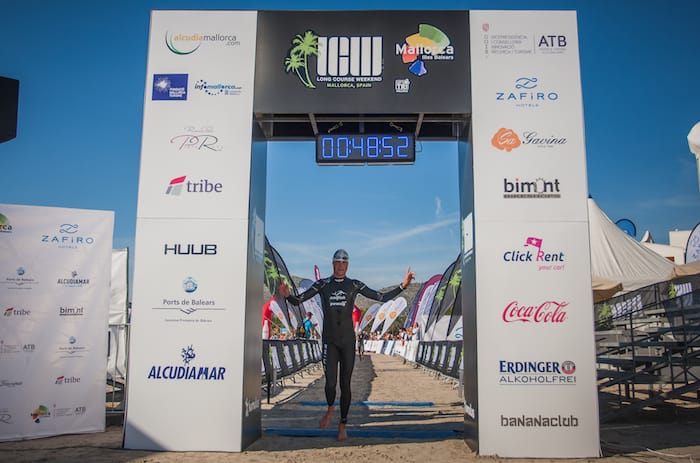 From tomorrow morning the attention turns to The Sportive, and 172km of undulating countryside that also incorporates an 86km distance option to attract athletes of all abilities. To finish the weekend on Sunday, the athletes will complete The Run Day – a 42.2km marathon. There is also a 21.1km run, 10km run and a 5km run which allows everyone to be involved.
Further info and results on www.lcwmallorca.com.
Long Course Weekend is organized by Kumulus and Ajuntament d'Alcúdia.
Results of the full distance. Long Course Weekend Mallorca Day 1 (3.8km swim)
Female
1 – LUCY GOSSAGE 56:04
2 – BIRGIT METZLER 58:18
3 – DOMINIQUE LOTHALLER 1:00:14
Male
1 – MARCO HOHLEN 51:49
2 – ANDREW DIPLOCK 52:12
3 – TOM VICKERY 
55:37
Happy Friday everyone! Fun in sun @LCWMallorca. 'Racing' in off season. Happy days! pic.twitter.com/rC7SzlTH4x

— lucy gossage (@lucygoss) November 3, 2017