Zwift racing as a spectator sport – in both virtual and in-person form – it's a real thing. Seriously. And it is only going to get bigger…
This Saturday, 14th April, the top-10 men and women qualified from the Zwift's 'KISS EU Crit Series' will go head-to-head in a live final. Yes, racing 'virtually', all 20 riders will be co-located, metres from each other at Bespoke Cycling in Gresham Street, London. And you – in your own home – can watch the riders race (virtually), on Zwift, while all being in the same room on smart trainers. Sounds mad? It does, until you see it…
A few weeks ago, triathlete Lionel Sanders competed in a similar competition in Los Angeles – the CVR World Cup – when all of the competing riders were based on the infield of a velodrome. On smart trainers. And do you know what? It made pretty spectacular viewing! Honestly, the concept sounds bizarre (well, it does for a man in his late(r) 40's who has no concept of 'eSports'), but, it was was quite something. Lionel Sanders was pretty special too – he finished second.
The winner of the women's race in Los Angeles, Carey Conabeare (UK), will also be racing this weekend for honours in the KISS EU Crit Series Finals in London too.
All sounds a bit of a joke? Well, Carey walked away with $7,800 that day. Cycling eSports is getting very real.
---
KISS EU Crit Series Finals presented by Tacx come to London Saturday April 14
Top 10 Men and top 10 Women from winter long series to face off in live event final
This weekend is set to see the KISS European Crit Series Championships final take place in Bespoke Cycling on Gresham Street, London. The event series has been running throughout the winter season with competitors battling it out on Zwift to win one of 20 (10 Men, 10 Women) finalist spots at the live final in London.
The race format will be a closed event with the 10 riders racing head to head on the Volcano Circuit in the counterclockwise direction. The total race distance for both Men and Women is 37.5km over 8 laps.
New to racing on Zwift, a points race classification will be run on laps 2, 3 & 4 where the first four riders to cross under the new arch inside the volcano will be awarded a 5, 3, 2 and 1 points respectively. Prizes will be awarded for the top 3 at the end of the race.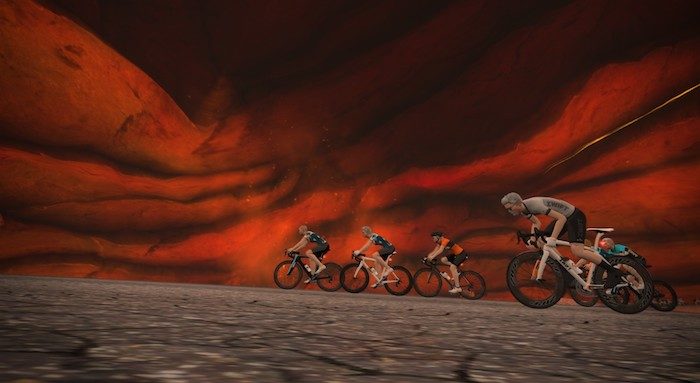 Towards the end of the race, things will spice up even more with an elimination. At the end of laps 6 and 7, the last two riders to cross the Stone Lap Arch will be eliminated from the race, leaving six riders remaining to battle it out for the winning spot on the final lap.
The winners from both events will each receive a lifetime subscription to Zwift and a Tacx Neo trainer. Second and and Third placed finishers will each be awarded a Tacx Flux trainer.
A list of all finalists can be found below:
Women's Race (18:30 GMT):
Cassie Baldi – UK
Kristin Falck – Norway
Carey Conabeare – UK
Kerstin Pohl – Germany
Karen Jennings – UK
Frédérique Hate – France
Gerline van der Bij – Netherlands
Willemijn Prins – Netherlands
Anja Leuendorff – Germany
Inje Jansen – Netherlands
Kjersti Hoel – Norway
Men's Race (20:30 GMT):
Tim Cartwright – UK
Kim Little – UK
Søren Bay – Denmark
Marcin Krzywonos – Poland
Tom Hargreaves – UK
Gavin Dempster – Scotland
Phil Whiteley – UK
Vidar Mehl – Norway
Peter Föhn – Switzerland
Frank Bakulov – Russia
The KISS EU Crit Series Finals presented by Tacx will be streamed live on Zwift Community Live and there are still a few remaining tickets available to come and watch the action. To register, head to the official Eventbrite page.