Bespoke cycling kit profits total $21,077 from Endura
As you will surely have seen (reported separately HERE), on his first 'race' outing since his return and ongoing recovery from breaking his neck in October last year, Tim Don ran a very impressive 2:49:22 at the Boston Marathon on Monday.
Race conditions were brutal, with the winning times – on paper at least – pedestrian by Elite standards, reflecting just how tough the day was. Tim wanted a non-triathlon target to help provide an early season goal, and getting inside his 2:50 target under those conditions, was a fine effort, and a mark of his desire to get back towards his IRONMAN™ World Record breaking form and fitness. That represents an excellent first step.
Earlier this year, as we published, Tim's apparel sponsor, Endura, released a bespoke 'The Don' cycling kit, with profits on the sales going towards Tim's significant and ongoing medical expenses as a result of his time in the now infamous 'Halo'.
Today, Endura have confirmed that the sum raised is $21,077.
Back up and running…
Endura would like to join Tim Don in thanking the triathlon community worldwide for helping to raise funds to support his recovery from the serious injury sustained in training for the IRONMAN World Championship last year.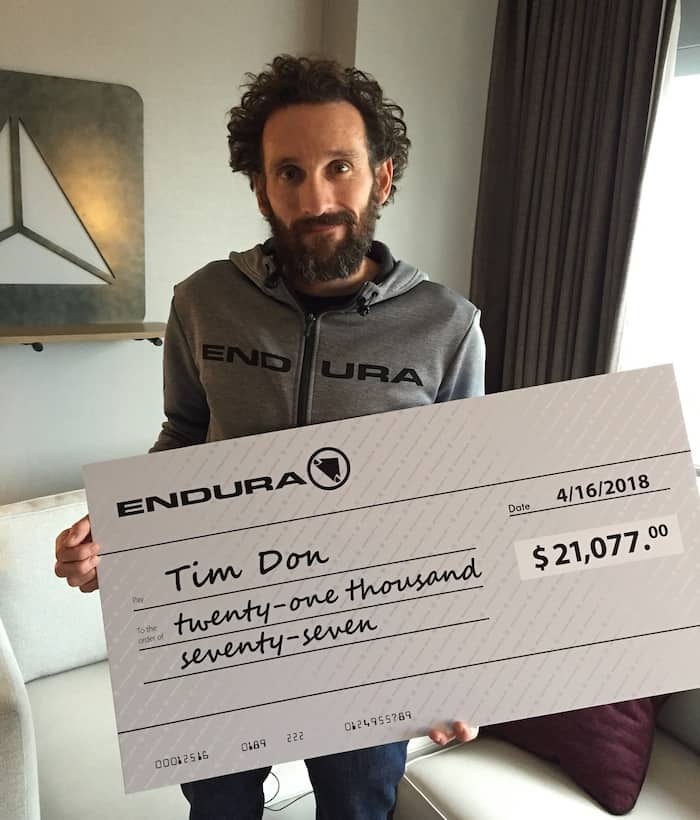 Tim Don said upon receiving the $21,077 cheque from Endura: "Thanks to everyone that bought my IRONMAN World Record kit. I hope you're loving it and wearing it with pride. It really helps in my pursuit of breaking that world record again and recovery from my broken neck. Thanks too for all the support – let's go faster than we have before."
https://www.youtube.com/watch?v=YJdUYhd0V9o&
Jim McFarlane, Endura's Founder and Managing Director, said: "Along with the triathlon world ,we were shocked to hear about Tim's horrific injury and have been following his progress intently in the months following the accident. We were delighted to be able to help Tim's recovery in our own way by producing the TD kit and it's a mark of his popularity that we've been able to raise so much to offset his substantial medical bills. The team here at Endura have no doubts that the spirit that Tim has shown so far will see him back in Kona later in the year and we wouldn't be surprised to see him pull out a result there."