If it's a 'no', will you let us know?!
Where do we even start with this one? A quick (bullet point) recap:
In September 2019 (somewhat out of left field, it has to be said), the Professional Triathletes Organisation (PTO) 'APPROACHES WANDA SPORTS BOARD PROPOSING TO ENTER INTO DISCUSSIONS TO ACQUIRE IRONMAN® ASSETS'
Swiftly afterwards (October 2019), a 'thanks, but no thanks' response was received by IRONMAN CEO, Andrew Messick. In truth, not surprising at the time, given the (lack of) track record of the organisation.
Into 2020, and in early February, PTO "renews interest in IRONMAN". That situation felt somewhat different however, with the details on the Collins Cup confirmed and a funding partnership with Crankstart / Mike Moritz.
Once again, IRONMAN says no… OR DID THEY?!
I certainly thought they did/had, until the latest Press Release from the PTO arrived on Wednesday.
The basis for that thinking was this article, which indicated that due to the "lack of clarity and specifics" provided, Wanda Sports Group "…are not prepared to engage in a discussion with PTO at this point." However, it would appear that (unnamed) WSG representative spoke to SportBusiness… but never formally responded to the PTO itself.
Just a couple of days later, WSG confirmed that it was in talks to sell the IRONMAN business, reflected in this Bloomberg article – the company is working with an adviser and has held discussions with private-equity buyers that expressed interest in the business. That news caused an immediate jump in the share price of WSG on the NASDAQ: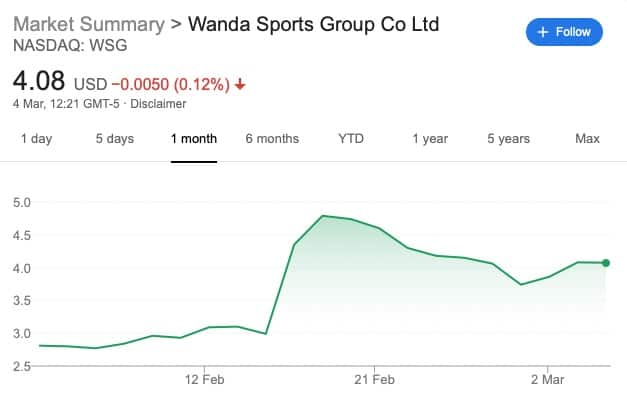 Perhaps a letter got lost in the post?! It does seem a little strange… while the approach, like the first, was essentially unsolicited, if the thought process from IRONMAN was broadly the same as the first time around, then it might seem reasonable to assume that a second response (to an organisation that now represents the vast majority of the Professional athletes in IRONMAN racing), would be forthcoming.
One might – and certainly, PTO would put forward that view – that ignoring / not engaging with its Pro athletes is a sign of disrespect / taking them for granted / insert however you want to spin that particular scenario. After all, they could have broadly done a 'copy/paste' on the first letter, and simply updated the date.
Onto the – somewhat curious – press release from PTO, which includes:
Confirmation of lack of response to that 3rd February letter
Strong belief that PTO involvement would maximise the value of any sale of the WTC Business (World Triathlon Corporation)
Failure to allow PTO to be part of any sale process… "will adversely affect WSG shareholders"
Willingness to "begin discussions forthwith"
And (paragraph three, this is where it gets interesting…), "…our view that the cooperation of the PTO in the operations of the WTC Business is vital to its valuation and its ongoing and future success" and, "…the continued failure of the WSG Board or any potential bidder with whom you may be in discussions to engage with the PTO in a constructive and cooperative manner may have an adverse effect on the WTC Business and the WSG shareholders"
Reading between the lines (and not digging especially deep…), could that be interpreted as trying to apply pressure… or a threat?
Exactly what threats the PTO (an organisation with, as yet one event of its own planned), can make or pressure it can apply, versus a global brand with over 160 full and half-distance triathlons (let alone all of the other events under the WTC banner), is not immediately obvious. However, maybe (?), it could all come back down to the belief that was behind the very existence of the PTO itself. Specifically, that the Pro triathlon population is a massively undervalued asset / resource / partner.
Remember (details HERE), the PTO has already made prize money announcements for 2020 which come close to the total global prize purse for IRONMAN events across its full and half-distance events. 'Thinking aloud' here:
What if PTO were to buy Challenge Family? Their CEO already sits on the PTO board.
That would, without question, be significantly cheaper
Rather than invest (hundreds of…) millions of $$$ in IRONMAN, apply a fraction of that to the Challenge event prize purses – a direct incentive to 'their' Pro athletes to race in those events
Create their 'own' Majors series – from scratch / in partnership with other organisers
Honestly… I've no idea. However, that might be seen as a deviation from the "we are Switzerland… neutral !" approach of the PTO to date, aiming to be a body that wants to see all parties prosper.
Another view might be that the target of this (public) letter is not actually Wanda/IRONMAN, but an attempt to warn off the private-equity buyers that are currently in acquisition discussions. Were those to fall through, the share price of the NASDAQ listed stock would surely retreat back to previous levels. Would such words have any impact on investors who are already deep into $billion discussions anyway?
Or… does it all sound a little desperate?!
The world of Mergers and Acquisitions is a complex one, certainly not one I'll claim to be an expert in. Much, typically, is done behind close doors and under Non-Disclosure Agreements. Public statements, rarely made, typically have 'meaning' (or are required for statutory purposes), and are directed towards parties often not explicitly stated within their wording, perhaps part of negotiation tactics. That first approach from the PTO in September 2019 a case in point – you can be sure that the PTO never, for a second, expected a positive response at that stage – but it will have raised awareness and was a message to the wider market.
If nothing else, if you were considering the imminent purchase of a global, mass participation sporting business that relies on vast number of competitors (customers) travelling significant distances to take part… given the 'known unknown' of Coronavirus, I'd be rather hesitant about paying top (billion?) dollar right now. And that, perhaps, may ultimately benefit the PTO, should those publicly announced private-equity talks break down.
If you've got this far, well done! I really don't know the 'answer' here – frankly, even working out the 'question' isn't an easy one – but we can certainly say without doubt that the PTO has made some significant noise in the triathlon world in the first quarter of 2020, and that is unlikely to end just yet.
The story continues.
Reproduced below, is the full press release from the Professional Triathletes Organisation.
---
Professional Triathletes Organisation Advises Wanda Sports That the Value of Ironman Business May Be Adversely Affected by Failing to Engage in Discussions
The Professional Triathletes Organisation today released the following letter sent to the Board of Directors of Wanda Sports Group Company Limited on 3rd March 2020 advising the Board that in its view the value of the Ironman® Business in any possible sale would be adversely affected by its failure to engage in constructive discussions with the PTO.
Board of Directors
Wanda Sports Group Company Limited
Wanda Plaza
Tower B, 9th Floor
93 Jianguo Road Chaoyang District
Beijing, China

Andrew Messick
Chief Executive Officer
World Triathlon Corporation
3407 W. Martin Luther King Blvd
Suite 100
Tampa, Florida 33607
Attn: Mr. Yimin Gao–CEO
Dear Members of the Board:
We are writing on behalf of the Professional Triathletes Organisation (the "PTO") and note with interest your public announcement that the Wanda Sports Group Company Limited ("WSG") is in preliminary discussions concerning the possible sale of its worldwide triathlon and mass participation business (the "WTC Business"). We further note that the WSG Board has yet to respond to our letter dated 3rd of February 2020, in which we advised the Board that the PTO is prepared to enter into discussions regarding the acquisition of the WTC Business and to consider an all-cash transaction or one in which the existing shareholders of WSG are able to participate in the growth of the WTC Business that the PTO and its professionals are uniquely able to deliver. In our letter we also advised the WSG Board that we are prepared to work with other groups who may be interested in acquiring the WTC Business.
We strongly believe that our involvement in the sale process will enable the WSG shareholders to maximise the value of any sale of the WTC Business, and failure to allow the PTO the opportunity to be part of any sale process will adversely affect the WSG shareholders. We believe that this proposal represents a unique opportunity to realise significant value for WSG shareholders and the employees of WTC, and that the PTO can uniquely provide a healthy and growing environment for the WTC Business. The PTO and North Point Advisors, our financial advisors, are prepared to begin discussions forthwith with your senior management and your financial advisors and to sign a customary confidentiality agreement in order to commence certain due diligence.
We hope that you share our enthusiasm and that the WSG Board, in the exercise of its fiduciary duties, delivers a prompt and favourable reply to us. As the WSG Board has failed to respond to our previous good faith approach, we will publicly release a copy of this letter. We would urge you to convey to any potential bidders with whom you may be in discussions our view that the cooperation of the PTO in the operations of the WTC Business is vital to its valuation and its ongoing and future success and, further, in our view, the continued failure of the WSG Board or any potential bidder with whom you may be in discussions to engage with the PTO in a constructive and cooperative manner may have an adverse effect on the WTC Business and the WSG shareholders. We would accordingly request that if there are any restrictions in any Non-Disclosure Agreements prohibiting potential bidders from engaging in discussions with the PTO, that they be waived so that WSG shareholders are able to maximise the sale price of the WTC Business.
Charles Adamo
Chairman
San Renouf
Chief Executive Officer
Rachel Joyce
Athlete Director
Dylan McNiece
Athlete Director