Interesting numbers from Zwift's January flagship promotion
Do cyclists and triathletes like riding indoors? Well, I'll leave that one to personal choice (this writer certainly does…). There were plenty – almost 120,000 in fact – who did just that at least once during January within the popular 'Tour de Zwift' series on the market-leading indoor training platform.
Tour de Zwift was a series of nine 'virtual sportives' – not races (yeah, right!) – held during January, a promotion which seemed to gained huge traction with users on the platform. I certainly took part myself and did almost every stage as part of my January training. We even specifically tailored a few of our Wednesday night TRI247 Workout Series group rides in order to focus on different training targets, given how many were more than hitting their sweetspot / threshold requirements through regularly doing the 'Tour' series.
A 'virtual' series where the prize – if you completed all nine – was a 'virtual' jersey to wear in the game? Seems a strange concept… but it worked, and among the stats below, almost 25,000 people were motivated enough to complete all nine stages.
Indoor training is her to stay and is only going to get bigger. Here is Zwift post Tour wrap-up, in numbers.
---
'VIRTUALLY' THE BIGGEST CYCLING EVENT ON THE PLANET
First ever Tour de Zwift sees 119,076 riders take part in the nine stage event
 Zwift, the fitness platform born from gaming, has just completed the first annual Tour de Zwift event, seeing 119,076 riders burn over 297 million calories collectively throughout January.
The Tour de Zwift was comprised of nine different road stages covering all five Zwift Maps: Watopia, London, New York, Innsbruck and Richmond. Designed to be a celebration of Zwift, the Tour de Zwift was a great opportunity for new and old Zwifters alike to explore many of Zwift's most popular routes irrespective of their experience level.
Stage One began on Jan 3rd and ran on the Jungle Circuit in Watopia, normally only accessible to Level 10 or above Zwifters. This stage proved to be the most popular stage of the series, seeing 43,182 Zwifters complete it – the equivalent of 198 Tour de France pelotons! Across all nine stages, Zwift ran a total of 468 events to cater for all time zones, making it the most accessible mass participation cycling event to date.
To celebrate Zwift's, biggest event to date, Zwift has pulled together some of the headline numbers from the first annual Tour de Zwift in an infographic: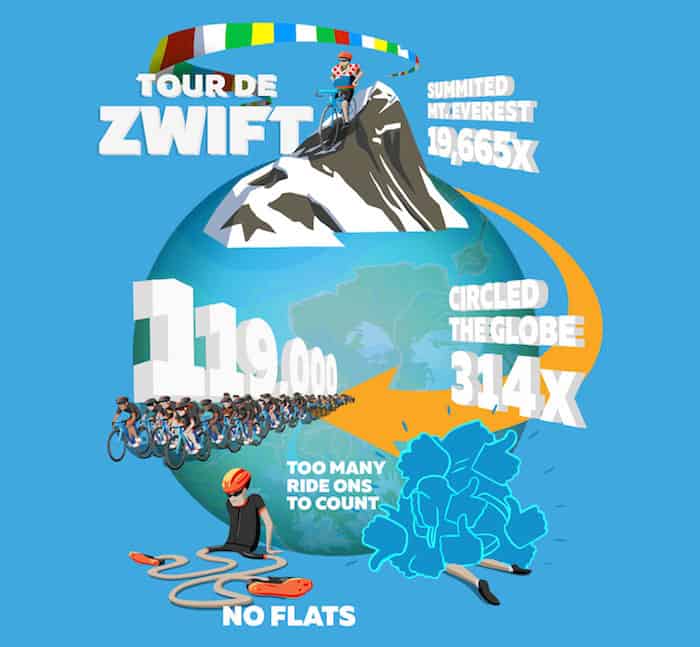 Tour de Zwift in numbers
A total of 119,076 Zwifters took part in the Tour de Zwift
24,758 Zwifters completed all 9 Stages
In total, Zwifters covered 8,088,702 miles / 13,017,503 km during the Tour de Zwift, or 314 times round the world.
Zwifters climbed a mind boggling 180,025,715 m – that's halfway to the moon!
Still feeling that Christmas Holiday weight? Zwifters burned 297,224,138 calories during the Tour de Zwift.
Zwifters are a social group. In total, 'Tour de Zwifters' received 1,911,633 RideOns
The biggest stage was Stage 1, seeing 43,182 people take on the Mayan Jungle
34 Professional Cyclists and Triathletes took part
The Tour de Zwift Stages: