Last Wednesday 17th January saw the first ever Women For Tri evening in Ireland hosted by Joanne Murphy of Tri Talking Sport in Bradley Renault Galway. The event was specifically for women who are existing or aspiring triathletes with a view to encouraging and supporting them to pursue their triathlon goals in 2018.
The central theme of the evening was the elimination of barriers for women to participate in the sport of triathlon, giving them the tools to help them succeed in the sport regardless of whether they were just starting out or were chasing personal bests.
Despite the horrendous downpours of rain on the night over 50 females attended the event. They were inspired, encouraged and entertained throughout the evening with insightful presentations from Sue Redmond (Unwrapping Brilliance), Anna Grealish (Triathlon Ireland), Louise Sharkey (Vita-Nutrition), Jane Walsh (NUIG School of Psychology) and Jonathan Gibson (The Athlete Clinic).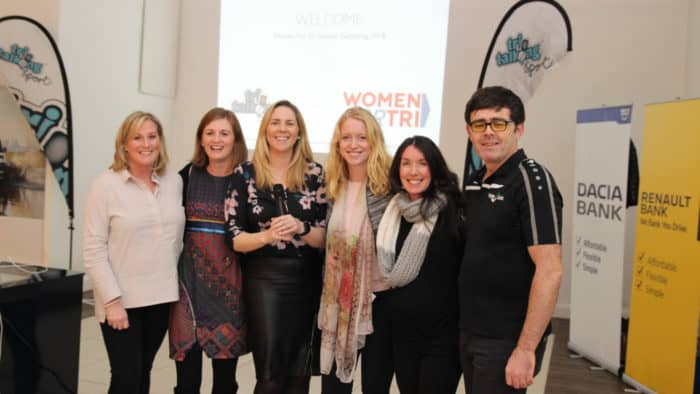 Each of the speakers brought attendees through their own personal experience of triathlon whilst delivering insightful nuggets of information to help those present embrace their 'tri life' in 2018.
Speaking about the event, Joanne Murphy event host and Global Women For Tri Ambassador said, "I really didn't know how many people would join us for the event but am genuinely delighted with the numbers. Attendees were a great cross-section of females interested in the sport of triathlon with a mix of ages, abilities and varying aspirations. It was very encouraging to see the numbers in attendance, the mix of speakers and content was just right on the night. I would love to bring these events across the country and help more women take the first steps into the sport of triathlon, there is definitely an appetite from females to learn more about the sport and be encouraged to participate in it."
For more information on future Women For Tri events in Ireland log on to www.tritalkingsport.com