Are you a student triathlete with a passion for the sport and a desire to get more of your fellow student into triathlon? If so, read on.
The second year of the Yellow Jersey University Triathlon Scholarship (WEBSITE) has just been announced, with applications now open. This was the award won last year by Laura Smith, who I interviewed shortly after she got that news HERE.
Entries close on 31st December 2018, so don't miss out on this great opportunity which comes with wide range of benefits including £1000 to spend on your triathlon season, extensive insurance from Yellow Jersey, race entry and further products and services outlined below.
There were some fantastic applications for the first edition of this initiative and I look forward to being one of the selection panel again for year two.
Here are the full details and how to apply. Good luck!
---
APPLICATIONS OPEN FOR SECOND YEAR OF YELLOW JERSEY UNIVERSITY TRIATHLON SCHOLARSHIP
After the success of the inaugural university triathlon scholarship in 2018, Yellow Jersey today announced that it will run for a second year.
The scholarship aims to find a student who can best demonstrate their passion for triathlon and a proactive desire to get more participants into the sport, and then support them through the 2019 triathlon season.
Recent research released by the TIA reveals that yet again there has been a drop in the participation levels of under 24s, with this demographic making up just 4% of the UK's overall triathlon population based on the results of their survey (TIA 2017 UK multisport athlete survey). So this scholarship aims to encourage more students to keep up, as well as take up, triathlon.
Endorsed by industry body, British Triathlon, the scholarship will include an enviable package of support for the 2019 triathlon season from a range of industry leaders. The scholarship includes:
An annual Yellow Jersey Ultimate Bicycle Insurance policy
An annual Yellow Jersey Travel Insurance policy
£1000 to spend on the 2019 triathlon season
Entry to the AJ Bell World Triathlon Leeds 2019
A KitBrix transition bag
A year's supply of Precision Hydration products
A year's subscription to Training Peaks Premium Athlete Edition
Last year's winner, Laura Smith of the University of Manchester, commented:
"Winning the scholarship was such a surprise last year but one which has given me so many fantastic opportunities. The funding has been so important in helping me train and race effectively, alongside being well equipped by leading triathlon brands. It can be difficult balancing studying, training and working but the support I received from Yellow Jersey made it easier to juggle a busy dentistry degree, training and also time to help train and encourage more students to take part in the sport.
"I would encourage every student that is involved triathlon to apply for the scholarship."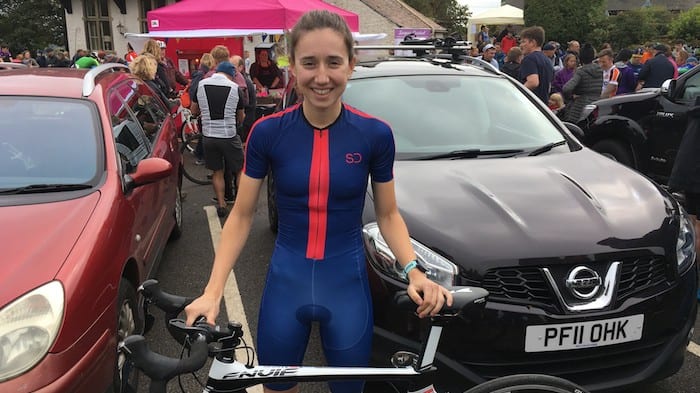 Emily Conrad-Pickles, Head of Marketing at Yellow Jersey commented:
"We want to get, and keep as many students as possible into triathlon. It offers a fantastic all round workout with your training split between the different disciplines of swim, bike and run. On top of this, it is a social sport thanks to the camaraderie of group training sessions, so it is a great way to make new friends at university.
"We were delighted to have Laura as our winner last year; she has been a fantastic ambassador for the sport in her racing success as well as the effort she has put into increasing triathlon participation. Just like Laura, we are looking to discover another student this year whose passion for triathlon is infectious. An athlete who isn't just getting up for 6am training on their own, but is encouraging their housemates to go with them."
The scholarship will be judged by an expert panel from the triathlon industry including Paralympic triathlon champion, Andy Lewis.
Entries open today and the winner will be announced at the start of February 2019. Any UK student, including those who entered last year, is eligible to enter via the Yellow Jersey University Triathlon webpage.