Kristian Blummenfelt wasn't thinking about an off-season break when he broke the tape to win CLASH Daytona on Saturday – the Norwegian only has eyes for "a massive 2022".
The 27-year-old from Bergen finished an incredible year in style by claiming the $15,000 first prize at the iconic Florida motorsport venue. A year which included:
Instead of resting on his laurels though, 'Big Blu' is already looking ahead to the next 12 months – what he has already termed 'the Ironman year'.
Blummenfelt goes back to work
When asked if he would take a break, he answered: "This is kind of what I love to do so I will go back home and start working for next year. Two big World Championships with both St George and Hawaii – and also a Sub7 in between.
"So it's going to be a massive 2022, long-distance year. I'm just looking forward to come back racing again."
Blummenfelt's victory on Saturday came when he ran down Magnus Ditlev after the Dane had built a lead of around two minutes heading into T2. Any stress Kristian may have felt about that deficit was lessened by his knowledge of Ditlev's previous races.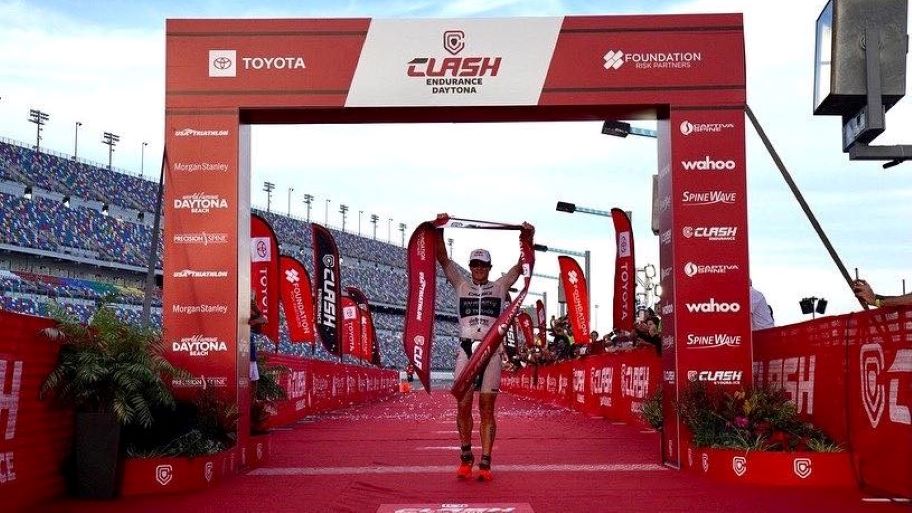 He explained: "I've seen that both here last year and in Miami I think he (Ditlev) was riding really strong but then fading in the last half of the run. I kind of had that in mind – I didn't want to risk going (all) out myself if he was going to do that. Trying to stay a little bit controlled on the bike as well, having the run in mind."
Once Blummenfelt did match the catch, he turned on the jets to put the race to bed immediately.
"I thought I could just kind of pass without him trying to stay on my feet. But then I saw in the shadow that he was trying.
"I was like 'okay there's no reason to give anything for free here, it's a race' so I just tried to kind of cut that elastic band as fast as possible and open up the gap."
Daytona no problem for Blu
It was another terrific performance to end a terrific year for the Scandinavian superstar, and it came just 13 days after that astonishing performance in Cozumel. That short gap – and coming back in distance of it – was no problem for Blummenfelt.
"I've done two track sessions between then and now and I've been feeling better and better for each run I've done.
"It's not like World Triathlon sprint distance, 5k, where you have to do like 2:50 pace for the run. It's still kind of the middle distance and 3:10 is not super-fast – it's still endurance pace – so I thought I should have that under control."