Imagine taking part in a sprint finish when you can't see.
Everyone loves a sprint finish, whether it's taking part or watching… but what if you are blind? What if you can't see your rival, and you also can't hear anything over the noise from the crowd?
That's exactly what Commonwealth Games rivals, Katie Crowhurst and Canada's Jessica Tuomela experienced at the Volvo 2022 World Triathlon Para Series Swansea earlier this month.
Thrilling finale
Annouck Curzillat of France set the pace at the start and went on to win the race, her first-ever WTPS gold medal, but Commonwealth Champion Crowhurst and Tuomela had an exciting scrap for silver.
Tuomela had started the swim leg ahead due to the time factor applied to completely blind athletes. At the Commonwealth Games, Crowhurst caught Tuomela on the bike leg, but this time, it came down to the final few metres of the run in Swansea Marina and Crowhurst just edged it to win silver.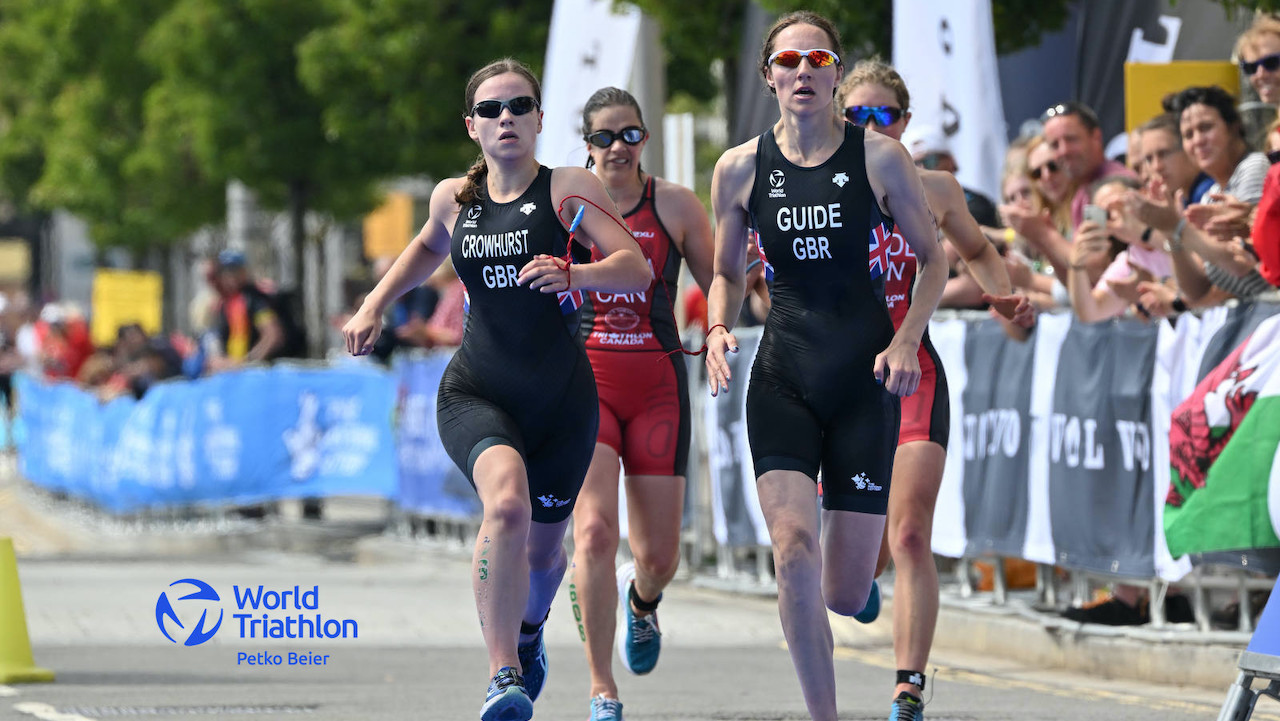 Can't see, can't hear
With athletes registering and racking their bikes for IRONMAN 70.3 Swansea the following day, there was quite a crowd gathered to see the paratriathlon races unfold.
Tuomela said: "The problem was the crowd was fantastic, but I couldn't hear Emma (Skaug), my guide, so I actually didn't know where Katie was. I was just running and hoping that I was somewhere near her.
"We knew this was a pretty deep field coming in, and people are really out there fighting for medals now."
Legs like noodles
Skaug said: "Having a team come up behind you, as a guide I'm wondering how far back they are, but I can't be looking behind me because of all of the speed bumps right before the end.
"Especially as your legs feel like noodles and I have to tell Jess exactly when to lift up her toes because if you're lifting up and expecting something to be there, then it's not, it can't be too early, it can't be too late. There's a lot going on."
Tuomela added: "That's the first sprint finish I've ever been in. It's good practice for sure, but I think I should practice maybe at home first before I do any more!"
Crowhurst catching
In only her seventh triathlon race after switching from elite para swimming, 18 year-old Crowhust was pushed all the way by her experienced guide, Grace France.
She said: "We were approaching the Canadians and Grace was like 'come on, we're catching them' and she didn't let me get a drink at the aid station on the last lap. I was like, 'I'm going to be sick' but she really pushed me through the last bit."
Grace said: "It's a completely different race when you're racing as a guide than when you're racing as an individual. There are a lot more different things to think about, so I really enjoy it."
"I'm happy with where we finished, and I hope Katie is."