Tokyo Test Event Gold for Steadman, Ellis and Townsend
Cancelled swim means Duathlon in Japan
Day three of racing at the ITU World Triathlon Olympic Qualification Event featured theTokyo ITU Paratriathlon World Cup, and as with Thursday's Elite women's race, another format change. Water quality issues the problem this time, leading to the following announcement from the ITU:
In the 5am sample, the levels show an increase but still below ITU limits. On the sample taken at 1pm the E-Coli levels had increased to more than two times over the ITU limits. In both cases, the Enterococci levels are within the limits.
Considering these results, and the data collected in the previous days, the Water Quality Risk has been declared on Level 4. The final decision of the Medical Delegate, and the three Technical Delegates, is to cancel the swim and move to a Duathlon format.
In the Paratriathlon world, that will surely have impacted the results and prospects for the Para athletes far more, given that individual restrictions / impairments can be significantly different between athletes even within the same classification. That thought was reflected on the announcement of the news by former World Champion and Rio 2016 athlete, Clare Cunningham:
Apparently the @worldtriathlon #paratriathlon @Paralympic test event in Tokyo is now a duathlon due to poor water quality. A completely different race and puts some athletes at a huge disadvantage racing in their tri classification. Disappointing for all.

— Clare Cunningham PLY (@ClareC09) August 16, 2019
Still, the race goes on and GB Paratriathlon Head Coach, Jonathan Riall was taking the positives from the announcement pre-race:
It's called a test event for a reason and we will be much better off for having been able to test every element of what Tokyo 2020 could throw at us. The athletes in the @BritTri team have been incredible at handling change with calmness and positively and I couldn't be prouder.

— Jonathon Riall (@jonnyriall) August 16, 2019
As they have consistently done for many years now at all of the major championship events, the British squad still delivered in style, with three Gold medals collected by Joseph Townsend (PTWC), Lauren Steadman (PTS5) and Dave Ellis – guided by Tim Don – in PTVI. The PTS5 division saw a Gold-Silver for Great Britain (pictured in the header image above), with Claire Cashmore making it a British one-two. Joe's Gold was achieved despite having to push 2.5km with a punctured tyre in his race chair.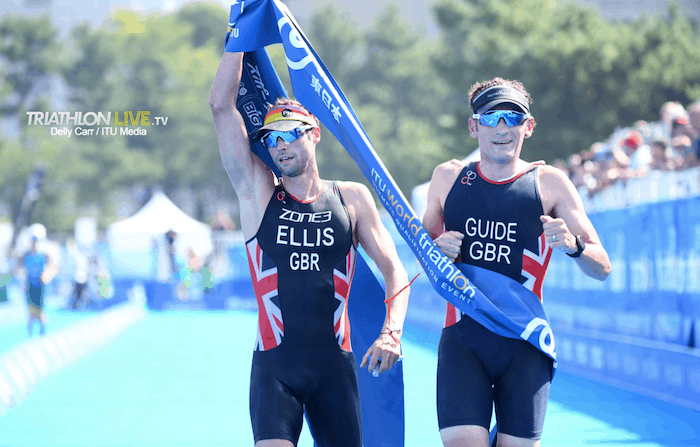 The Head Coach left happy – next stop, the Lausanne World Championships.
What a day & overall what a trip to Japan this has been.The learning will stand us in good stead next year.The @BritTri team showed the heat won't beat them, but also how important it is to take it seriously.Relieved to be leaving with safe athletes as we progress to World champs

— Jonathon Riall (@jonnyriall) August 17, 2019
Tokyo ITU Paratriathlon World Cup – Saturday 17th August 2019
2.5km run / 20km bike / 5km run
GREAT BRITAIN TEAM RESULTS
PTS2 Women – Fran Brown – SILVER
PTS4 Men – Steven Crowley – NINTH
PTS4 Women – Hannah Moore – DNF
PTS5 Men – George Peasgood – BRONZE
PTS5 Women – Claire Cashmore, Lauren Steadman – GOLD (Lauren), SILVER (Claire)
PTVI Men – Dave Ellis (Guide – Tim Don) – GOLD
PTVI Women – Melissa Reid (Guide – Elle Twentyman) – SILVER
PTWC Men – Joseph Townsend – GOLD
PTWC Women – Jade Hall – FOURTH
Our golden heroes right here. @davellisgb @trithedon @LaurenSteadman @Joetownsend1664 👏🏻👏🏻👏🏻 pic.twitter.com/bWLzdSDU61

— British Triathlon (@BritTri) August 17, 2019
Athlete Reactions:
https://www.instagram.com/p/B1QjwFzhGL2/?igshid=14blu17ux4krp
https://www.instagram.com/p/B1QUD43HAJ_/