Australian paratriathlete Lauren Parker has added another award to her already impressive achievements.
In 2021 Parker won the Paratriathlon World Championships in Abu Dhabi in the PTWC division, overcame third degree burns to finish the IRONMAN 70.3 World Championship in St George, and took silver at the Paralympic Games. That race in Tokyo was one of the most incredible finishes I have ever seen – in any sport.
On the back of those on-course honours, Parker has been named the Citizen of the Year for her home town on Newcastle, New South Wales, Australia. The 33 year-old described the recognition as her "highest award."
"I want people to know how honoured I am. I'm very proud of it and I'm very proud to be a Novocastrian.
"Newcastle is a wonderful community and has supported me for a number of years. A lot of athletes have come out of Newcastle as well, and it's a great community to have grown up in and to be a part of."
Strength and resilience
Set to start her career as a professional triathlete (Parker had previously finished second in her AG at the IRONMAN World Championship in 2015), Parker was paralysed in 2017 from a cycling accident, shortly before IRONMAN Australia. Just a year later, she was winning bronze medals at the Commonwealth Games and World Paratriathlon Championships.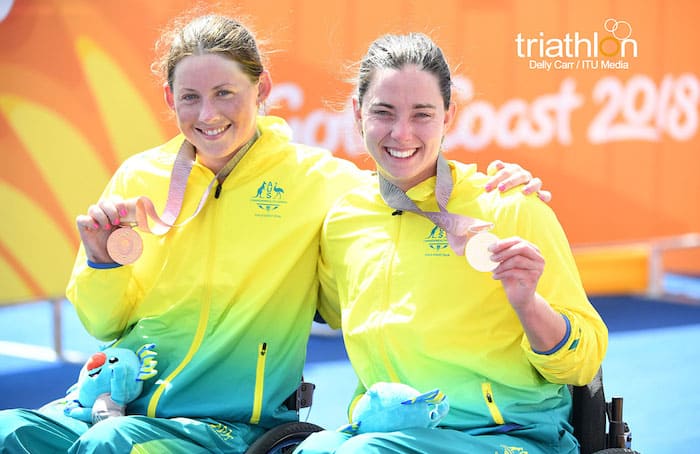 In presenting the award, Newcastle's Lord Mayor, Nuatali Nelmes, said:
"Lauren epitomises the Citizen of the Year title; her never-give-up attitude inspiring countless Novocastrians as she achieves anything she sets her mind to.
"Her strength and resilience is admirable, always giving 110 per cent despite the daily battles we don't see, managing ongoing pain from her injuries."
Paris 2024 in her sights
While Parker has achieved so much, she is not ready to stop yet. Fuelled by the "mixed emotions" of that incredible race with the USA's Kendall Gretsch in Tokyo (who herself has been busy recently too), a Paralympic Games return is on her plan. She is training for Paris 2024 – where she wants to race in the para-cycling events too.
I said at the time in my report, reflecting on that incredible sprint finish which saw Gretsch hit the front of the race in the very final metres of the blue carpet:
"One of the great finishes in the history of the sport" was the commentary line – and for a change it's pretty difficult to challenge that statement. The high and lows of Elite sport summed up in one second.
If you've not seen the final minute of the race, you really should.