Paratriathlon returns in Tokyo next month five years on from its debut event at the 2016 Paralympics Games in Rio.
The Paralympic Games offers elite athletes with a physical disability the opportunity to compete on the international stage, with events separated into several categories to ensure a fair competition.
The Paralympics grew from a small group of World War II veterans in 1948, with the first official Games held in Rome in 1960.
Now governed by the International Paralympic Committee (IPC), the 16th Games in Tokyo this year will see 22 sports contested across 537 events.
Paratriathlon is one of the newer additions to the Paralympics following its introduction in 2016, and this Games will see an additional two medal events held.
That takes the total number of races to eight, evenly split between men and women, with the total number of athletes competing in the sport increasing from 60 in Brazil to 80 in Japan.
Made up of a 750m swim, 20km bike ride and 5km run, the Paratriathlon course is set at Odaiba Marine Park in Tokyo Bay – the same venue as the Olympic Games Triathlon.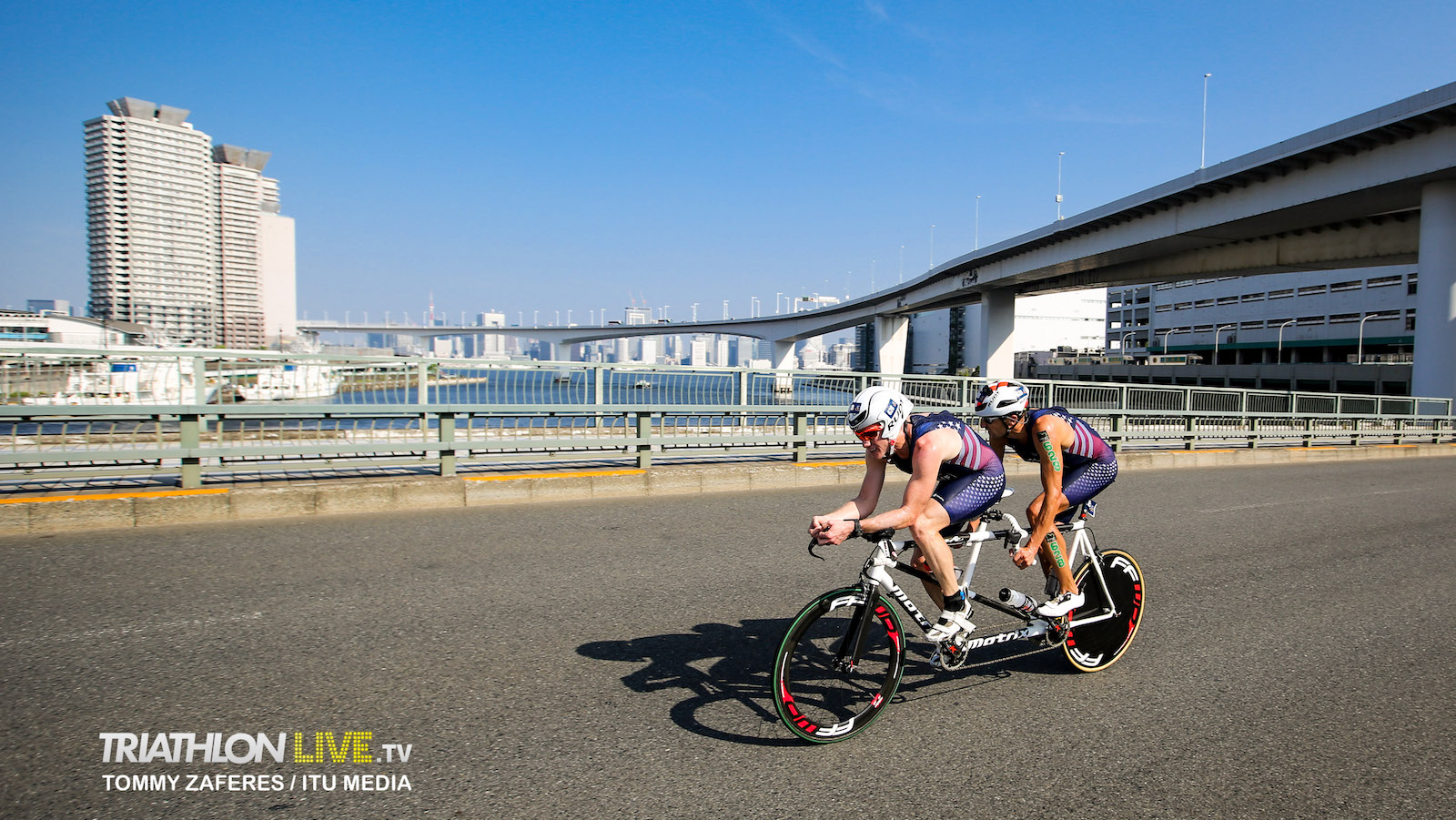 What time does the Paralympic Paratriathlon start?
The Paralympic Paratriathlon gets under way on Saturday August 28 with the men's PTS4, followed by the PTVI event and then the women's PTS2 and PTVI races.
The action begins from 06:30 Japanese Standard Time (JST), 22:30 British Summer Time (BST) (Friday 27 August) and 17:30 Eastern Standard Time (EST) (Friday 27 August).
The men's and women's PTWC races will be followed by the PTS5 events on Sunday August 29 from 06:30 JST, 22:30 BST (Saturday 28 August) and 17:30 EST (Saturday 28 August).
How can I watch the Paralympic Paratriathlon on TV and live stream?
The IPC has promised 'the best, most complete and in-depth TV coverage yet for a Paralympic Games' with the Olympic Broadcasting Services (OBS) delivering live feeds to various outlets globally.
In the UK, Channel 4 has rights to the Games and is promising its most ambitious coverage yet. The broadcaster will air more than 300 hours of round-the-clock-coverage on linear TV. Online meanwhile there will be 16 live streams with more than 1000 hours of live coverage.
In the United States, NBC Universal has acquired the Games' official broadcast rights and events will be available to watch on their TV networks and online streaming channels.
Seven Network is the home of the Olympics and Paralympics in Australia, with events accessible through free-to-air TV coverage, online streaming and subscription services.
Other national broadcasters include: VRT and RTVF (Belgium); CBC, Sportsnet, TSN and TLN (Canada); France Télévisions and Eurosport (France); ARD and ZDF (Germany); RAE (Italy); Netherlands (NOS); TVNorge (Norway); RTP (Portugal); RTVE (Spain) and SRG SSR (Switzerland).
Fubo TV, Sling TV and Hulu TV offer online streaming options for the Games.
Will the Paralympic Games happen in 2021?
Following the postponement of the Games in 2020 due to the COVID-19 pandemic, the Paralympics were officially rescheduled to take place between August 24 and September 5, 2021.
The indications are that the Games will indeed go ahead as planned this time around, with Japan Prime Minister Yoshihide Suga insisting that they 'cannot be postponed again'.
Japan's top medical adviser Shigeru Omi has voiced concerns over the staging of the Games, as has the country's public, in opinion polls that have revealed the vast majority want them delayed for another year.
But the global event is still on track to go ahead, with Paralympic Games Director Hidemasa Nakamura revealing that "there might be some specific measures that are needed, depending on what type of sport or competition it is" in order to protect athletes from coronavirus.
Paralympic Paratriathlon: How does it work?
The Tokyo Paratriathlon will see four men's and four women's races held. For both genders, each race will feature a different category of athlete.
Athletes are split into the different categories depending on the nature and severity of their physical impairment.
At the 2016 Games in Rio athletes were divided into five categories, ranging from PT1 to PT5. PT1 covered athletes in wheelchairs, while PT5 was dedicated to athletes with a visual impairment.
Athletes with severe, moderate and mild physical impairments were split PT2, PT3 and PT4 respectively, within the ambulant (standing) categories.
There has since been a restructuring of the classification system ahead of Tokyo, with wheelchair (PTWC) and visual impairment (PTVI) categories added/renamed, and PTS2, PTS3, PTS4 and PTS5 covering athletes with severe, significant, moderate and mild physical impairments respectively.
However, not every category is included as a race across both genders within the programme of the Paralympic Games. For example, there is no PTS3 race for either men or women. There will be a PTS2 race for women only, and a PTS4 race only for the men.
| | | | |
| --- | --- | --- | --- |
| Category | Description ** | Men | Women |
| PTWC | Wheelchair | | |
| PTS2 | Severe Physical impairment | EXCLUDED | Included |
| PTS3 | Significant Physical Impairment | EXCLUDED | EXCLUDED |
| PTS4 | Moderate Physical Impairment | Included | EXCLUDED |
| PTS5 | Mild Physical Impairment | Included | Included |
| PTVI | Visually Impaired | Included | Included |
(** Note 'layman's terms' used above for brevity and clarity – full details of the Paratriathlon ITU categorisation methodology can be found HERE).
With the men's PTS2 not included in the Tokyo programme, Rio 2016 gold medalist and reigning World Champion Andy Lewis will be unable to compete and defend his title.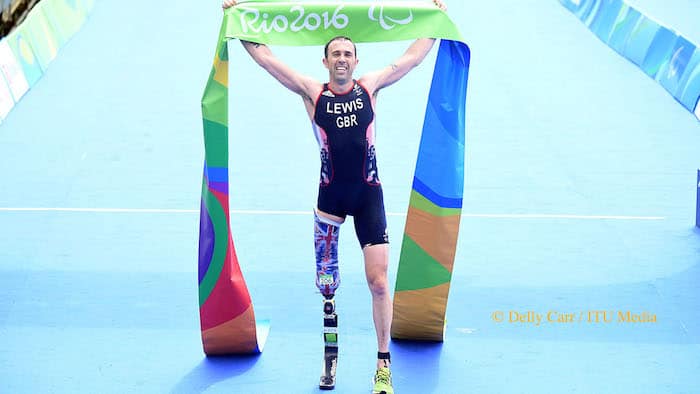 2018 World Championship Silver medalist Ryan Taylor also misses out with there being no PTS2 race, while the absence of a PTS4 event sees women's 2019 World Champion Hannah Moore ruled out.
Getting technical
Within the PTWC (Wheelchair) and PTVI (Visually impaired) events, there are further sub-categories to account for varying severity of impairment among athletes.
PTWC is split into PTWC1 – for athletes with limitations in lower limbs – and PTWC2 for those with upper limb impairments.
PTVI is divided into PTVI1, PTVI2 and PTVI3, with the lower number signifying a more severe visual impairment. For example PTVI1 = athletes who are totally blind or have little or no light perception in either eye, PTVI3 = athletes who are less severely partially sighted.
To account for those differences, there is a time offset applied to races. PTWC2 men's athletes will be set off exactly 3:08 after their PTWC1 counterparts, while women's PTWC2 athletes are start after 4:04.
PTVI1 men's athletes start 3:21 prior to the other two sub-categories, with the women's PTVI2 setting off 3:48 sooner.
In both cases, PTWC and PTVI, medals are awarded on a first over the line basis.
Athletes in all PTVI categories must have a guide of the same gender and nationality, and it is mandatory for a tandem bike to be used for the bike leg.
All PTWC competitors must use a recumbent handcycle on the bike leg and a racing wheelchair on the run.
Who are the favourites to win in Tokyo?
2016 Paralympic gold medalist Jetz Plat currently tops the men's World Triathlon Para Rankings for the PTWC category and will be a firm favourite heading into Tokyo.
The Dutchman is a multiple PTWC World Champion but will need to overcome fellow countryman and 2016 Paralympic silver medalist Geert Schipper once again to retain his title.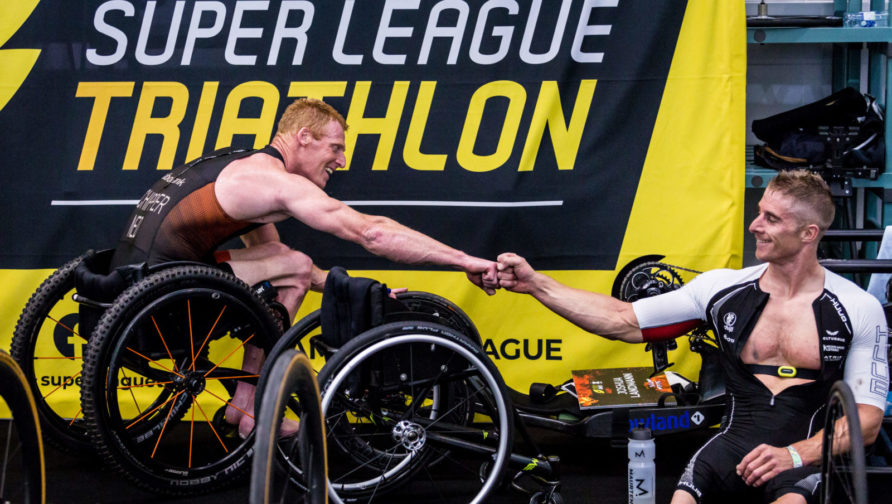 Great Britain's Dave Ellis has been the dominant athlete in the men's PTVI category in recent times and is so pacy over the run leg that he has often found it difficult to find a guide quick enough to support him.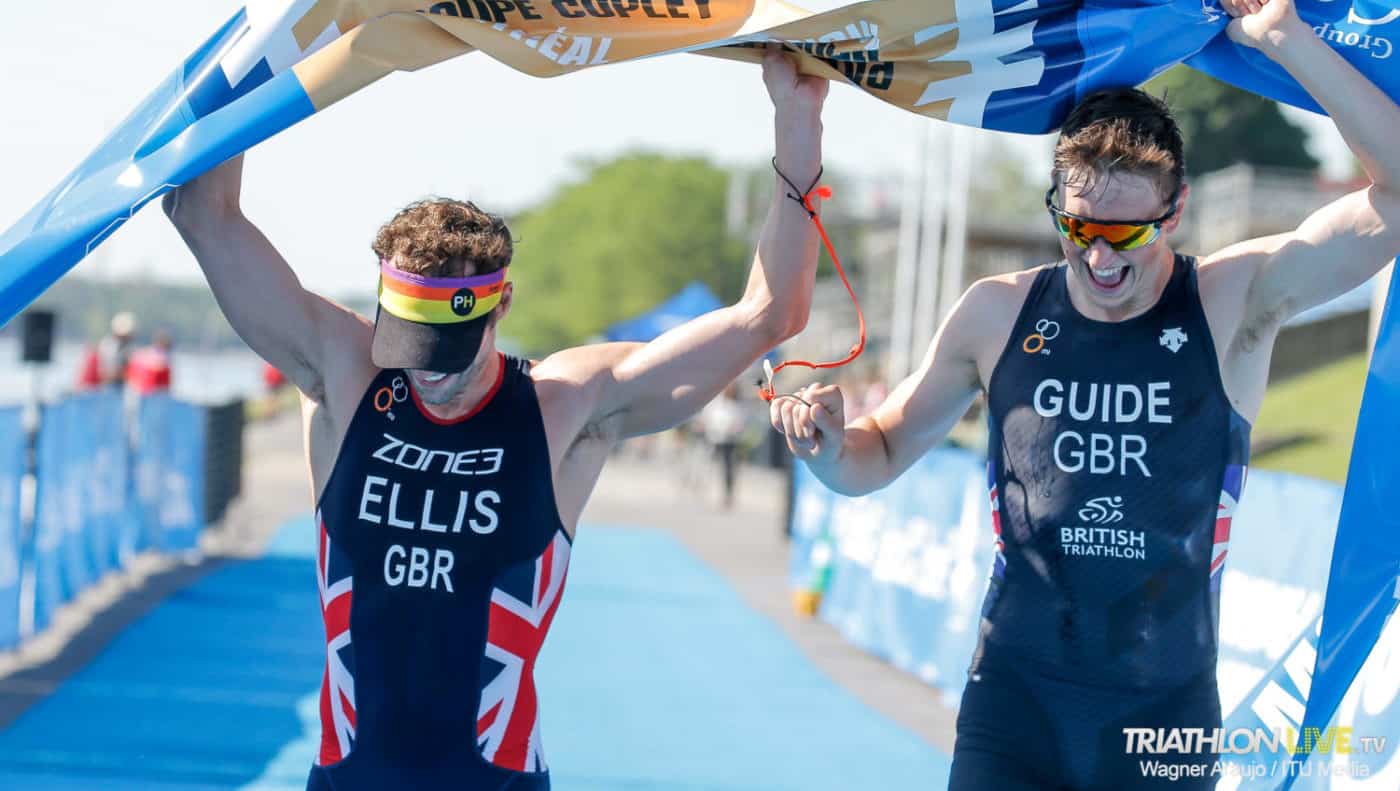 Frenchman Alexis Hanquinquant narrowly missed out on Rio 2016 but has since stacked up a number of paratriathlon gold medals, most recently at the World Triathlon Series in Leeds, and is a top contender for the PTS4 title.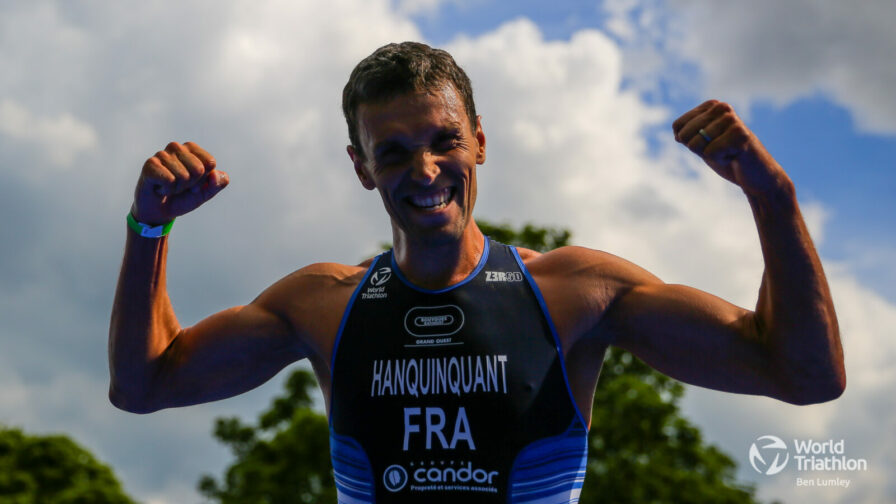 Great Britain's Claire Cashmore has a plethora of swimming titles to her name, including a Paralympic gold in the 4x100m relay, but she has taken paratriathlon by storm since making the switch following the Games in Rio.
Cashmore's has tallied a series of titles in the sport and became World Champion in Lausanne 2019, but she will face stiff competition in the PTS5 category from compatriot Lauren Steadman and USA's Grace Norman, who both picked up medals in Rio.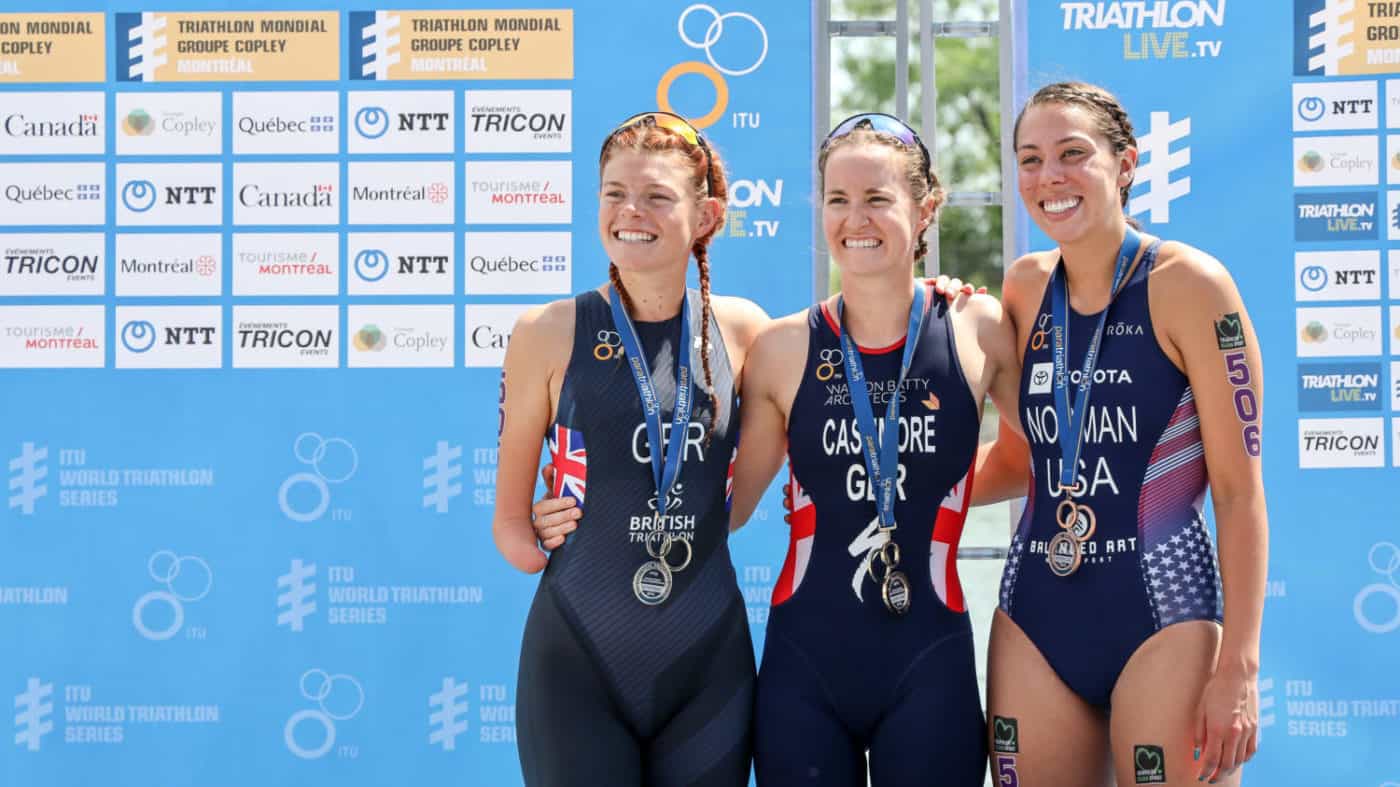 USA's Kendall Gretsch is number one in the women's World Triathlon Para Rankings for the PTWC category, and already has two Winter Paralympic gold medal to her name from Pyeongchang 2018, having competed in the para cross-country skiing and para biathlon events.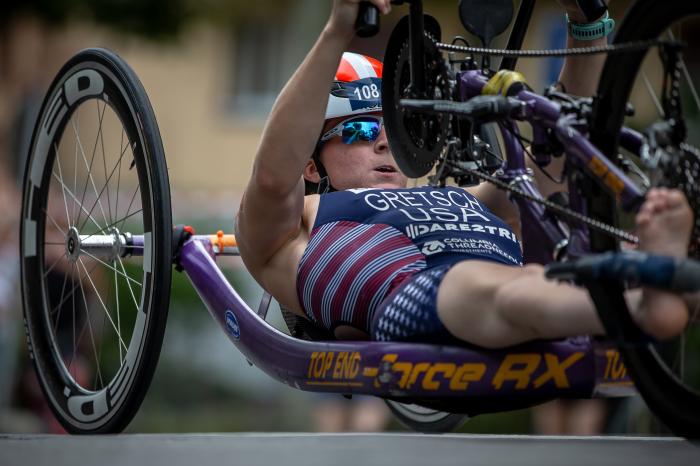 There will be considerable British interest in the women's PTVI category, where Alison Peasgood (silver) and Melissa Reid (bronze) both earned medals at Rio. Spain's Susanna Rodriguez will however provide tough competition for the top step on the podium.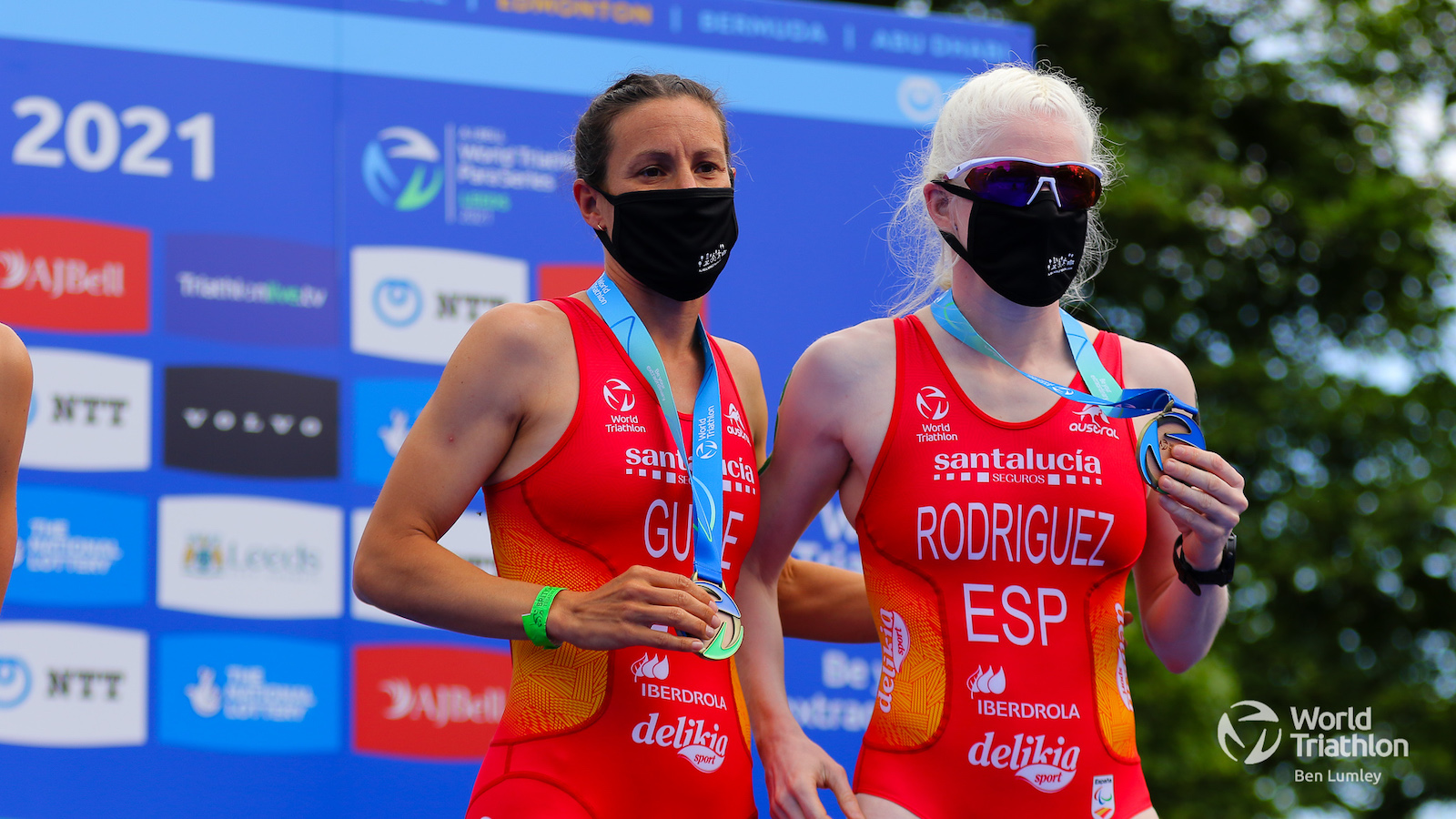 Paralympic Paratriathlon winners: Rio 2016
The six races in the only previous edition of the Paralympic Paratriathlon in Rio produced gold medalists hailing from five different countries.
USA were the most successful nation, with Allysa Seely and Grace Norman both picking up golds in the women's PT2 and women's PT4 respectively.
USA dominated the women's PT2 podium, as Hailey Danisewicz and Melissa Stockwell finished second and third, with the country finishing the event with four medals.
Great Britain also collected four medals, with Andrew Lewis taking gold in the men's PT2, while Laura Steadman and Alison Patrick both picked up silvers in addition to a bronze from Melissa Reid.
Men's PT1 results – Rio 2016
Gold – Jetze Plat (NED)
Silver – Geert Schipper (NED)
Bronze – Giovanni Achenza (ITA)
Men's PT2 results – Rio 2016
Gold – Andrew Lewis (GBR)
Silver – Michele Ferrarin (ITA)
Bronze – Mohamed Lahna (MOR)
Men's PT4 results – Rio 2016
Gold – Matin Schulz (GER)
Silver – Stefan Daniel (CAN)
Bronze – Jairo Ruiz Lopez (SPA)
Women's PT2 results – Rio 2016
Gold – Allysa Seely (USA)
Silver – Hailey Danisewicz (USA)
Bronze – Melissa Stockwell (USA)
Women's PT4 results – Rio 2016
Gold – Grace Norman (USA)
Silver – Lauren Steadman (GBR)
Bronze – Gwladys Lemoussu (FRA)
Women's PT5 results – Rio 2016
Gold – Katie Kelly (AUS)
Silver – Alison Patrick (GBR)
Bronze – Melissa Reid (GBR)
What is a good time for a Paralympic Triathlon?
Netherlands' Jetz Plat was the only athlete to complete the men's PT1 race in under one hour at the Games in Rio, finishing in 59:31.
Andrew Lewis' gold medal-winning effort in the PT2 category saw him finish in 1:11:49, while Martin Schulz was quickest in the PT4 race with a 1:02:37.
In the women's races, Allysa Seely clocked 1:22:55 in the PT2 category, while compatriot Grace Norman finished the PT4 race in 1:10:39. In the PT5 category, Australia's Katie Kelly registered a 1:12:18.
That said, as with the triathlon events at the Olympic Games, actual times are of very limited interest. The nature of the course, hills, wind, temperatures and more can all make a significant difference and unlike track running of swimming for example, there is no real concept of a world record. It is head-to-head competition and positions that the athletes will focus on.