Paula Findlay says she is ready to perform in her hometown race on Sunday.
The 33-year-old will be among the favourites at the PTO Canadian Open in Edmonton, which is the organisation's first ever Tour event.
But Findlay admits victory would be particularly sweet after the ups and downs of a career that saw her burst onto the triathlon scene more than a decade ago.
It's a stellar field in opposition – 17 of the top 25 women in the PTO's world rankings – but past success, especially at the similarly stacked Challenge Daytona, the PTO's Championship race in a curtailed 2020 season, gives her added confidence.
Home advantage
In the latest storytelling video from the PTO, the Canadian says: "Basically, at any race, I can say I beat all these people at least once.
"I definitely assess the people I'm racing against and think about races where I have raced them before. If I'm really fit and feeling good, I can beat any of them.
"I'm from Edmonton, so that adds a little bit more pressure. Even when the gun goes off, I'm still a little bit nervous, but at that point you're just thinking about what's happening.
"The nerves change as soon as the race starts for sure."
Sunday's course, which totals 100km, features a freshwater wetsuit swim, a hilly bike and a flat, fast run.
Findlay's mother Sheila is the competition manager and course designer for the Edmonton race, which only adds to her excitement about an event that has proved pivotal in her career.
Full circle
She said: "When I was 11, I watched the World Cup in Edmonton at Hawrelak Park in the same venue.
"And when I was watching people like Simon Whitfield and Siri Lindley, that kind of inspired me to get into the sport ultimately.
"I think it's kind of cool that the course replicates that same thing now where they go up Groat Road. We used to stand right outside our house and watch them do the U-turn.
"This was before I was even a swimmer, even in the sport at all.
"I remember when Simon Whitfield won here, he was on the huge front page of the paper and I got his autograph and hung it in my bedroom."
Findlay's partner and fellow triathlete Eric Lagerstrom said: "Because it's a home race, because so many of the people that she grew up with still live in Edmonton, they have all been on this emotional rollercoaster with her.
"Of course, she would love to win in her hometown. I'm getting chills just thinking about it." 
Findlay recently made home advantage count when claiming a surprise victory in the Canadian Time Trial Championships in Edmonton.
Back to her best
After several years in which she failed to hit the heights of her early successes, Findlay remerged as a force in triathlon by winning that PTO Championship at Challenge Daytona in 2020.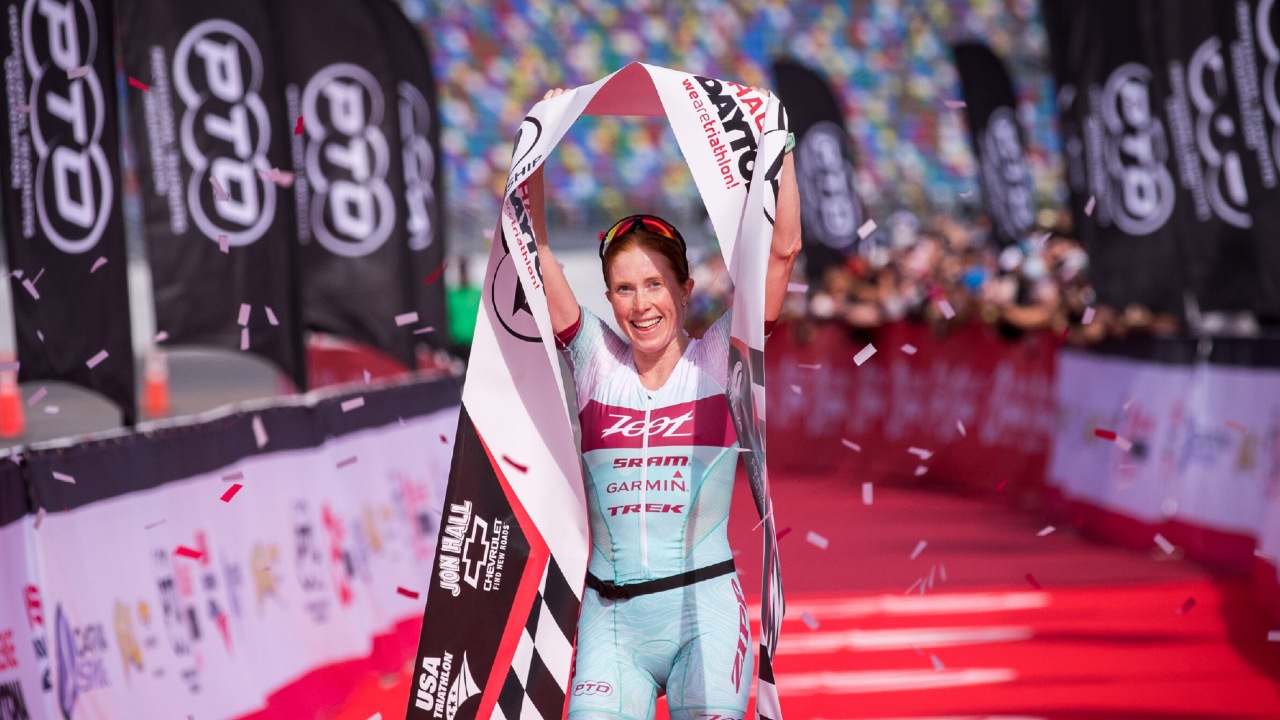 This was despite Findlay stepping up to a new distance and not having raced for the previous year.
She said: "It was such a different feeling of not having the confidence or experience.
"I wasn't sure I could hold the pace I was running for the whole time. It was like a fear of blowing up.
"It was cool that I was that far ahead in a race with all the best people in it."
Lagerstrom added: "Having gone through all those years of not having a really big result, I think if you ask her that would be one of if not the most memorable wins of her career.
"The times when she is just on another level like Daytona are when she's had three or four months of solid running. That's all it takes.
"With her the key is just getting to the important start lines healthy, happy and fit."
Rollercoaster ride
Findlay's sudden emergence in 2011 saw her win four consecutive World Triathlon Series races and reach number one in the rankings.
This made her among the favourites for the Olympic title at London 2012, but injury put paid to her hopes and she struggled to match her previous levels for a long time after that.
Findlay said: "It's a state I think you only get into a couple of times in your career when you're that prepared and that fit and fast.
"When you're at the top you're highly under a microscope. When you're at the top, it's impossible to stay at the top.
"It's hard to talk about the Olympics and things that happened so long ago, especially emotional things like that.
"I think my disappointment in 2012 was so soon after having really good success in 2011.
"There was only 10 months separating when I was ranked first in the world and when I got injured and had the Olympics that was a disaster. But in my mind, I was still the athlete that I was in 2011."
While Findlay spent many years in something of a triathlon wilderness, she is now back up to tenth in the PTO rankings and those around her believe she can use her previous adversity to her advantage.
Lagerstrom said: "I think what sets her apart from the women's field is her past.
"She has had this crazy experience, which no one else has had.
"She came out in her first couple of years of doing a sport and was instantly in the world stage, in the conversation for being world champion, for being Olympic champion, and then basically had it all ripped away, and has finally worked back on the top step of the world stage."